Honor Them With Action Fund
$275,686
of $375,000 goal
Raised by
1,165
people in 33 months
My name is Nadine Smith, CEO of
Equality Florida
, and I thank you for reading this important call to action.
On Sunday morning, June 12th 2016, our community was rocked by the Pulse massacre that claimed the lives of 49 people, mostly LGBTQ and Latinx young people. The horror unfolded in the middle of Pride month on Latin night at Pulse, a popular gathering place for young LGBTQ people of color.
In those early morning hours on June 12th, Equality Florida made two promises. The first was to do everything we could to take care of the survivors and the families left behind by this heinous act of hate, and to make sure every penny raised went directly to those most impacted by this terrible tragedy.
With the help of GoFundMe and 120,000+ individuals around the world, we raised over $9.5 million dollars for the survivors and victims' families.
After disbursing the funds raised, we turned our full attention to the second promise - as we remember those who were taken from us, we promised to
honor them with action
. We cannot allow the Pulse massacre to be yet another national tragedy. This must be a national turning point that spurs us to new action.
Since Pulse, Equality Florida has focused our efforts on uprooting the anti-LGBTQ animosity that leads to harassment, discrimination and violence by changing the culture in schools. According to the Centers for Disease Control and Prevention, the two most important factors contributing to the wellbeing of an LGBTQ young person are family acceptance and a supportive school environment. Equality Florida and our partners have invested deeply in launching a
Safe and Healthy Schools Project
to do everything we can to prevent bigotry from taking root in our young people's hearts and minds.
And we also know that houses of worship shape the world young people grow up in. For too many of us, the deepest wounds were inflicted as we sat with our families in pews and heard a message from someone we trusted that we should not exist. In the aftermath of Pulse I know a number of
faith leaders reached out and spoke up to take responsibility for making the world less safe for LGBTQ people
. Many have pledged to speak out against anti-LGBTQ discrimination and violence.
We need you to join us.
We need you to step up and speak out against all forms of violence, be they mass shootings, arson at mosques, vandalism at synagogues, and yes, even hateful words spoken from a pulpit, a pew, or over the dinner table. Join us at
HonorThemWithAction.org
. Also, every dollar raised on this campaign will go directly to our work of combatting the same anti-LGBTQ hatred and bigotry that caused the attack at Pulse.
We must ensure the lasting memorial of Pulse is the real change of uprooting hatred, discrimination, and violence of all kinds in our culture. Thank you for your compassion, your love, your support. But most of all, thank you for standing with us to combat hatred of all kinds and to take action each and every day to make the world different, better, and safer for all of us.
To qualify for matching from Tito's Handmade Vodka, donors must be 21 or older.
Here are some photos highlighting what Equality Florida is doing to #HonorThemWithAction. 
In the aftermath of the horrific Pulse massacre, Equality Florida promised to call out bigotry and discrimination of any kind. No action, large or small, will go unchecked. This image was from the August 2016 "Rally to End Hate" when Senator Marco Rubio headlined a conference hosted by notorious anti-LGBTQ extremists in Orlando just two months after the shooting.
Pictured is Equality Florida's Director of Transgender Equality, Gina Duncan. Our initiative, TransAction Florida, is dedicated to achieving Transgender Equality in Florida through advocacy, education, and engagement. 
At Equality Florida's 2017 Lobby Days, we spoke with legislators about the importance of passing statewide LGBTQ protections so that no person is discriminated against for who they are or who they love.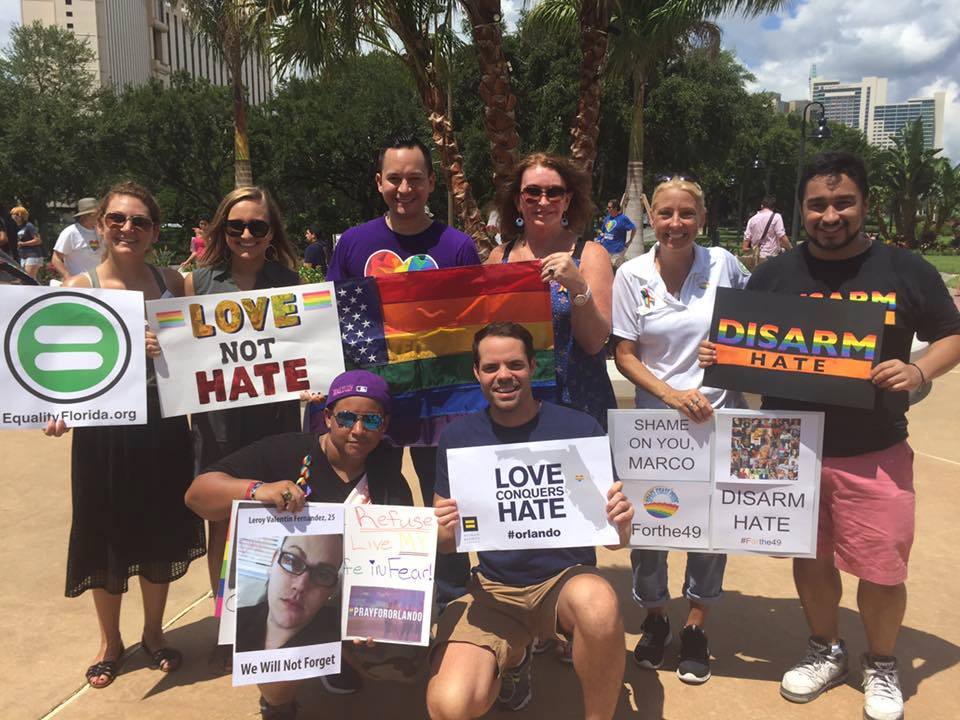 Equality Florida is committed to addressing the epidemic of violence fueled by the normalization of hatred of LGBTQ people. We will continue to support common sense gun safety prevention measures and work to #DisarmHate.
Many faith leaders pledged to speak out against anti-LGBTQ discrimination and violence. We are inspired by the many who have joined us to #HonorThemWithAction and combat dangerous rhetoric and hate violence of all kinds.
--------------------------
Who are we?
Equality Florida
is an organization that has been advocating for justice and equality for lesbian, gay, bisexual and transgender people in Florida since 1997. Gold rated by the leading charity ranking websites, we have spent nearly 20 years building our community's strength to turn the tide on some of the worst anti-gay legislation and policy in the United States: Winning marriage in advance of the Supreme Court's decision that was binding nationally; Passing dozens of city and county non-discrimination ordinances that protect more than 10 million Floridians; Enacting safe schools policies that have created welcoming and supportive environments for more than 2 million students; Shifting public opinion to help reverse the ban on gay adoption left by Anita Bryant's gay-hating campaign in the 1970s. We have spent the last three months channeling direct support to Pulse victims and now are turning our attention to ridding our culture of the toxic dehumanization of LGBTQ people.
--------------------------
For those who prefer to send a check, please see below:
Equality Florida Action
P.O. Box 20786,
Tampa FL 33622-0786
A COPY OF THE OFFICIAL REGISTRATION AND FINANCIAL INFORMATION FOR THE EQUALITY FLORIDA ACTION MAY BE OBTAINED FROM THE DIVISION OF CONSUMER SERVICES (WWW.800HELPFLA.COM) BY CALLING TOLL-FREE WITHIN FLORIDA (1.800.435.7352). REGISTRATION DOES NOT IMPLY ENDORSEMENT, APPROVAL, OR RECOMMENDATION BY THE STATE. REGISTRATION #CH42356.
+ Read More