Formula Femme Season 1
$2,050
of $3,000 goal
Raised by
17
people in 33 months
A WTF Track Team in NYC
Born out of FWOD Brooklyn, a weekly women, trans, and femme social bike ride,
Formula Femme
 is a new team of ten racers -- Angela, Becca, Kate, Kelly, Kim, Mandi, Marcy, Sanja, Tarsis, and Zoë --who want to grow women, trans, and femme cycling in NYC and beyond. We'll be racing from April through August at our own Kissena Velodrome in Queens, at VPCC in Trexlertown, PA, and in unsanctioned races like Monster Track, Red Hook Crit, and NACCC. 
We're a tight-knit group with diverse backgrounds, from full-time couriers to daily commuters. We're active throughout the cycling community: you can find us running alleycat checkpoints, organizing bike camping trips and long rides upstate, and touring across the country - or just across town for ice cream.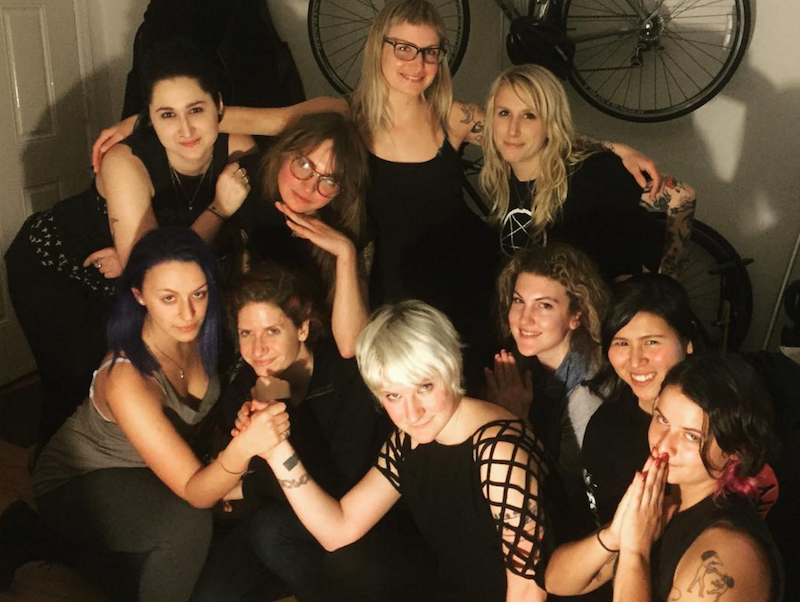 Why track? 

Women are underrepresented in every cycling discipline, but especially in track. In NYC there are only ever enough women to run a single field, meaning all levels race against each other—not great for development or competition. Sometimes there aren't even enough women for a field, and we have to race with the men. Formula Femme is determined to grow women's presence on the track, not only through our own racing, but by using our visibility to encourage as many as women as possible to try track. 

But that's not all...
As athletes who are proud of our bodies, we think period stigma needs to end, which means that racing bikes isn't the only thing Formula Femme will do this season. Inspired by #thehomelessperiod, we'll be gathering donations throughout the year to get menstrual supplies to food banks and shelters that serve New Yorkers in need. We all deserve to bleed with dignity, whether it's that time of the month or that time we crashed our bikes (which we try not to do).  
Where we are now
We're humbled by the support we've already gotten from members of the cycling community who believe in what we're doing: All-City, Silk Road Cycles, and Verge Sport are sponsoring us this season to get us great deals on our essentials, and we're being mentored by Koochella Racing in Minneapolis. 
However, we still have a lot of expenses, and as a new team they add up quickly. We're individually responsible for most of them:
Racing license: $70
Race registrations: $300
Apparel: $350
Bike build: $1000
That's over $1500 per rider just for the basics, and it doesn't include things like shoes and gloves or team expenses like gas. As messengers, students, and artists, we'd have to eat nothing but ramen to afford racing on our own, and although it's delicious, ramen can't make us fast. 
So here's where you come in
We're excited about any kind of support you can provide, even if it's just sharing our page or
following us on Instagram
so more people hear about what we're doing.
If you or your company are interested in supporting us at the $1000 level or above, please contact us directly
for partnership opportunities. Thank you for reading, and see you at the track!
+ Read More
Be the first to leave a comment on this campaign.