Healthcare Nonprofit Transparency
$14,800
of $15k goal
Raised by
112
people in 31 months
"On behalf of all physicians, thank you for all of your efforts." ~ C. Michael Gibson, M.D., Founder and Chairman of WikiDoc.org 

"Sunlight is the best disinfectant." ~ Louis Brandeis, Supreme Court Justice

"You can fool all the people some of the time, and some of the people all the time, but you cannot fool all the people all the time." ~ Abraham Lincoln

Overview of The American Board of Internal Medicine Story

Sponsored by the Pennsylvania Medical Society presented at the American Medical Association Annual Meeting June 2016

"The Slow Motion Financial Death Spiral of ABIM and MOC Bailout Scheme"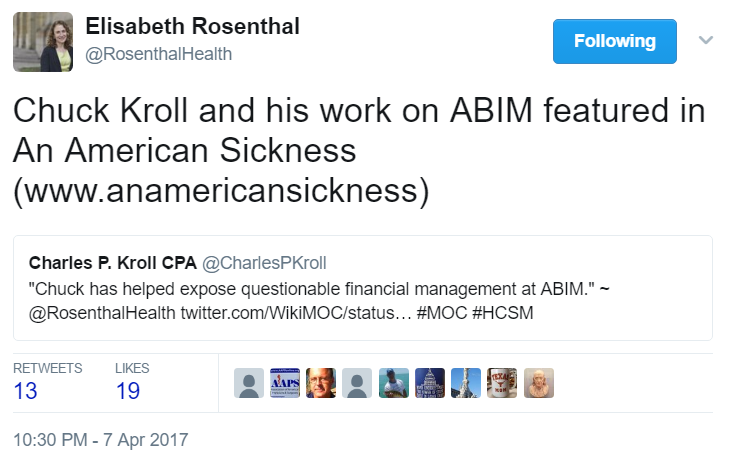 ► Campaign Testimonials from Physician Community

"This is important work that needs doing."
"Thank you for your amazing work and dedication" "You might just end up changing the whole corrupt system for the better."
"Keep up the good work!"
"Thank you @CharlesPKroll! Please support his incredible work."
"I really LOVE your work! It's brilliant shining the light unto this crazy money scheme!"
"Thank you for what you have done and are doing for physicians. I heard you speak at the AMA. We must end MOC."
"I have checked out @WikiMOC. Keep up the great work."
"Please expose this fraud for what it is!"
"Love it. Great work."
"Happy New Years! And thanks for all the work you do!"
"I look forward to hearing more. Thanks for the hard work!"
"Looking forward to watching this play out in 2017."
"You're doing great work. Looking forward to seeing the next chapter!"
"We need your experience and knowledge on this. The typical doc I know doesn't understand jack sh*t about business in general or these accounting tricks."
"Thank you for your tremendous efforts!"
"Amazing, and awful at the same time. Keep up the great work."
"We need to rid ourselves of these vermin. I'm so pleased someone like you is looking."
"Keep doing this important work!"
"On behalf of the physicians who are dedicated to fighting this utter corruption, thank you very very much."
"Thanks for your efforts, very good to see. "
" I love all the work you've done!"
"Thanks very much for your hard work on this!"
"Thank you again for your amazing contributions."
"Great work! Thanks for your hard work and time."
"Such important work! Thankful for your efforts."
"Thank you so much for all you do. I am so happy to see this kind of leadership."
"Glad you're doing it Chuck. I know you have a ton of your own time tied up in this mess."
"Thanks for shining light on this corruption."
"Donated. Thanks for all your efforts."
"Thank you so much for your incredible work."
"Great work. As an internist, this brings me great pleasure."
"Thank you for cracking the safe wide open. It is fascinating and infuriating."
"My head about blows off its shoulders with each thing you keep finding."
"Thanks for the work you have done on the financial improprieties - and bringing them to light."
"Love your work!"
"It needs to be said. Well done and thank you."
"Outrageous!"
"Awesome work. Congrats."
"I appreciate your unique perspective and abilities."
"Like a horror movie."
"You are the swrod of truth."
"Thanks for all you do for us. Your Tweets are great!"
"Quite interesting!"
"We thoroughly appreciate your investigation."
"Heroic and appreciated."
"You're doing outstanding work. Keep it up."
"Thanks for your good work."
"I feel so betrayed."
"You have my attention!"
"Thanks for leading the fight."
"Thanks for the amazing work. I'm definitely a fan"
"Exciting. Wow!"
"Thank you for your efforts."

Mission Statement and Objections

Promote Financial Reporting Transparency and Accountability at Healthcare Not-for-Profit Organizations, including but not limited to:

● Provide in-depth forensic accounting analysis of publicly available financial statements, tax returns, and retirement plans.

● Raise public awareness through social media of stewardship of nonprofit assets, financial statement and tax return reporting.

● Raise public awareness of organization lobbying expenditures and key officer and board member compensation and political contributions.

● Cultivate relationships with media outlets to promote fair and balanced reporting and counter organization propaganda.

● 20 years experience working with journalists and investigative reporters.

● Cultivate relationships with national network of pro-physician healthcare litigation attorneys, legislators and CPA firms.

You can donate  anonymously if you wish, and a donation in any amount is greatly appreciated. See campaign testimonials below and thank you for your support.

Chuck

► About

● Born in Chicago (South Side), Raised in Chicago Heights
● Loyola University of Chicago (BBA, Finance and Accounting, Jan 1982)
● University of Illinois CPA (No. 36,483, Feb 1984)
● Member American Institute of CPAs (Oct 1984)
● 25 years of pro-physician healthcare experience
● Proud Father | Runner | Drummer | PTSD Survivor
● Led Zeppelin, Hippity-Hop, Old School R&B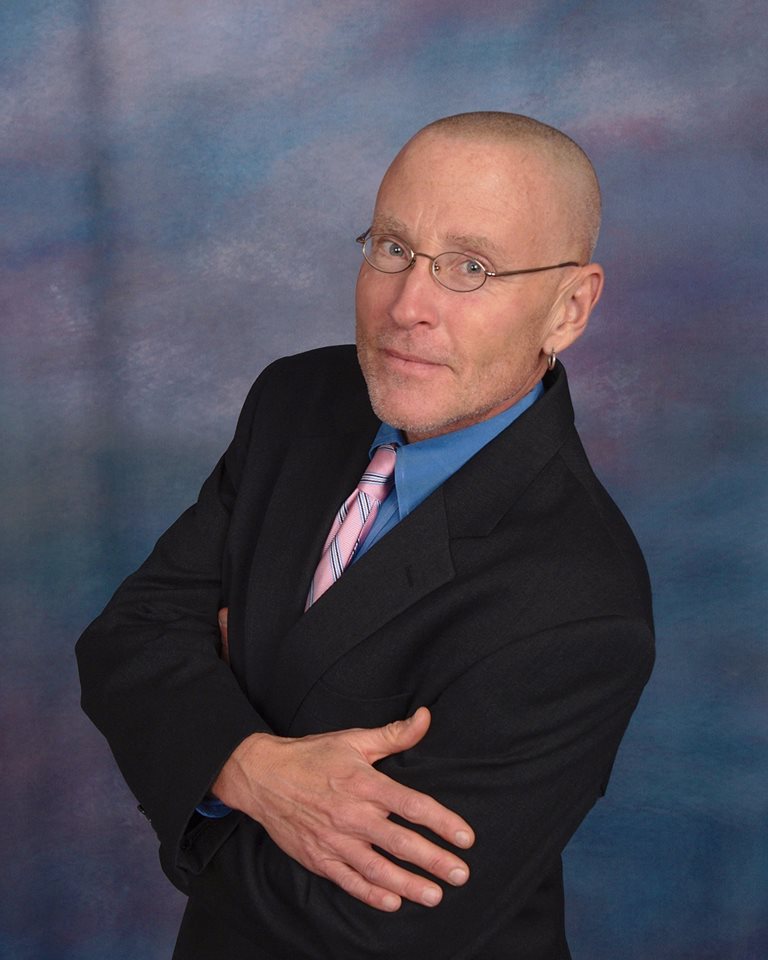 + Read More