Service Dog To Help Me Out
$9,216
of $14,000 goal
Raised by
207
people in 43 months
This power wheelchair will help me to get into people's houses and can get into a small car when traveling with my service dog. It will let me be more independent.
We are going to get the service dog from Educated Canines Assisting with Disabilities in Connecticut
Here is the link to the Fox 29 news story
http://www.fox29.com/news/local-news/99382894-story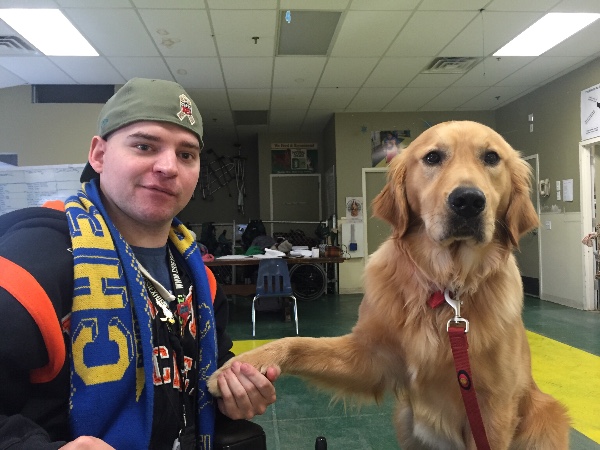 My name is Joe Ffitch and I am currently 31 years old. I have sister one year older who is married and in the US Army as well as a younger brother and sister who are in their late teen years. I live with them and my mom in a suburb of Philadelphia. I love all sports and enjoy going to sporting events. I love to travel when I can to see new places with the family. I love animals and they seem to love me. I am home a lot and when I am I use my computer and play some video games. I do like to get out to the movies and I try to get to the local gym to use the equipment I can to keep fit. I enjoy working in my garden in the summer. With my family I volunteer at a local men's shelter monthly and I was a volunteer for 8 years at the local school library. I also work at a township summer camp for kids 3-5 years old 4 weeks in the summer. I have had Cerebral Palsy since I was born. I did much better than the doctors initially suggested. I did use a walker a bit til 8th grade but as I got bigger and the school got more crowed I started to use the power w/c so I could efficiently get to class on time.  Also I have a "startle" reflex that caused me to fall, so it was best to start to use the chair more to enable me to participate better. I also have some speech issues, mainly stuttering. It gets better and worse at times, but it does impede my ability to work and meet new people as I would like. I often feel very self-conscious of myself and my disability when out. Physically I have been healthy, I would sometimes feel a knot in my stomach when in stressful situations in public. My diagnosis in spastic quadriplegia but my L hand is highly functional and my R hand is a good stabilizer with fair coordination, My legs are high in tone with spasticity but that enables me to transfer to the bathroom and bed , getting around my house pretty well. I have twice dislocated my patella due to spasticity and so I wear a brace on the L knee to safeguard this.I feel if I had a Canine Assistant it would enhance my life so much. I often get lonely at home alone and I could use the companionship as well as the help with household tasks, maybe assisting me to get in the tub or retrieve food items or objects I need. I think I would be safer as he could alert someone if I fell and help prevent falls by being by my side. I know in public he would help me gain the confidence I need to be more mobile and communicate with others, hopefully making friends and improving my volunteer abilities. I also would love to travel even locally better on public transportation when needed and the dog would be a great asset for that. I am sure that I have the ability to care for my dog. I have cared for my pets at home for years. I enjoy my animals and I would love my dog and want him to be happy and love me. My goal for the future is to gain my independence more and more and I feel a canine assistant dog would certainly help me to improve my independence level and quality of life. This would also benefit my family as I gain independence it would make life easier for all of us. They would not have to worry about me and my w/c breaking down in public or that I am alone. I look forward to the opportunity to have a chance to work with you and train my dog to be a part of my family and a part of me.
+ Read More
Update 1
32 months ago
Share
We are going to get the dog from Educated Canines Assisting with Disabilities in New York and Connecticut.
+ Read More