Little Gymnast wants to Train
$3,122
of $5,320 goal
Raised by
74
people in 14 months
Ailani (A-lon-ee) Faith is a 8 year old little girl who everyone loves because her personality radiates such peace and love. She has such the mature ability to see the world and the people around her from every positive perspective that they have to offer. I've always told her since she was 2 that she is such a "Little Lady!"   
Confirmation of the fact that this little one is such a Little Lady in every aspect came to me when I spoke to her one season about NOT being able to compete because our family couldn't supply the demand for a uniform (which cost spiked high from the previous season) in a months time with out cutting into our monthly budget for needs.  
I WAS DEVESTATED….
I never want this to happen AGAIN. 
At the time, I didn't know how she would respond to such news! Those of you who know her personally, know that she takes EVERYTHING that she attempts to do very seriously! So I did everything in my power to talk with and negotiate with management to no avail. I won't spend much time here about how this conversation went, but the decision was made  that Ailani would not be able to compete didn't have the "Fancy Leo" and accessories as all other gymnast were required to purchase on short notice.  
After praying, talking with my husband,  a few other mommies (Christine & Aunt Karen) and coming to terms with my emotions behind the situation I decided I would sit her down and tell her that she would not be competing with the other gymnast this season.
Her words blessed me and affirmed the fact that the values we are working hard to instill in her are set in her foundation.  She replied, "Mommy I just want to make sure I am learning the skills…  I thought WOW, here she is focusing on getting better and maintaining her personal goals as a gymnast and not the notoriety that comes with competing or the material items THAT SHE WOULD NOT BE ABLE TO GET!
I tell her that the GLORY of GOD is ON HER LIFE and that HER GIFT WILL MAKE ROOM FOR HER!
They allowed her to compete in the OLD uniform and  could care less that the other girls were DRESSED DIFFERENTLY FROM HER! She simply set out to do her personal best!
We (Mommy, Daddy) understand the need for her to "look the part" of a polished gymnast. 
I know that God will cause "men" to give unto our family.  It's what I constantly hear in response to my prayers for abundance.
Please consider giving not to our family, but to 'Lani Faith's dream to GO FOR THE GOLD! 
We used the  1st 1000 to purchase the uniform requirements so that she can continue to compete during this competitive season; THANK YOU! The money you are donating will go to private peronal account for the Little Gymnast to help pay for the cost of training which adds up the 550 dollars per month. 
A teacher's salary is public knowledge. Therefore, what support you can give to create funds for training is appreciated and please know that you are making an investment into the future of this little athlete.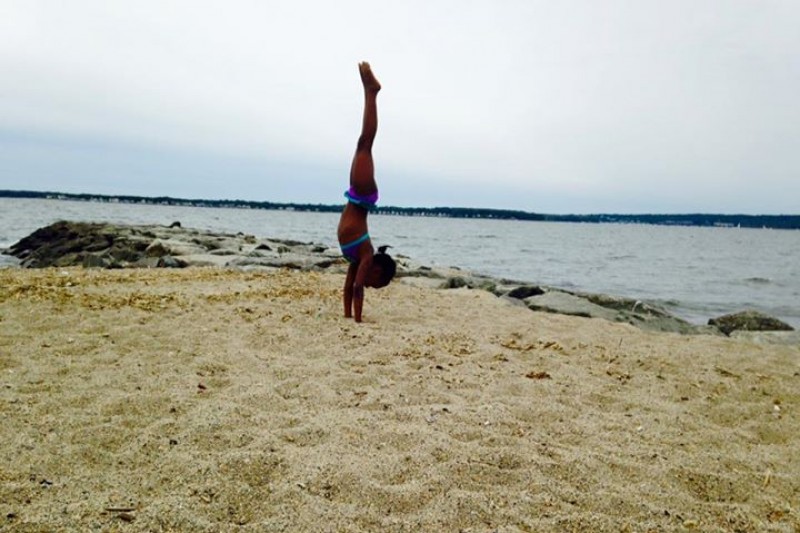 Mommy has  set up an
Instagram
account for you ALL to follow her progression as an athlete & "Little Lady!"  I asked her what she wanted us to use as a social media handle for the accounts to be run by Mommy & Daddy she chimed, "Mommy I like to keep it simple and my coach calls me A, so just call me gymnast A!" 
So follow on
Instagram @littlegymnastA
God Bless You All!
&
Thank you, from our blended family to yours!
+ Read More
Be the first to leave a comment on this campaign.