Rebuilding Jimmy's House
$11,157
of $20,000 goal
Raised by
61
people in 39 months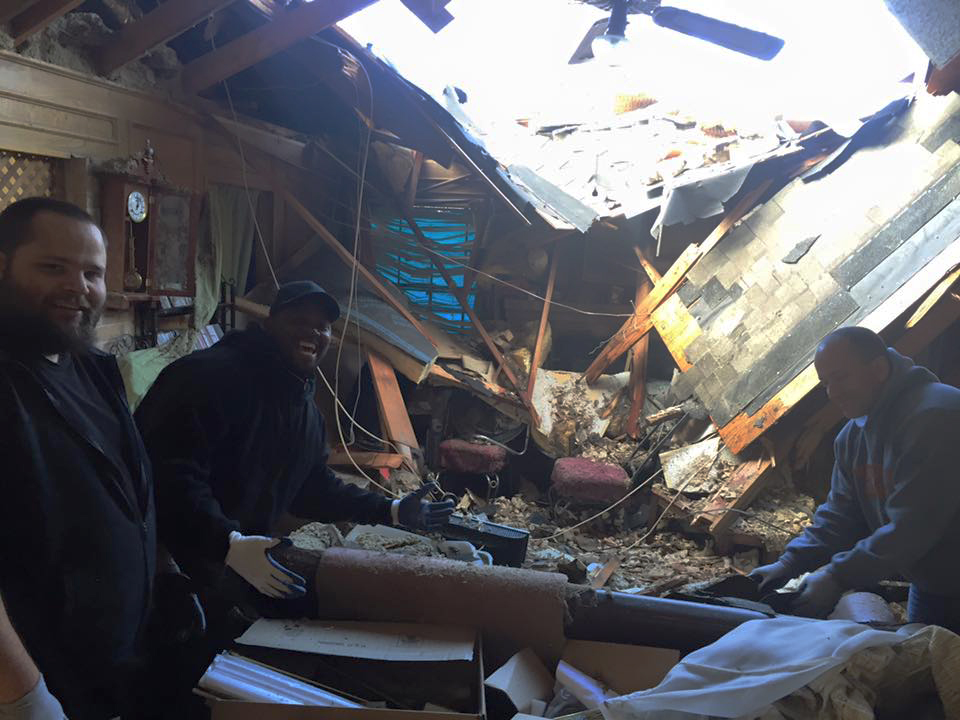 On Dec. 26th, a tornado hit the Garland and Rowlett areas of Texas.  Jason, Jordan, Rhett & Jared Hulcy, (AKA The Band of Brothers) felt compelled to go and see what we could do.  As residential construction workers, we knew we couldn't sit around with all of the resources at our fingertips to help those in need, so we headed out in the pouring rain on the 27th. We encountered people in a daze because their homes had been destroyed, but were shocked to find out that ALL their families were safe.   After reaching out to Garland Recovers and other friends, we were connected to families who could use our help.  We were looking for houses that had structural damage, but were not destroyed, families that have no insurance and weren't sure how they were going to fix their homes.
Damage to Jimmy's house and surrounding area
http://youtu.be/KVe1qRFFFuc
After putting donated tarps and plywood on several dozen houses, the Lord led us to Jimmy Odum.  A band of believers led by The Band of Brothers and John Phipps have dedicated themselves to helping bring Jimmy Odum's property to pre-tornado condition. Jimmy is a 70 year old man with his alzheimer's ridden, 90 year old mother living with him.  Their home was red-tagged, which means it is deemed by the city to be uninhabitable.  The chimney had collapsed into the living room.  There is a large hole in the living room ceiling and the debris was waist deep.  This roof destruction, followed by 2 days of heavy rain led to extensive interior damage as well.  Windows had been blown out and due to the red tag, his gas and electricity had now been cut off.  But, Jimmy was not leaving.....he was going to stay and protect his home.   
A friend, and neighbor who's home was also badly damaged, asked if we could help Jimmy.  We showed up at Jimmy's house with a group of 15 people and were able to tell him that we wanted to help him.  Our goal is to get his home back to pre-tornado status.  The word went out through emails and Facebook and people showed up.   Friends of Friends.  People with no connection to Jimmy. An amazing group of people joined together to do amazing work.   They helped temporarily frame, plywood and tarp his roof and cleared the living room of debris.  A garage door was delivered and installed free of charge.  A pod was donated to store his furniture in while the house is being worked on.  They got him set up with a generator and a space heater and found all of his medicine and toiletries.  With his house dried in and secure, three days after the tornado hit, Jimmy was finally able to get a full night of sleep.  He was totally overwhelmed that strangers would come in and take care of him.  And not just for that day, but were making a plan to get him back to normalcy.  
Jimmy is far from HOME.  His house has been badly damaged.  With our help, we can get his house of 39 years out of the wreckage and back to a place he and his mother can safely call home.  
We have a goal....to be the hands and feet of Christ.  
But, we can't do this alone.  We would love for you to partner with us.  This may be monetarily, or with resources or building trade experience.  
This is what we need.
Step #1: Pull a building permit
Step #2: Make framing, plumbing and electrical repairs.  (Electrical and Plumbing repairs must be made by licensed contractors).  
Step #3: Have City of Garland buiding inspector inspect all work.  This will remove red tage and allow us to reconnect gas and electricity.      
Step #4: Replace the carpet and sheetrock and have his home interior made livable, and a place he can bring his mother safely home to again.
Step #5: Rebuild his fence and shed.  He has a lot of expensive equipment that is now outside in the elements.  He also has 2 dogs that need a fence.
Jimmy's reconstruction will take about $50,000 at cost. With our connections in the residential construction world, we can do most of the work at cost, not paying general contractors to supervise.  Jimmy, at first was hesitant to accept our desire to help him.  As a member of the greatest generation ever, hardworking and taking pride in what he has, accepting help is not Jimmy's standard MO.  We told him, we know he can get back on his feet but doing it alone will take many years.  If we help him, he can do it much faster.....he shrugged his shoulders and agreed to let us help. 
Please join us.  Every little bit counts and every little bit goes directly to Jimmy and his mother getting their house back.
Our first request is for monetary giving.  This will go towards material and labor for all home repairs.  If you have construction resources that we could use, that would be wonderful as well.   This project will take a village, but to see the relief on Jimmy's face and the overwhelming sense of gratitude makes helping him a pleasure.  We know the Lord will provide for not only him, but the many many many that were affected.
+ Read More
Be the first to leave a comment on this campaign.