Finley's Medical Fund
£160,439
of £175,000 goal
Raised by
1,349
people in 33 months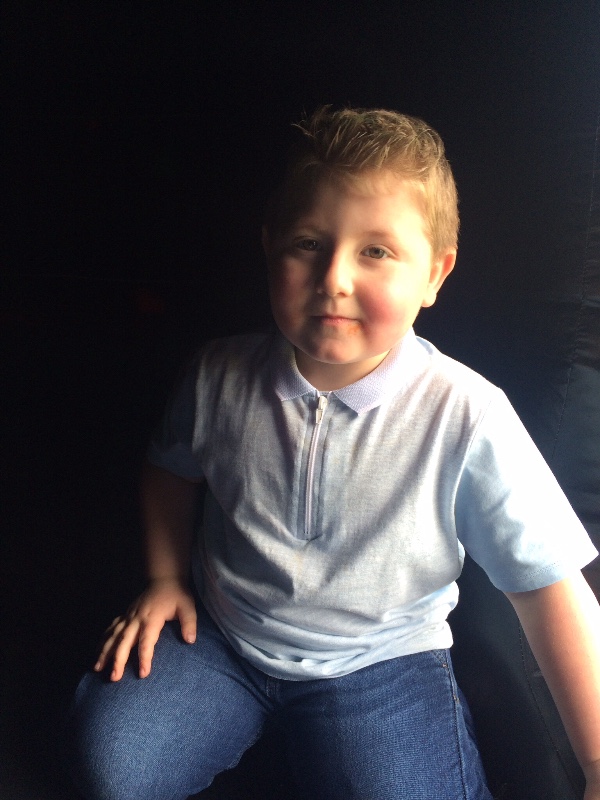 Finley was born 14.10.2011 and weighed 6lb 10oz when he was born and was totally gorgeous, we all fell instantly in love with him. Finley developed and grew just as any normal toddler would until April 2013 when out of the blue Finley had a seizure, at first doctors thought it was a febrile convulsion and we were told it was really common in small children. This was until Finley had another seizure, a full Tonic / Clonic seizure while we were playing at the local park and he was rushed to hospital.
James Cook University Hospital in Middlesbrough then decided to give him an MRI scan and this is when our lives fell apart, they discovered Finley had a brain tumour, and his care was then transferred to the Royal Victoria Infirmary in Newcastle and was placed under the care of Dr Juliet Hale.
Weekly visits, MRI Scans and blood tests were all taken at the RVI and then in September 2014 Finley underwent a biopsy, which took six weeks waiting for the results, but these proved inconclusive. Finleys results were then shared with all the leading experts across the UK and the USA to try and find a diagnosis. Finley has so far tried 3 of the available drugs, but none of them have worked and his tumour has so far been resistant to all medication.
Finley's care was then transferred to Great Ormond Street Hospital in London, all his test results have been discussed in numerous meetings and again sent to the USA for help.
Finally the doctors gave us a diagnosis of a Hypothalamic Harmatoma , an extremely rare brain tumour. This tumour causes Finley to have,
Endocrine Problems
Severe Epilepsy
Gelastic Seizures
Darcrystic Seizures
Tonic / Clonic Seizures
Developmental Delays
Rage Attacks
Learning Difficulties
We have visited Great Ormond Street dozens of times now with 3/4 days stay to complete telemetry testing, X-Rays, blood testing, endocrine testing and many other tests.
Finley has a daily battle with seizures, he also has a daily battle with emotional problems, rage attacks and learning difficulties. The only hope for Finley to try and lead a normal life is to undergo Laser Ablation Surgerywhich is only performed in the USA.
Finleys tumour can never be removed as it is too deep in the hypothalamus region of the brain and is totally entwined with brain matter, therefore Laser Ablation is the only hope as it attack the tumour with a laser to try and stop the blood flow to the tumour and, possibly shrink it also.
Finleys tumour is 2.5cm and is large for a child of his age. The seizures the tumour causes leave Finley totally exhausted and he is having over 10 a day on some occasions.
Finley is one of three and has two older sisters, Georgia, who was born 5 weeks early and has Pulmonary Atresia, which was diagnosed after birth and she has had four open heart bypass surgeries to date, with possibly more planned for the future. Brooke who sadly passed away aged 8 weeks old to the same conditionGeorgia has, had surgery at The Freeman Hospital in Newcastle and was born seven weeks early, only spending 6 days at home in her short life,
When i found out i was pregnant , I was told i had more chance of winning the lottery than having another child with a heart defect.
Finley's ultrasound scans were all perfect throughout my pregnancy and the doctors called him my miracle baby - He still is my little miracle and he is perfect!
Money that we are hoping to raise will  help us get Finley to either Texas or Arizona in the USA, these two centres can both do the procedure know as Laser Ablation, but both have extremely high costs as this procedure is state of the art brain surgery but life changing for Finley!
+ Read More