Be a Virtual Stowaway!
$25,650
of $35,000 goal
Raised by
151
people in 21 months
Be a Virtual Stowaway on an Epic Solo Voyage
In the fall of 2017, a lone sailor will depart San Francisco for a first-ever circumnavigation of both the American and Antarctic continents in one season. The route will pass through all of the world's oceans, approach both poles, and round Cape Horn twice. No one has done this before — no one has even tried. Wonder what it would be like to be a 
virtual stowaway 
on such a voyage?
Meet the Sailor

Hi. My name is Randall, and I am that sailor. My passion is single-handling, and to date, I've logged nearly 30,000 miles and 120 days alone at sea.
I believe that the only thing better than having a big adventure is being able to share the story as it happens. On previous solo passages — to Tahiti, to Alaska, to Hawaii — I've sent daily write-ups and photographs of my experiences on the ocean. But now I'd like to take that a step further.
Why This Campaign?
During the
Figure 8 Voyage
, I will be taking my adventure storytelling to a whole new level.
My route will traverse some of the remotest, most difficult oceans on the planet. Imagine being a virtual stowaway on such a journey. Is it possible for you to observe the Wandering Albatross with me as it rides 30-foot waves in the Southern Ocean or watch as I carefully thread through pack ice in the Arctic?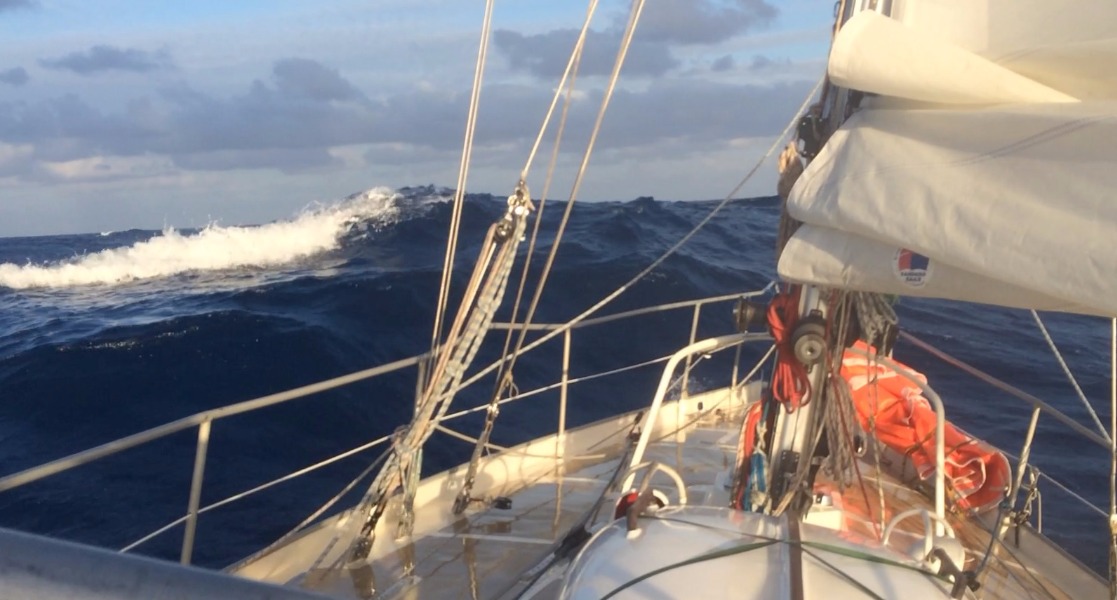 Yes.
Recent advances in satellite technology mean that I can share video and even live stream portions of this extraordinary expedition.
How Your Contribution Will Be Used
Technologies for communication from harsh and remote locations are incredible yet expensive.
Here are two examples of what I will need to acquire to make video from sea a reality:
-The
Iridium Pilot/Network
has a truly global network and would allow me to broadcast from even the highest latitudes in the Arctic.
-
Fleet Broadband 250
would enable video and live-streaming. 
I will need to raise an estimated $35,000 in order to purchase the necessary hardware and air time for video and data transmission.
The funds you contribute will keep you connected to my journey as it unfolds.


Campaign Duration

I will sail under the Golden Gate Bridge, the starting point for the Figure 8 Voyage, in September of 2017. I am currently hard at work outfitting my vessel. My goal is to complete all preparations well before departure. With that in mind, I will need to purchase the communication technology by the end of June 2017.
The Figure 8 will take me to some of the least explored corners of our watery world, and with your help, I can bring you along as a virtual stowaway, adventurer, or explorer.
What can you get if you help us?

Become a "Virtual Stowaway "= $100 minimum donation
 - We'll list your name or any name on
Figure 8 Voyage
website.
 - You'll also get updates & invitations to all activities & events associated.

Become a "Virtual Adventurer" = $500 minimum donation
 - You get everything a "Stowaway" receives PLUS..
 - We'll put your name or a company name on MOLI's hull. Everyone who sees the boat will see you're a supporter!
Become a "Virtual Explorer "= $5,000 minimum donation [only 10 available]
 - You get everything an "Adventurer" receives PLUS...
 - Day sail on MOLI along with 3 of your friends in the San Francisco Bay with Randall. Get to learn more about his adventures at sea in person. Snacks & drinks included.
 or
 - Come and have Randall give his visually rich and exciting presentation to your team/organization about his adventures. Have your team learn the realities and thinking in creating a project of this size while inspiring them to play bigger for themselves.
--------------------------------------------------
We've also got some great corporate sponsorship opportunities for anyone who's interested. Reach out to us  and we'd be happy to collaborate.
Follow me on
Twitter
,
Facebook
, and
my blog
now as we go on this adventure together. Thanks for your support!
Randall
+ Read More
Be the first to leave a comment on this campaign.