Art Speaks: Native Dakota Artists
$1,855
of $50k goal
Raised by
11
people in 1 month
Art Speaks: Native Artists from the Dakotas 
The North Dakota Museum of Art has embarked upon a Native American commissioning project, "Art Speaks."
Creating art has always been the American Indian way to record history, to define beliefs and values, to live within one's own culture, to celebrate. Would you help the North Dakota Museum of Art put money in the hands of living artists from the Dakotas in order to make the voices of their people permanently heard?
Artists, what do you believe that you want to hand down to your grandchildren? What do you want them to know about being Dakota, Lakota, or Nakota Sioux from across North and South Dakota? Or Mandan, Hidatsa, or Arikara from North Dakota's far western Three Affiliated Tribes based on the Fort Berthold Indian Reservation. Or Chippewa and Métis from North Dakota's Turtle Mountains on the Canadian border. Tell us. Better yet, make it for us to see, make it for future generations of your people.
Making private voices public may be the greatest achievement of any culture, especially when embedded in works of art. Please, lend a helping hand. Many artists live in poverty. They make art and are offered trinket prices in exchange. They dance in their hand-made, glorious tribal regalia, most often for relatives, friends, and tribal members.
They drum and sing. They feast and pray and protest. They tell stories and jokes. They laugh and laugh as the tears quietly accumulate. What happens when the tears spill over?
We ask you to become a "voice giver." Your donations will provide traditional and contemporary American Indian artists with gas and food and materials. Relief from poverty gives time to make, to create, and to lift the spirits of the people.
The art will be maintained and housed in the North Dakota Museum of Art located in Grand Forks. But importantly, it will be exhibited and shared throughout tribal lands of the Dakotas. The National Endowment for the Arts agreed to fund the initial stages of this Native American Commissioning Project. We ask you to help put both traditional and contemporary artists to work, to help lift the poverty level, to nurture the spirits of the people.

Background
: The Cankdeska Cikana Community College (CCCC) and the North Dakota Museum of Art began by collaborating to create a place for art on the Spirit Lake Sioux Reservation. Our original collaboration was funded by a Robert Rauschenberg Foundation grant and a $150,000 grant from the National Endowment for the Arts, matched by the CCCC and the Museum. This has been a great success. In the summer of 2017, the Tribal College will break ground for a Center for Arts and Culture.
Next, we will expand throughout all of North Dakota, starting first with supporting artists at Standing Rock Sioux Reservation, which bridges the North and South Dakota borders. Where is the art? A leading goal of the fledgling North Dakota Museum of Art (founded in the early 1970s) was to record the visual history of our own place through exhibitions and collections. Long ago, the great early Native art of the Northern Plains went into museum collections in the East. No such traditions arrived with the settlers' culture. Contemporary art hardly existed. The Museum would have to bring this missing art into being. So in 1981, NDMOA began to commission landmark works of art anchored in the landscape, history, and culture of the Northern Plains. This "Art Speaks" initiative is critical to bringing our Native American story into present times.
Artists Selection: The curatorial staff of the Museum will work with tribal leaders to identify the artists. The initial "Art Speaks" Advisory Council will include
·      Standing Rock native Dr. David Gipp, retired President of the United Tribes Technical College in Bismarck and a national leader in Indian education,
·      Spirit Lake native Dr. Cynthia Lindquist, President of Cankdeska Cikana Community College,
·      North Dakota Museum of Art Director Laurel Reuter and the Museum staff.
Supporting costs: A maximum of 20% of the fund will be used for costs of mounting the program including administration, communications, travel, logistics, and supplies.
Thank you for your continued support of "Art Speaks" and the Museum's mission to collaborate with Indian artists from the Dakotas.
Please join our communities:
Website: 
ndmoa.com
Facebook:
facebook.com/ndmoa
Twitter: 
twitter.com/ndmoa
Estimated cost per commission: Between $2,500 and $20,000.  Donors who give between $2500 - $9999 will be credited in the Museum's Permanent Collection on a particular commissioned piece. Donors at $10,000 and up will be added to the Museum's
Donor Wall
. All contributors will receive an "Art Speaks" bumper sticker.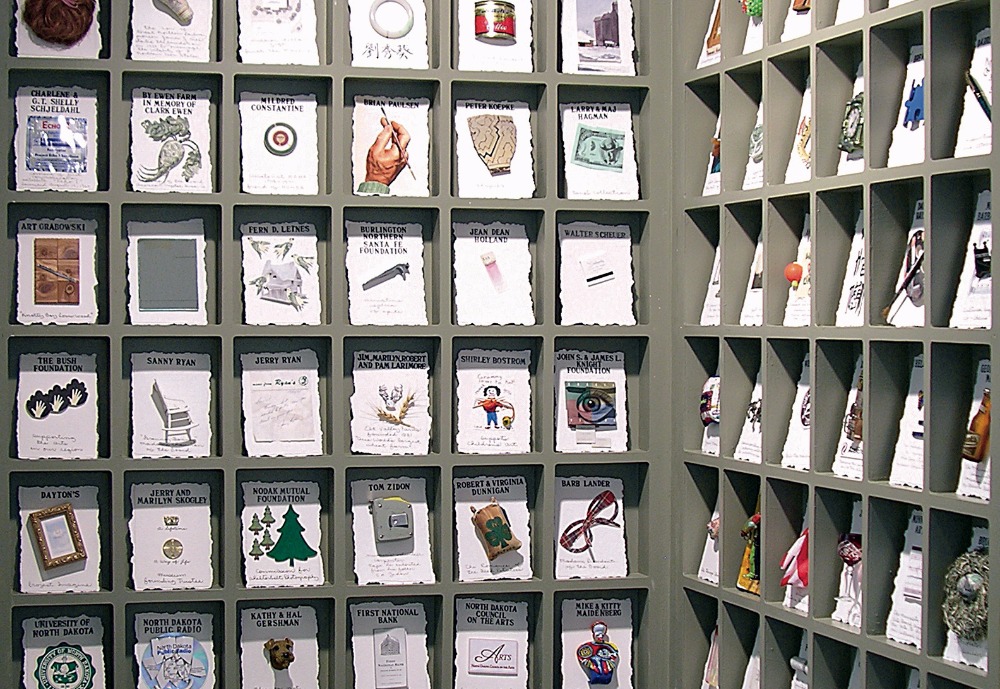 + Read More
Update 2
Posted by Laurel Reuter
1 month ago
Share
Art Speaks: Native Dakota Artists is progressing nicely. Every day we are one step closer to matching the grant to fund this project. With that, we want to thank those who have contributed off-line by sending checks. Last week Anne Widmark, Santa Fe and Santa Barbara, sent $2500 in support of Art Speaks. We are grateful for her generosity and support in helping to get this project up and running. In addition, last week the Museum received an email from an anonymous donor stating,

"This is a great project. I love it. CONGRATULATIONS. This project MATTERS. Count on a personal donation. Let me sleep over to see what my dreams tell me to donate. But, count on a generous gift." Shortly after receiving the email, a check for $12,000 arrived. This puts the Art Speaks project at $18,475.

+ Read More
Update 1
Posted by Laurel Reuter
1 month ago
Share
Last month, David Gipp and I made a visit to Standing Rock to meet with Elaine McLaughlin. Elaine, a bead worker and star-quilt maker, is recommending traditional artists to be considered for commissions. According to Elaine, "these individuals are very willing to work together to design and collaborate on the Art Speaks project." We look forward to meeting them and getting this project off to a strong start.

Of course, this project would not be possible without the support of our friends and backers. We are pleased to announce that today a long-time Museum friend sent a check for $2500. The project keeps moving along.
+ Read More
Read a Previous Update
Be the first to leave a comment on this campaign.