UPDATE!!  
Zoey is now 6 years old!  It has been a long journey getting to here but we have made it!Over the last few years Zoey has had multiple hospital stays and doctor visits in Arkansas and Texas.  She just recently got a new powerchair that lets her go faster than ever!  We are asking for funds for a few different items.  We are needing some maintenance on our van and to help us with the funding for the new treatment the FDA approved.We purchased a wheelchair van a little over a year ago and the cost to maintain the van is getting more and more expensive.  We are now switching the page to raise money to help off set the expensive to upkeep the ramp, new tires,  brakes and oil changes.  We also have some new and exciting news!  The FDA approved a treatment for SMA in Dec '16 that is open to everyone.  ACH in Little Rock will be adminstrating the drug but it will involve alot of travel to and from ACH and several over night stays.  We are still waiting to here what our insurance will cover (hopefully all of it).  For the drug alone it $750,000 the 1st year and then it is $375,000 per year for the rest of her life.  This does not include the doctors or the hospital costs that we will incur.  So the funds will help out with getting the treatment if our insurance won't cover all the cost.I would like to thank you all for your love and support!
My name is Zoey. I am 3 years old. I am a girl who likes to GO! When I was little, I was learning to walk, holding on to furniture and walking with my parents holding my hands... waiting for the day I could RUN on my own. That day never came. I got very sick in Dec when I was 13 months old with the flu and RSV, after that my legs just wouldn't seem to work. I could not stand up in my crib to greet my parents anymore, and I could not stand up anymore to play at my little table or walk around the house with my parents. Thank goodness I could still crawl (or I would have been very upset!) I was pretty happy though because my family loved me, played with me and we just went about having life. Even though my parents and family were very worried, they still made sure my brother and I had happiness and laughter in our house. I had to go to ALOT of doctors and therapist and they did a lot of test.
After many months the doctors said I have a rare genetic condition call Spinal Muscular Atrophy Type 2 (SMA). SMA is a motor neuron disease. The motor neurons affect the muscles that are used for activities such as crawling, walking, head and neck control, swallowing & respiratory issues. There is no treatment or cure. But I was a happy baby so I just continued to play and have fun, but my family had to figure out how to handle life with a child who could not be able to walk, may not always be able to crawl, sit up or use her hands. My family is the greatest and has taken good care of me. I have great therapists and teachers at my preschool!
We moved into a new house that is bigger so I can use my electric wheelchair (and get in trouble just like my brother for not coming in the house when it is time for dinner!) Our new house is right next to the walking trail/park in our town, and I love to drive my chair over into the park and look at the ducks in the creek, throw sitck in the creek with my brother to see whose sticks flows faster down the stream. It is also a great place to have races with my brother to see how fast I can go! I feel so free and independent when I am in my chair. It's Hot pink and has several speeds so I can go fast if I need to.
When I cannot take my chair places I get sad. I have to have a stroller if we will be gone long, because it is hard to hold me for very long. (I get heavy and I get very tired if I am held that much). Most of the time when we leave the house to go to the store, church or to visit friend & family, my chair has to stay home. I always ask "Can I take my chair?" I am always sad when they say "No, we cant get it in the car" .
That is why I am asking for your help. My parents really want to get a wheelchair van to make it easier for them to take me places, and I won't have to be sad about leaving my wheelchair at home. Soon I may be too long to sit in my car seat & the regular seatbelt won't support me to sit in the car, but my straps on my chair fit me perfectly and are safe for me to ride in.
Please help me and my family achieve our goal so I can explore independently.
Thanks you for your support!
Zoey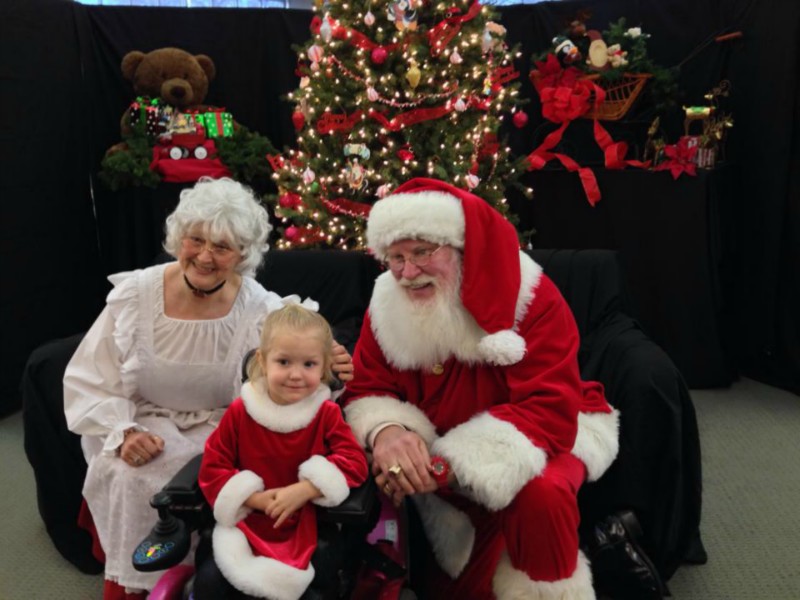 Rita Sparrow Fleckenstein 
Organizer
#1 fundraising platform

More people start fundraisers on GoFundMe than on any other platform. Learn more

GoFundMe Guarantee

In the rare case something isn't right, we will work with you to determine if misuse occurred. Learn more

Expert advice, 24/7

Contact us with your questions and we'll answer, day or night. Learn more