Horizon Community Training Needs Your Help
UPDATE.

Horizon was founded in March 2020. It couldn't have been worse timing.

The fight to stay afloat continues. Mark the founding director has poured everything he has into the scheme.
But student referals have come to a halt for many different reasons directly but all linked to Covid.

As a Community Interest Company Horizon is dedicated to doing its best for it's learners.
Without any income this is becoming harder.
We run free taster days to give potential applicants a taste of the 'Horizon Way'. They have been incredibly successful, not only as a way to ensure we can match the needs of potential applicants, but also by inspiring applicants by showing them what they can achieve with us by joining the Horizon 'Family'.
The garden is a prime example of what our taster days are about. We give our potential learners projects that engage them, inspire them and give them a sense of purpose and achievement.



However, it is still an uphill struggle. We have a fundraiser going and our generous supporters have given us £2350, which has helped immensley. But 16 months of virtually no income has put an incredible strain on limited resources. Horizon must stay open. We are confident that come September we will be receiving students and be able to move forward and make a difference to many young people's lives. We have just one more hill to climb. Please help us help our young people.
Check out our Facebook page. Horizon Facebook Page 

Thank you. Horizon needs your help.  
—————————————————————————————————

Thank you for coming to our page. 

This is a plea for help in keeping alive Horizon Community Training Centre – a not-for-profit learning centre that is desperately needed in the Great Yarmouth area but is in danger of closing before it has even had chance to properly operate. 

Mark Shanahan founded Horizon Community Training in March 2020 – just in time for the COVID-19 crisis to hit – and in these unprecedented times, and unable to open its doors, it now finds itself in a critical financial situation.

Please take the time to read our story ...

After 14 years teaching at Great Yarmouth FE College, helping the most disadvantaged students, Mark decided to create his own place of learning and support, based on his successful philosophy.

He found an ex-bank building that had been vacant for years and set about transforming it into a training centre. He had been promised practical help from friends and supporters but, as the lockdown tightened its grip, this proved impossible, but with the help of Gwen (safeguarding and wellbeing mentor) and Mia (volunteer) he pushed on. 


(Mia, Mark and Gwen cleaning the building)

Almost single handedly he decorated, fixed, furnished and equipped 11 Hall Quay, Great Yarmouth, transforming it into what it is today - a modern training centre.

All through the summer Mark successfully brought the building back to life; he  installed networks, computers, cctv and everything needed to successfully operate. And all this virtually alone. His family supported him of course, none more so than his wife Kath, and an uncle and aunt provided their skills to build his website and marketing materials and offer what financial support they could.




But, inevitably, because of COVID, from March 2020 Mark has had no income at all and did not qualify for relief as he had no accounts for the preceding six months. His family depended solely on his wife's salary and with two very young children to look after it was a considerable struggle. Slowly they saw the savings that they had built up to launch Horizon dwindle.



(Patio area before – waiting for students with green fingers! This area was in a terrible state.)



Thus Mark had to quickly adjust to the new reality as Horizon would not be able to operate for some time but somehow had to pay its bills. 

These include the rates and, as the rateable value of the building is just over the threshold for relief, in November he was given a bill for £8,000 plus for the year. He is confident that when Horizon starts to take in students he can acquit the bill, but only once he can start to operate as a full blown centre. Fortunately the council at the moment appear sympathetic and the property is currently being revalued, but this is a long process that has used up a lot of valuable time and any grants or relief cannot in any way be guaranteed.

His landlord has been the most help giving him a reduction in the rent, for which he will always be grateful, but money for this must still be found.

Mark planned for the worst case scenario –  that it could take a year to get up and running at full speed. That year of resources has been used up and still Horizon is not operating as it ought to be.


(Students Kitchen. Decorating, tiling and equipment, all by Mark!)

The need for a centre like Horizon in Great Yarmouth is obvious. It is an area with high unemployment and one of the highest rates of young people not in education. Horizon has a long list of people wanting to come and get their lives on track. Mark has been inviting young people, their parents and guardians to check out the centre and the enthusiasm is encouraging. He has, within the limits of the COVID restrictions, given taster days to learners which have been very successful.

Horizon has set up an online learning faculty using Microsoft 365 and Zoom and Mark has ensured that Horizon is not short of the technology. He has been planning this venture for years and has sourced whatever he could from whoever he can. 


 (Part view of the Reception area including COVID precautions information)
But the harsh reality is that, at this difficult time, young people who require special educational attention are exceptionally disadvantaged, having no contact whatsoever with learning resources. As schools get back to some kind of normal those young people will be identified and Horizon will be ready, but without some immediate financial help the centre's future is in jeopardy.
The local newspaper ran this article on Horizon back in August Local Newspaper Article They said "Yarmouth needs this", but somehow Yarmouth is at risk of losing Horizon. 
When Mark worked at Great Yarmouth FE College he created projects such as the renovation of a bus for a church that now uses it as a soup kitchen. He took his students into the community and did projects such as building a garden, restoring a children's playground and many other smaller projects from cutting elderly people's grass to repairing doors and windows. He cannot wait until the Horizon Task Force can operate. Mark is an exceptional tutor and mentor and all over Great Yarmouth there are young people in employment who have Mark to thank for their education. He proudly calls them his 'babies'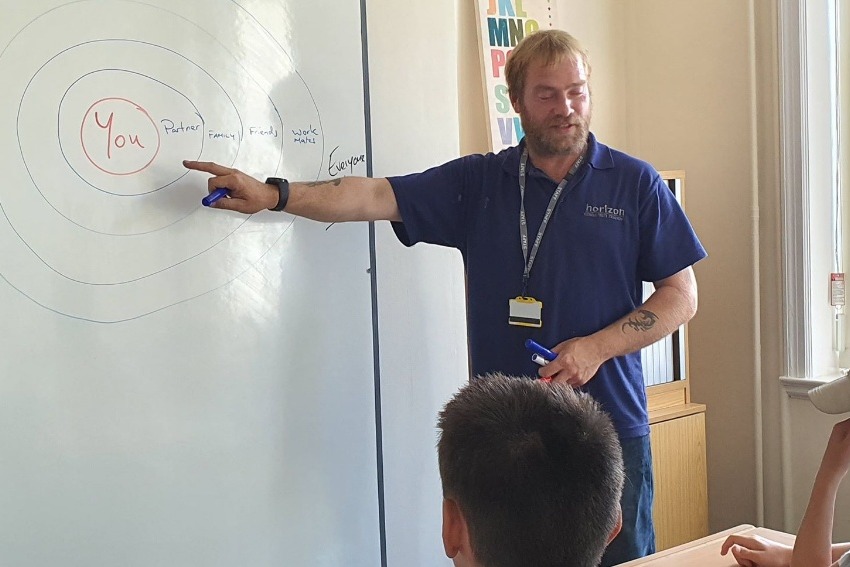 The young people who want to join Mark at Horizon are suffering more than most and they are the ones in most need. He has people on his list of applicants who are 16 years old and not been in education for four years! He knows he can make a difference, but just now he needs help to simply keep Horizon alive long enough to get through this difficult time.  
Horizon's Facebook page is optimistic and upbeat in these dull times.
Horizon's Facebook Page
Mark is doing his best to keeping everyone's morale high, especially the young people and their parents and guardians who want them to attend Horizon.
Here are some comments made by parents,"We were so impressed as ............ was a pupil at ................and was very let  down by the system , I'm sure we won't be the only parents feeling let down if Horizon isn't given a chance , please go and look around or speak to the children that have had the chance of taster days" ."........... is looking forward to coming to Horizon and for you to give him the help he is desperately needing again,..........you give him the confidence to be himself and forget that he has learning difficulties and you have the time and patience that he needs to learn" "...if he could attend Horizon on a long term basis we believe it will lead to the further education and life skills and self confidence he needs to gain a substantial career in the future". "...comes home from the past sessions they seem on a different level heads held high, beaming smiles, gained confidence, respect, gave respect back, came home with knowledge and a huge sense of achievement  as for them to say when can we go back mum?! "
Just a sample of the kind and, for Mark and his team, touching remarks made by parents. Mark has created a User Group on Facebook for parents to come together and support each other and keep in touch.
Mark does have a sponsorship scheme in mind, a way for businesses and individuals to sponsor a particular aspects of our work. His ambition is that such a scheme will fund learners who may not be eligible for grants, for engaging tutors and buying special equipment.  However, he will wait until he discovers whether  any of his applicants are unsuccessful obtaining funding. Only then can he present their need to prospective sponsors.BUT WHAT HE NEEDS NOW THROUGH GOFUNDME IS A LIFELINE.
Mark has to cover the following expenses:
The rates bill for 2020-21 – £8,000 
The rent and rates for the next four months until he can operate and reverse the cash flow situation – £8,400
The utilities bill for the next four months –  £2,400
The remainder will help us retain staff over the short term in order to administer all our courses. Mark will not make any drawings until he can stabilise the situation and Horizon meets all its obligations.
Any contribution towards these costs would be greatly appreciated - not just by Horizon but by all those who will be helped once Horizon can finally operate.
Supporters are invited in person, if possible, to come and see Horizon. Mark will arrange online meetings to connect with his supporters and get to know them.
Details of the supporters meetings on Zoom will be posted on Horizon's website.
If you can help Horizon in any way, even if it is just sharing information about the centre with your friends, you will be our friend forever and welcome anytime.
THANK YOU FOR READING OUR STORY
Organizer and beneficiary
Gary Shanahan 
Organizer
West Caister, ENG