Challenger Baseball Grand Junction
Challenger Baseball's story
 and how we were invited to attend the
Little League World Series this August 2016
where 15 of our special players will get to attend and play an exhibition baseball game
LIVE on ESPN!!                              
To tell you a little bit about our program, I, Carma Brown have been the director of the Challenger Baseball Program here in Grand Junction along with my friend, Kelli Hamilton for about 17 years.  Challenger is an actual division of Little League Baseball International. W e are chartered under our local Little League.  We started with 12 brave kids that wanted to play baseball even though they had physical and/or mental disabilities that might prohibit them from doing so.  With a lot of love and support, we created a way for baseball to happen and now we have turned that little labor of love into a whole league with over 72 kids making up 8 teams. We play a 7 week season starting each April.
It's a beautiful program and has received national recognition.  In January 2015, I was blessed to receive the ABCA Meritorious Service Award.  It was such an honor because I was the first woman to receive that award and I was the guest speaker alongside KC Royals Manager, Ned Yost and MLB Commissioner, Rob Manfred.  In attendance that day was the president of Little League International, Stephen Keener.  After the luncheon, he personally  invited me to bring a team to the
2016 Little League World Series
to play in an exhibition game before the championship game. This game will be aired
Live on ESPN
.  It was such a thrill to be the
Challenger team picked to showcase this program and show leagues all over the world that Challenger can succeed and flourish in the baseball world. 
It was such a surprise, and of course I said yes.
For these kids, this is a once in a lifetime opportunity in many ways
.  Not only is it the chance to play baseball at the Little League World Series, but to do it on TV as well.  Not to mention, that
for many of these kids this may be the only time in their lives that they will step on an airplane.  
As great of an opportunity this is, it does come at a cost.  
We are tasked with raising about $55,000 to cover all the costs associated with this trip. 
We have to bring and pay for our "Buddies".  These are the athletes that assist our players in playing the game.  We also need to pay all the expenses for the player and a guardian, since these kids are not capable of traveling alone.   Needless to say, our needs are many and somewhat diverse given the group of kids that are making this trip.  With the high costs associated with medical expenses and the everyday cost involved with having a child with special needs, I just know that most of these families would not be able to pay much towards these expenses.  We have raised about $24,000 at this point and
need your help in completing this huge task at hand.  We would greatly appreciate whatever you can do to help us get even closer to our goal.Thank you in advance for any donation you can make to help our kids raise money for their Big adventure!!
Please feel free to go to our website:
www.challengerbaseball.net
for more information.
  Sincerely,
The Challenger World Series Team Challenger Baseball Grand Junction, CO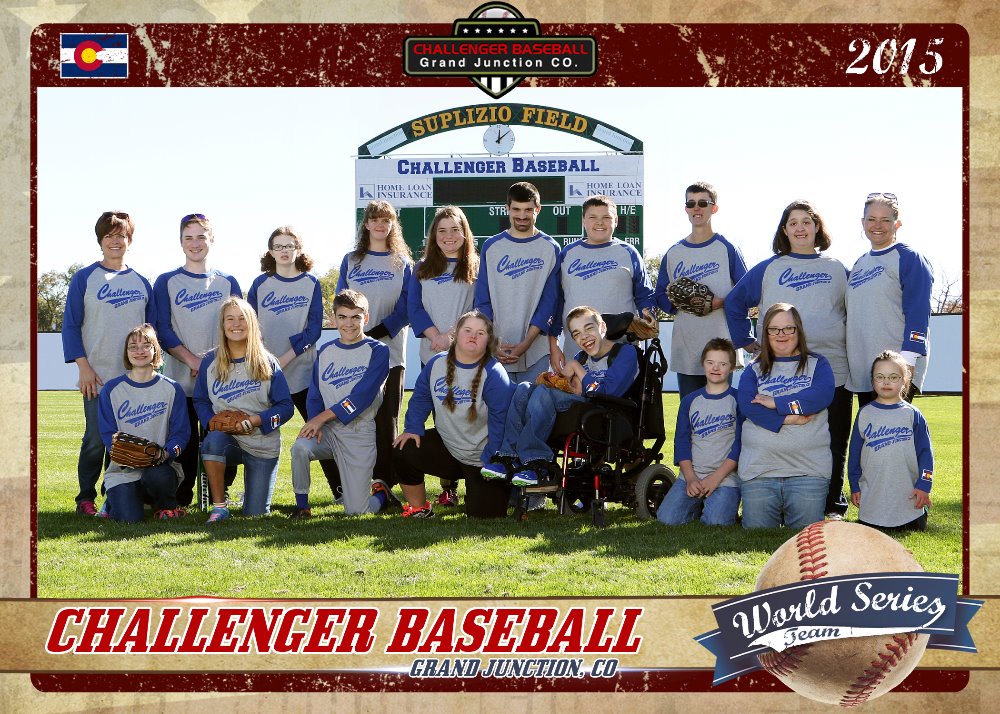 Become the first supporter
Your donation matters
Organizer
Carma Payne Brown
Organizer
Grand Junction, CO
LITTLE LEAGUE BASEBALL INC
Registered nonprofit
Donations are typically 100% tax deductible in the US.