Dad Devastated by Flood Damage
My Dad needs help!
On December 8th where he lives in Kelso, WA was flooded. He rents some land that has a small shop on it, and he had moved his own trailer there to live in. He has diabetes and a collapsed lung which requires him to use an oxygen tank, all which has really affected his health and makes it hard for him to do much walking or work. He lives on a small disability amount that barely gets him month to month. Being a mechanic was his profession, so he will try to do some work on cars, but that is even a great challenge with his health issues.
The flood happened fast and he was only able to get away with his truck, and everything else was flooded with 10 feet of water. His cars he was working on were fully submerged, the shop was submerged to the roof, and his trailer where he lives was 75% submerged. Everything he owns but the truck was damaged or destroyed by the flood. Thankfully his dogs survived because of a Cowlitz County humane society rescue group that came out and saved them out of the water and off the roof by boat rescue. He lost everything and doesn't even have a place to sleep anymore.  He doesn't have insurance of any kind to help him through this devastation.
I am hoping to raise money to help him through this very hard time by getting him into some alternative housing, paying for cleanup and dump fees, moving costs over to the Spokane area where his family lives, and to purchase another trailer and/or household items for a different place to live to be able to start all over. I will manage any gifts of money that come in, and will work with my Dad to figure out the wisest way to use the money.
Thank you deeply for any help you give!
Sincerely,
Liz Smith
These photos below were taken by my Dad with his cell phone, so sorry the quality is poor.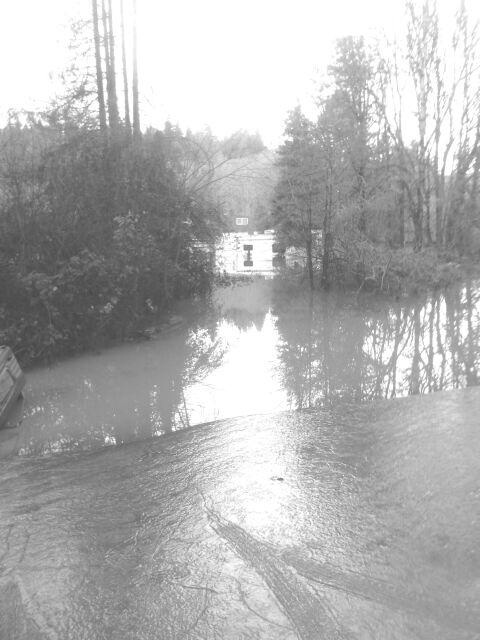 This picture is was taken the day after the flood, showing my Dad's place out there in the water.
This photo taken 2 days after the flood shows where the water went up to on my Dad's trailer where he lives.
Thanks again for any support!