Emergency Car Repair Fund
My name is Jessica and I'm a 33-year-old quadriplegic with a condition called Arthrogryposis living in Atlanta, Georgia. The disability does not allow me to work, which means my family has to support me. To be blunt, we are always stretching from penny to penny, so when an emergency expense arises, we have no safety net in place.
Over the Fourth of July weekend, my mother's car (our only means of transportation) died and we thought it was a blown head gasket. It was taken to our mechanic, who informed us today that it wasn't a blown head gasket but a cracked engine block. In other words, we need a whole new engine. We have no money, in the interest of honesty, and there is no way we can make these repairs on our own.
I have never attempted a GoFundMe before and I'd rather eat my own face than to have to ask for help but I don't have a choice. We have nothing. Without a car, I have no way to see a doctor if I get sick or anything. My mother is taking the bus to work but it's adding two hours a day to her travel time. That's two hours more every day that I'm home alone. It's not a safe situation.
Things are tight for everyone and I'm aware of that but if you can spare anything, it would help us a lot. I only have $475 in my account as of today, which means if I put it all on my car, I will have nothing for food.
I can't stress how perfectly desperate I am right now. I believe in transparent honesty and I'm sitting here in tears because $3,000 might as well be $3 million to me.
Please help us get our car back. Thank you for considering us.
Here's a screen cap from a witness. I know there are a lot of GoFundMe scams out there, so I want to put you at ease as best as I can.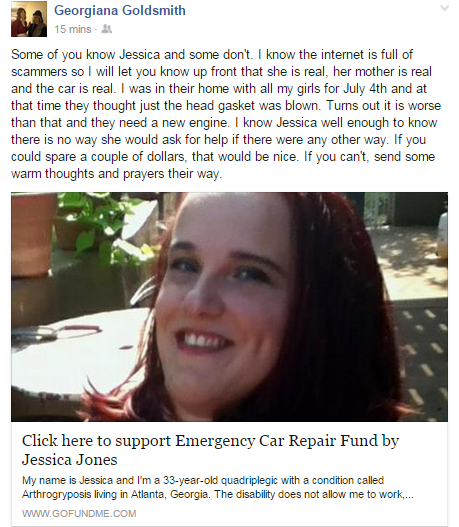 To learn more about me, visit my website at
www.jessicajewettonline.com

U
pdate: I've decided to make donations of clothes, books, and makeup to local women's shelters after everything is said and done with my car. I have plenty of stuff lying around here that could be put to better use. People helping me in this emergency situation have reminded me of just how easily any of us could end up in serious trouble.
So if I can get my car back soon, I'll document delivering boxes of goodies to women's shelters in the Atlanta area. Paying it forward is important. I need help getting my car back though. Please help if you can.