A Mural for Yuri & Malcolm
"From Harlem With Love: A Mural for Yuri and Malcolm"
is a mural project led by artists and activists inspired by the lives, legacies, and deep friendship between Yuri Kochiyama and Malcolm X. The mural project, also led by the family of Yuri Kochiyama,
 will include film screenings, educational programs, artist visioning sessions, and a series of community mural painting days culminating in a mural of Yuri Kochiyama and Malcolm X in
Harlem, New York City
- where their legacies were formed and live on.
This mural is not only a dedication to the glorious resistance of our collective past, but also a dedication to all of our brothers and sisters in the streets right now fighting for justice in ways that would make Yuri and Malcolm proud. As well, it is a symbol to the the future, for our next generations of young changemakers and visionaries to see, feel, and be inspired by for decades to come.
Yuri and Malcolm dedicated much of their activism and organizing to the incredible streets of Harlem, New York and it is time they be remembered together on those same streets. Yuri spent close to 40 years living in the Manhattanville houses, a public housing development in West Harlem. This same neighborhood, where she spent so many decades with her partner Bill and their children, is where
the mural will stand as a testament to the impact both she and Malcolm left in this community and on the planet.This is where we need you!
While each member of the collective developing this project has worked on other large scale art projects (murals included),
we are doing this without any corporate, foundation, or other economic support.
This is truly a project of, by, and for the people, and will ONLY happen with the support of our communities who share our same love for sister Yuri and brother Malcolm. It will only happen with your generous support.
While this is a 100% a grassroots effort, there are numerous costs associated with the creation of a quality, long lasting mural of this kind: high quality paints and brushes, identifying and securing the perfect wall, scaffolding, costs associated with promotion, visioning events and activities, the unveiling celebration, and future upkeep to ensure it's longevity.
Please donate whatever you can to this important mural project today! Share the message with your community, spread it far and wide.
We know this mural can happen, and it WILL happen with your support.
At such a crucial, historical juncture in our collective struggle for freedom, this mural dedicated to two of our heroes is needed more than ever.
Thank you for believing, contributing, and helping to further deepen efforts to preserve the legacies of both sister Yuri and brother Malcolm…[email redacted]facebook.com/YuriAndMalcolm  @yuriandmalcolm  #YuriMalcolmMural


---
Our team: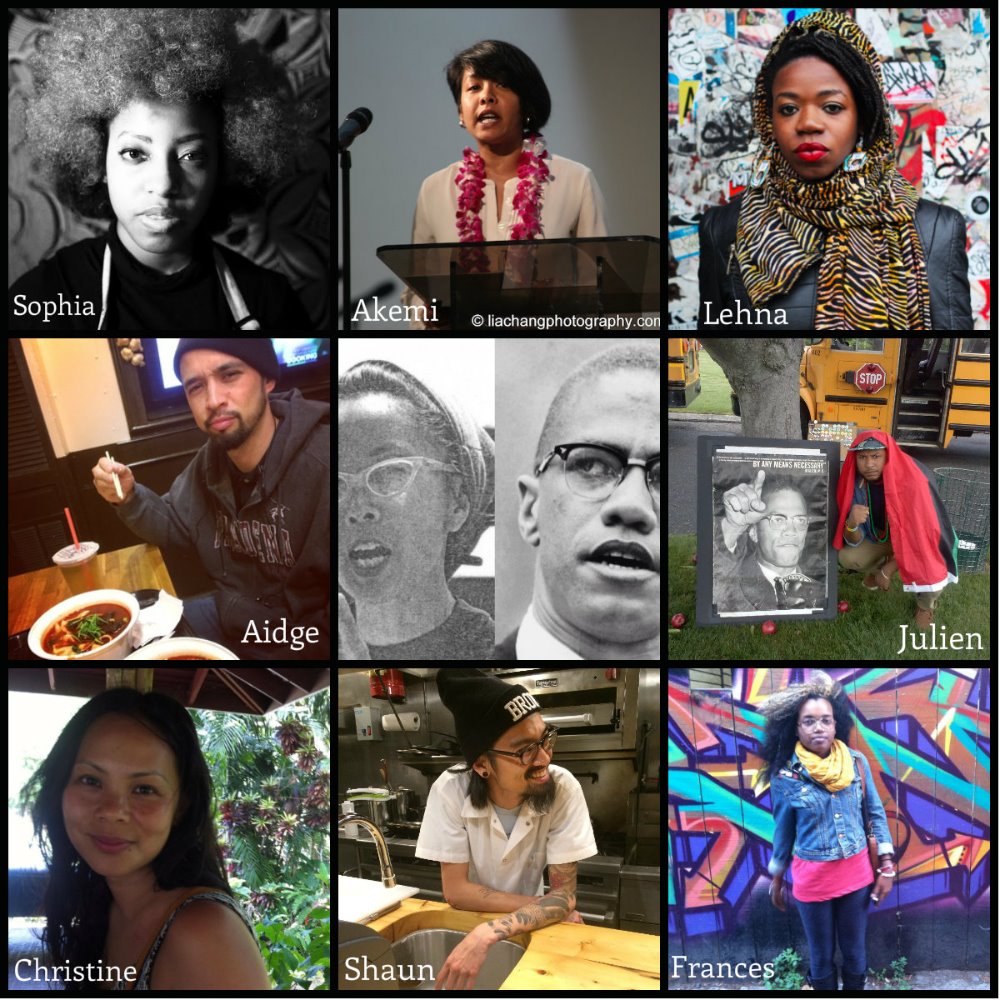 Sophia Dawson
is a Brooklyn based artist. She emphasizes the importance of overcoming the obstacles of life in order to achieve one's goals. Her work revolves around this theme as well. Sophia's paintings focus on the portraits of individuals that are in a state of becoming. She aims to create an art program for young people as a way to give back to the community. @iamwetpaint


Lehna Huie
(b.1988 NYC) is a multi-disciplinary fine artist, arts educator exercising a belief in the power of multi-vocal art. She describes stories of love, loss & remembrance in her work. Huie's work is deeply committed to the fusion of arts & social change as a path to liberation; exploring the past, present & the future of thought, social freedom & struggle. Lehna's educational work is centered on utilizing the creative voice of artistic expression as a compass for healing our world.


Akemi Kochiyama
is Co-Coordinator of the Yuri Kochiyama Archives Project, Co-Editor of "Passing It On: A Memoir by Yuri Kochiyama" & granddaughter of Yuri Kochiyama. Akemi is a writer, scholar & fundraising professional and currently serves as Director of Development and Alumni Relations at Manhattan Country School, a progressive independent school with a commitment to social & environmental justice. She is also a doctoral candidate in Cultural Anthropology at the CUNY Graduate Center.
Audee Kochiyama-Holman
 (not pictured) is Co-Coordinator of the Yuri Kochiyama Archives Project, Co-Editor of "Passing It On: A Memoir by Yuri Kochiyama" and daughter of Yuri Kochiyama. Audee is Director of Alumni Relations at Advancing Justice - Asian Law Caucus (in San Francisco) and a Board member of EastSide Arts Alliance (in Oakland).


Shaun Lin
is a Brooklyn-based activist & organizer who has worked on policing and education issues for the past 10 years. He has previously worked on The Broken Windows/Know Your Rights mural in Harlem, New York and is brought to this project inspired by the legacies of Yuri Kochiyama & Malcolm X.


Luke "Aidge" Patterson
is a community organizer, educator, radical social worker, cop watcher, mc, graffiti writer, world explorer, food hunter & rebellion starter. He dreams of bringing LA weather & militancy to NYC, with a little less drought. @Aidger34ski


Christine Peng
is a filmmaker, educator & organizer that believes in the power of storytelling to connect dots, build community & spark social change. She is the Education Director at the Maysles Documentary Center in Harlem where she supports the uptown community in writing their own histories, and proudly serves on the Board of CAAAV: Organizing Asian Communities, nurturing the leadership of low-income Asians to fight for racial & economic justice. @steenxtine

Frances A. Perez-Rodriguez
used to start her short bios by mentioning that she graduated magna cum laude from Rutgers University with a Bachelors degree in journalism & art, soon after becoming a published writer with Metro Newspaper & RollingOut.com... But today prefers to address her current life work as a tutor, member of the Sunset Park Cop Watch Team, & tree-hugging herbal student. @mightyfranso , about.me/franso
Julien A.Terrell
was born, raised & currently lives in the West Harlem neighborhood where he first developed his interest in community & cultural organizing. His commitment to developing youth leadership both locally & internationally motivated him to join Brotherhood/Sistersol, located up the block from where he grew up, as lead organizer. He is also an active member of the Harlem Copwatch Team & Universal Zulu Nation.
Tomie Arai
is a public artist and printmaker. Through the use of family stories, shared memories, and archival photographs, her work becomes 'living history' that reflect the layered and complex narratives that explore the relationship between memory, art and history and provide a personal sense of connection to the world. She has produced both temporary and permanent public works of art for Creative Time, the MTA Arts for Transit Program, the New York City Board of Education and the San Francisco Arts Commission, the Bronx Museum of the Arts, the Japanese American National Museum, the Museum of Modern Art and the Whitney Museum of American Art.
Organizer