Baby Kendra's Medical Fund
Thank you so very much for taking the time to check out this gofundme page.
Back in 2014 my sister, Caryn, and my brother in law, Brian, lost their first child, Dimitri, who was stillborn due to Heart Disease. It was my parents' first grandchild and my first nephew. Our family and friends were devastated but it still pales in comparison to what my sister and brother in law had to deal with. They may never get over the loss of their son but they were determined to have a family.
Thankfully on December 29, 2015 in Champaign, Illinois my darling, wide eyed little niece, Kendra, was born. We were all so grateful, blessed and in love! She has 10 fingers, 10 toes...and 3 spleens?!?! As it turns out, Kendra has a lot going on inside her baby body. In addition to the multiple spleens she has a malrotation of the intestines & bowels, Biliary Atresia Disease plus an Atrioventricular Septal Defect Transitional and Heterotaxia Syndrome. Then there's the jaundice, Bilateral SVC & Interrupted IVC. ABCDEFG what the heck does that all mean?
Basically, this sweet, baby girl (who just turned 3 months old) is going to need a liver transplant before she's 2 years old. We still don't know if she will need the heart surgery before or after that liver transplant; the doctors will determine what needs to be done with more tests. We still can't believe it and it breaks our hearts. She's a happy baby who eats, sleeps, giggles, smiles & poops (a lot). We want her to get the proper care she needs to lead a good, long, healthy life. The first thing on the to-do list is to untangle the intestines & bowels and hopefully get rid of her hernia.
As you can imagine my sister, Caryn, and brother in law, Brian, have missed a ton of work and will continue to do so now and in the future. They have been taking Baby Kendra to various hospitals & specislists in Chicago & Peoria, IL hours away from where they live. They have spent numerous nights at the hospitals already and it's not going to end any time soon. Not working plus very expensive medical bills & travel expenses all add up pretty quickly.
I love them all so much. It's not going to be easy emotionally but I wanted to lessen the financial burden for them. These new parents need 1 less thing to worry about. Anything you could do to help would be greatly appreciated. Thank you. Thank you. Thank you.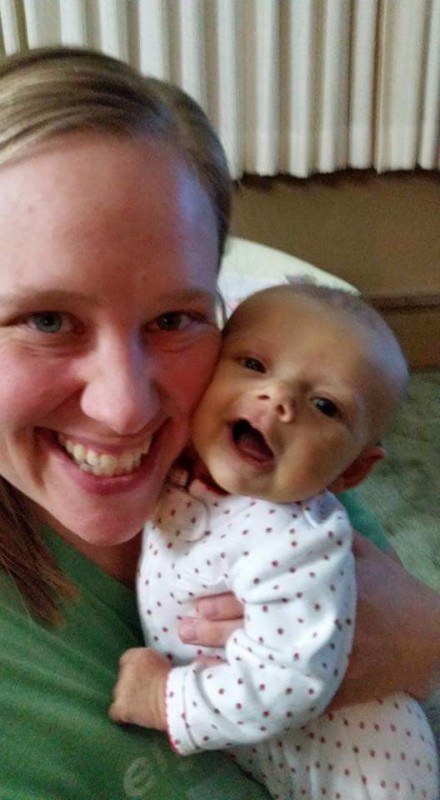 Become the first supporter
Your donation matters
Organizer and beneficiary
Jaclyn Kendra Watt
Organizer
Cissna Park, IL