Help Us Finish "You're Doing Great" (Short Film)!
Following the death of his parents, a pliant seventeen-year-old living in a kitschy future where happiness is sold as a commodified drug trepidatiously takes on his first job in order to make ends meet for him and his ailing younger brother– in the form of finally affording "true" bliss.
Inside the Box Productions presents You're Doing Great, an absurdist sci-fi black comedy about grief, capitalistic ignorance, and acidic bird shit. The film is directed and produced by Sam Kellman (Stuffed, Within Our Walls, Two Hogs and a Pig), co-writing alongside Aidan Dorn-Wallenstein (Wyrm, Sugar Pine 7, Stuffed), who also stars in the film. It's been a truly ambitious undertaking for everyone involved, having been in development for over a year and requiring over 50 dedicated cast and crew members to bring it to life.
Now, the film has recently wrapped on principal photography, which was a tremendous feat completing a 30-minute short within a 7-day timespan and just over $10,000 worth of out-of-pocket budget. But it happened! Once again, our cast and crew have been absolutely incredible in fully realizing this retro-futuristic dystopian world. Here are a few early sneak peek frames of what we've been cooking...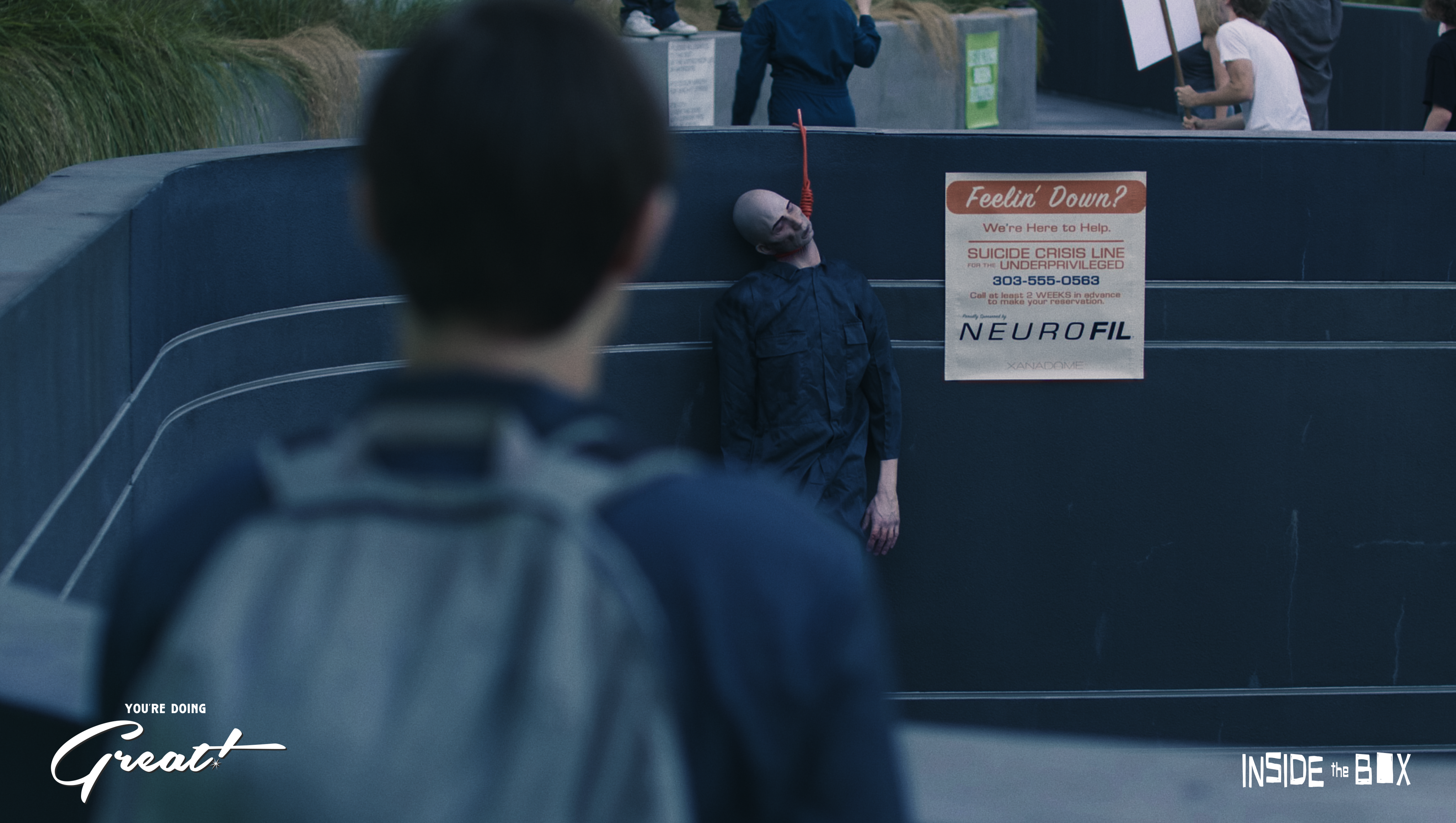 Naturally, we're diving right into post-production, with Sam already set to edit the film, but, it's looking like we'll need just a bit more funding to finish post and complete this final stretch, as this was solely a passion project film that was completely self-funded, and unfortunately... we're out of self-funding! This is precisely why we're coming to GoFundMe to hopefully raise an extra $1,500 to finish our crazy movie. Adding on a last additional $500 from Sam and Aidan to what is raised, our goal is to have $2,000 remaining to complete the post-production on this film. Below is exactly how this budget will be split up:
Visual Effects and 2D Animation - $800
Sound Design - $200
2nd Unit Shoots - $250
Original Score - $500
Voiceover - $250
With so many extremely talented young folks throwing their all at this production (the majority of the crew being under 22 years old), we absolutely want to see it through to the finish line, and we need YOUR help! Please consider donating, because as cliche as it sounds, every dollar truly does count! Our team is soooo excited to bring this film to your eyeballs, whether that be watching the project at film festivals or online in the near future, we are really proud of this one and can't wait to share it with you!
Be sure to share this campaign page with anyone you can! It really means a lot!
Official Disclaimer: No raffles, sweepstakes, giveaways, or promotions are offered in exchange for any donations made to our GoFundMe.