Please save me, Pancake the Puggle!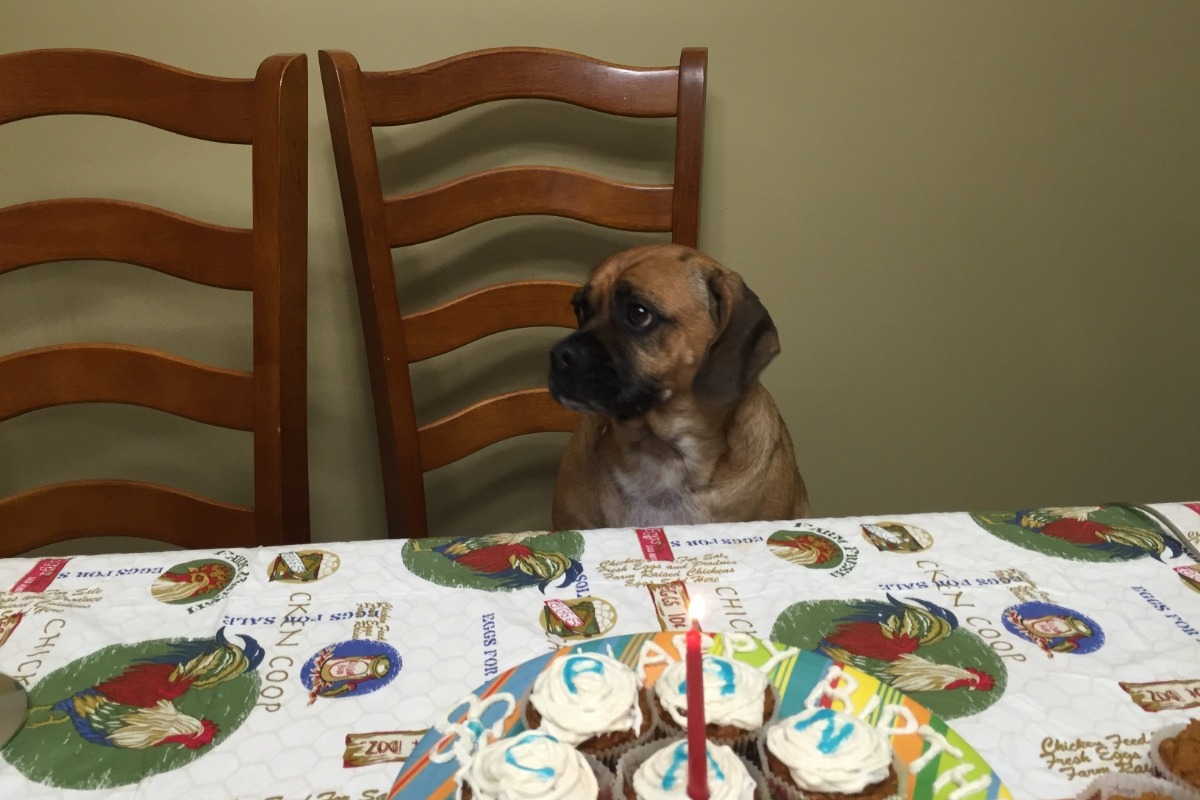 Pancake- Rufff everyone,
my name is Pancake and I am a Puggle and I just turned 7 years old!
I love to eat, run around, dig holes at the beach and bark all day protecting the house! I haven't been able to do most of these things for about a month now because I don't really feel good, and they are telling me I am very sick. My parents never ask for help because they are very stubborn like they say I am (what can I say, I'm a Puggle!) If you read this story and
are not in a position to help at all, it is ok. I promise you. No matter what happens I know I will be ok.
I am just worried how my humans will feel. Please just hug your doggos extra tight tonight and keep me in your thoughts and prayers. 
I've been in and out of the hospital and vet about 7 times in the past 2 weeks.
I've been under many different types of medications but my health has not gotten any better. These pills taste worse than the one time I tried eating mommy's salad. On top of all this everybody around me keeps crying and I don't understand what is going on. It all started when my parents (Dad and mommy, or Joe and Vy to you humans) noticed that I began to have tremors and couldn't walk right.  Then one night I became blind overnight! When I kissed my mom and dad good night I could see them, but when I woke up I could not. When I tried to do my daily routine of patrolling the house for intruders and going outside to do my business, I couldn't walk or keep my balance. My parents immediately took me to the vet (hate that place.)
After many trips to the Vet getting X-Rays, blood-work, and multiple tests,
everything was coming back normal.
Everybody including myself knew something was
wrong
but couldn't figure it out. At first they thought it was Lyme disease, the dog flu or even arthritis and glaucoma. The nice lady at Guilford Vet suggested we immediately go to Pieper Memorial Animal hospital where they have a 
Neurology Expert by the name of James H.
I ended up
spending my birthday
(9/11) in the hospital for an observation and an MRI. I had to stay at this weird strange place over night without my parents. I couldn't see and did not know what was going on. We usually have my mom's homemade peanut butter cake and Froyo for my birthday.
This was not what I was expecting on my birthday.
The results came back and the nice doctor (he scratched my butt and gave me treats, so he's a winner to me) told me that I am suffering from an
inoperable brain tumor
that is very progressive and need to be treated immediately. This tumor is causing fluid build up in my brain, that is pressing against my frontal lobe impairing my eyesight and coordination. 
The doctor and my parents want to treat my brain tumor as aggressively as possible because of the size and placement so I can
have a chance to live 3-5 more years.
Without treating it, the best guess they say is I have
4 months max.
  Giving me a MRI everyday to see how rapidly it is growing is very unreasonable because of cost and time.
Going untreated, my timeline is just a hypothesis.
My humans always told me I had to be nice and protect the baby when they were ready to have one. I have been preparing for this by practicing my barks and mean face to strangers that look like trouble. I would really like to make them proud. 
The doctor says with this treatment, I will most likely regain my eyesight and be back to normal in no time! 
My parents want me to get all the help I can get so we are meeting and setting up a date with 
The Veterinary Cancer Center
next Thursday. 
The treatment cost is very expensive. The nice doctor explained it can be anywhere from
$8,000-$10,000
and will have to last almost a whole year going 5 days/week.
I know my parents love me so much and want me to fight this until the end.
I promise I'm going to try my best
and I
'm going to be so strong
because I hate seeing my parents and grandparents upset.
Please help me and my parents to overcome this and have your doggos say their little doggy prayers for me. Mom and Dad both said I am a warrior because I've been through previous health battles and I am still here.
I promise I'll do my best to fight this cancer and get better.
*Licks and hugs*
Pancake
*If you're still around and want to read my favorite story that the humans tell me, I would love to tell it to you. I know what I am going through is very sad, but hopefully this story brings as much joy to you as it does me.
My Dad says growing up, he always wanted a pet but was never allowed to get one. My dad especially wanted a dog, because he always admired their companionship and love. My Grandpa and Grandma had bad experiences with dogs growing up, so they had a different view on this. My Grandma was bitten when she was very young and my Grandpa was very poor growing up and constantly moving. When Grandpa took in a Dog (Fritz,) one of the times they had to move, no dogs were allowed where they were going and he had to give up Fritz. Grandpa loved and cared for Fritz so much, that it broke his heart to pieces and vowed never to put himself through that again.
Back in 2011, my dad was working some boring desk job. Ron, the person who worked directly next to my dad had a dog and always talked about him. My Dad, having a different view on pets through his conditioning growing up, never really grasped the idea or saw the love. When Ron's dog unfortunately passed away from a tumor, Ron took the day and next day off from work. Upon returning to work, my Dad Joe didn't understand why he would take a day off from work. After talking to Ron, and seeing the pictures, and hearing the way Ron talked about his recently passed Furry friend, Joe immediately had a change of heart and realized that Dogs weren't just some animal, they are indeed a part of your family. 
Still, Joe was not allowed to get a dog, living in his parents house because of his parents past experiences. 
Right around this time, My dad met a girl (My mommy!) They immediately fell in love. They decided to live together after some time. One morning they went to their favorite Pancake house (Chips,) they were discussing things they wanted to do to the house, their room, boring Human stuff. Mommy ordered Pina Colada Pancakes, and Dad ordered chocolate chip pancakes. During eating, they both brought up the idea on how they always loved dogs and would love to get one (their talking about me!) They talked about breeds, what kinds, and finally names. They both looked down at their plates, and immediately knew, Pancake was going to be my name.
Just telling that story and sharing it makes me very happy. Unfortunately, I haven't heard that story from my dad lately. My Dad just prays a lot near me now.  My dad always asks "why," "why Pancake?" When I hear my dad ask to trade places with me, it makes me mad. I would do anything in the world to protect him, that's why I took this sickness and burden and not him. I know my Dad is coming from a good place, but I would never let that happen.  
I hope you enjoyed my favorite story as much as I do.

Organizer