Ydwer's Recovery 


(Dutch/Nederlands Scroll Down)
Our special friend and one of the most talented, hard working and creative photographers in the kiteboarding industry, Ydwer van der Heide, has suffered a terrible injury that truly could have happened to anyone who spends time in surf. Still without movement in his hands and legs, this brave Dutchman has a long, uncertain journey ahead.
On Thursday 4th February, Ydwer was surf foiling near home at Noordwijk in the Netherlands when his foil hit the ground and he was thrown forward. Landing on his head he crushed the C6 vertebra in his spine. Unable to move in the water he was rescued by the friends he was surfing with and rushed to hospital by paramedics where he was immediately taken into theatre.
After a day on a ventilator and two days without it on ICU, then three more days on a neurology ward, Ydwer is now resident at a specialist rehabilitation centre, Heliomare in Wijk aan Zee, where his treatment will continue for the foreseeable future.
Caption: Ydwer and Marije, day five after the accident. Shot using Ydwer's remote trigger and then he edited the image himself using the tablet's voice command functions
Ydwer is one of the most prolific photographers when it comes to creating inspirational magazine cover shots, evocative action images for advertising campaigns and for capturing sensational moments at international kiteboarding competitions. His images have helped riders develop careers and inspired a great many more to take up the sport.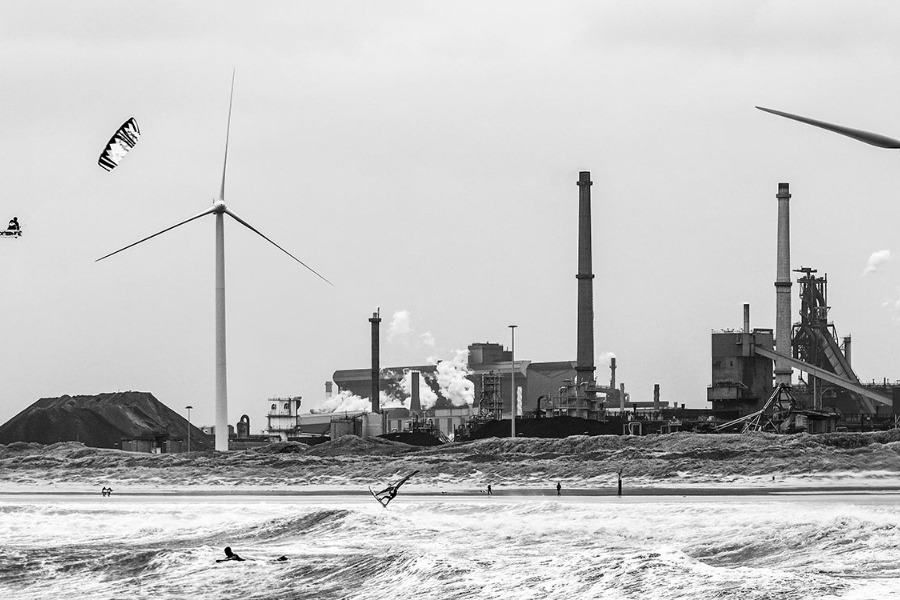 Caption: Ruben Lenten, Wijk aan Zee (the town where Ydwer is in rehabilitation), November 2012 Photo: Ydwer van der Heide
Truly dedicated, he is also one of the only photographers to purely make his living from shooting kiteboarding. In a moment everything has changed but, testament to his immensely positive character, he has already promised the rehabilitation centre staff that it's his mission to somehow take some good photos of their facilities as he couldn't find any online!
Caption: Jalou Langeree, Madagascar, September 2019.
Photo: Ydwer van der Heide
Although he can only move his wrists, and is still without movement in his hands and fingers, in the last week Ydwer has managed to become friends with Siri and Voice Control on his iPad to verbally control the tablet. He is over the moon to have been able to do some basic photo editing this way. Photography is his life's work and even small steps like this are making a huge difference.
We've seen how Ydwer and his girlfriend Marije have tackled their first three weeks since the accident with inspiring positivity, but they now surely face a difficult road ahead physically and financially when it comes to his rehabilitation.
They're a responsible couple with suitable insurance for Ydwer's career, but with an injury as serious as this and the lengthy, specialised recovery process to follow, there will be challenging costs that go beyond any policy cover.
The next six months are crucial in terms of how Ydwer's long term recovery will look. Although his treatment at the rehabilitation in Holland is covered by insurance, the pair are already facing a loss of earnings as they're both self-employed.
Extra elements they'll need to consider are likely to be:
- Equipment costs, such as wheelchairs, specialist beds and in-home aids
- Home modifications including ramps, railings and lowering bench tops
- Vehicle modifications
- Perhaps biggest of all could be visiting a specialist outside of Holland – as that's not covered by their insurance.
This fundraising page has been suggested and set up by their friends. Lots of people have offered their support and we feel that donating through this fundraiser is a good way for us all to collectively help make a difference at this very early stage of his recovery.
We, as Ydwer and Marije's family and friends, appreciate any support, messages and donations you can offer at this difficult time. One day, hopefully soon, we'll get to see Ydwer behind his lens taking spectacular images again.
Ydwers website: 
https://www.ydwer.com/
Ydwers Instagram:
https://www.instagram.com/ydwer/
Caption: Kevin Langeree, Big Bay, Cape Town, February 2016 Photo: Ydwer van der Heide


Caption: Oswald Smith, Mauritius, June 2016Photo: Ydwer van der Heide
(Nederlands:)
YDWER'S HERSTEL
Onze vriend en een van de meest getalenteerde, hard werkende en creatieve fotografen in de kiteboarding industrie, Ydwer van der Heide, heeft een vreselijke blessure opgelopen die werkelijk iedereen had kunnen overkomen die tijd doorbrengt in de zee. Nog steeds zonder beweging in zijn handen en benen, heeft Ydwer een lange, onzekere reis voor de boeg.
Op donderdag 4 februari was Ydwer aan het surfen in Noordwijk toen zijn foil de grond raakte en hij naar voren werd geslingerd. Hij kwam op zijn hoofd terecht en verbrijzelde de C6 wervel in zijn nekwervel. Hij kon zich in het water niet meer bewegen en werd gered door de vrienden met wie hij aan het surfen was.
Na een dag aan de beademing en twee dagen zonder beademing op de IC, en daarna nog drie dagen op de neurologie afdeling, verblijft Ydwer nu in een gespecialiseerd revalidatiecentrum, Heliomare in Wijk aan Zee, waar zijn behandeling de komende tijd zal worden voortgezet.
Bijschrift: Ydwer en Marije, dag vijf na het ongeluk. Geschoten met Ydwer's remote trigger en daarna heeft hij het beeld zelf bewerkt met de spraakcommando functies van de tablet
Ydwer is een van de meest productieve fotografen als het gaat om het maken van inspirerende coverfoto's voor tijdschriften,  actiebeelden voor reclamecampagnes en het vastleggen van sensationele momenten tijdens internationale kiteboard wedstrijden. Zijn beelden hebben riders geholpen carrière te maken en hebben velen geïnspireerd om met de sport te beginnen. 
Bijschrift: Ruben Lenten, Wijk aan Zee (de plaats waar Ydwer revalideert), november 2012 Foto: Ydwer van der Heide
Hij is een van de weinige fotografen die puur en alleen van de kiteboard fotografie leeft. In een oogwenk is alles veranderd, maar, getuigend van zijn immens positieve karakter, heeft hij het personeel van het revalidatiecentrum al beloofd dat het zijn missie is om op de een of andere manier goede foto's van hun faciliteiten te maken, aangezien hij er online geen kon vinden!
Bijschrift: Jalou Langeree, Madagaskar, september 2019.Foto: Ydwer van der Heide
Hoewel hij alleen zijn polsen kan bewegen en nog steeds geen beweging in zijn handen en vingers heeft, is Ydwer er in de afgelopen week in geslaagd om vrienden te worden met Siri en Voice Control op zijn iPad om de tablet verbaal te bedienen. Hij is dolblij dat hij op deze manier een aantal basisfoto bewerkingen kan toepassen. Fotografie is zijn levenswerk en zelfs kleine stappen als deze maken een enorm verschil.
We hebben gezien hoe Ydwer en zijn vriendin Marije de eerste drie weken na het ongeluk met inspirerende positiviteit hebben doorstaan, maar ze staan nu ongetwijfeld voor een moeilijke fysieke en financiële weg als het gaat om zijn revalidatie.
Ze zijn een verantwoordelijk stel met een passende verzekering voor Ydwer's carrière, maar met een blessure die zo ernstig is als deze en het langdurige, gespecialiseerde herstelproces dat volgt, zullen er hoge kosten zijn die de dekking van de polis te boven gaan.
De komende zes maanden zijn van cruciaal belang voor het herstel van Ydwer op lange termijn. Hoewel zijn behandeling in het revalidatiecentrum in Nederland door de verzekering wordt gedekt, wordt het tweetal nu al geconfronteerd met een verlies van inkomsten omdat ze allebei zelfstandig ondernemer zijn.
Een korte lijst van extra onkosten waarmee zij in ieder geval rekening moeten houden, zijn waarschijnlijk:
•       Uitrustingskosten, zoals rolstoelen, speciale bedden en hulpmiddelen voor in huis
•       Aanpassingen aan het huis, zoals oprij platen, leuningen en verlaagde bankbladen
•       Aanpassingen aan het voertuig
•       Misschien wel het allerbelangrijkste is een bezoek aan een specialist in het buitenland - aangezien dat niet door hun verzekering wordt gedekt.
Deze fondsenwervings pagina is voorgesteld en opgezet door hun vrienden. Veel mensen hebben hun steun aangeboden en wij denken dat een donatie via deze inzamelingsactie een goede manier is voor ons allemaal om een verschil te maken in dit vroege stadium van zijn herstel.
Wij, als familie en vrienden van Ydwer en Marije, waarderen alle steun, berichten en donaties die u kunt bieden in deze moeilijke tijd. Op een dag, hopelijk snel, zullen we Ydwer weer achter zijn lens zien om spectaculaire beelden te maken.
Ydwers website: 
https://www.ydwer.com/
Ydwers Instagram:
https://www.instagram.com/ydwer/
Bijschrift: Kevin Langeree, Big Bay, Kaapstad, februari 2016Foto: Ydwer van der Heide



Bijschrift: Oswald Smith, Mauritius, June 2016
Photo: Ydwer van der Heide