Help my sister live with MS
Hi I am trying to help my mum help my little sister Lyndsay. Lyndsay has been struggling with MS for the past 8 years, she is only 27 this year. For the past 12 months her MS had progressively gotten worse.  While being diagnosed 8 years ago she became a qualified nurse, she has not worked for the past 10 months  due to her memory loss and probably never be able to work as a nurse again. She is losing her vision and is not allowed to drive. She lives in SA about an hour away from my mum, she is living in my mums house that she is still paying off.  My mum started to drive down to her every few days to make sure she remembered to do the simple things and to take her to the shops ect,  lyndsay now spends most nights at my mums house near the city as she is getting worse and needs more close care. My mum is at the point where she has to sell her house and buy a unit close to where she lives now, lyndsay really wants to keep some sort of independence and not live with mum and her partner. 
The problem now that lyndsay is living with my mum full time is that she has a house she needs to get in order to sell so she can get the apparent but while having to do this she is paying the mortgage for the house but not getting anything from lyndsay in the way of rent and she cannot afford it.
My mum is an amazing lady who as a social worker looking after the most needing people in Australia now has to look after her 27 year old daughter for the rest of her life.
I have tried to help the best I can but live so far away in Perth and can't support financially,  this is something I would like to do for them. 
I am asking from the bottom of my heart if you could please help my mum get my sister set up in her new apartment by donating money,
anything you can so my mum can get her house fixed up and on the market then we can use that money to get lyndsay set up in her own apartment close to her doctors, the care of my mum and give her some independence back. We just need to take the next step. 
Thank you for your time.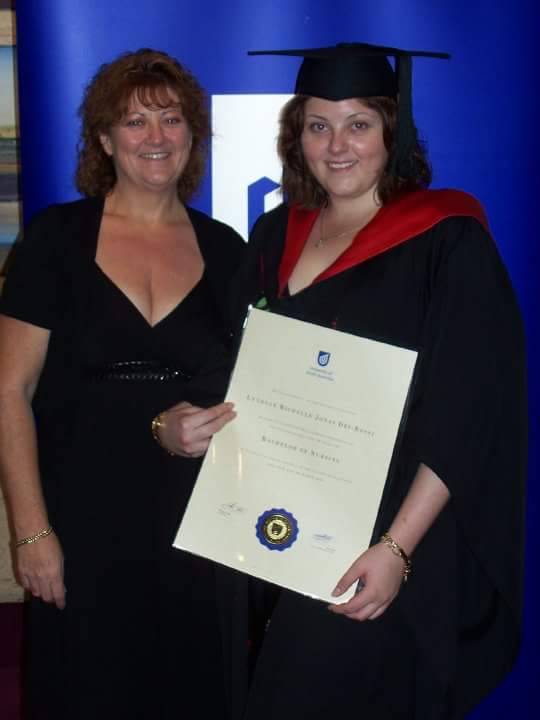 Here is my sister and my mum on my sisters graduation day
Organizer