Put Socialism on the Ballot in WI
Please Support our Effort to Put Socialism on the Ballot in Wisconsin
For the first 10 days of July, we will have a dozen organizers who will be covering the state and reaching out the people of Wisconsin to get the 4,000 signatures needed to get on the ballot. We need you help to make this monumental effort possible. Please consider making a donation in order to help us cover our costs, including gas, motels, food, supplies and more for our team. If you are interested in helping in this effort, call or text [phone redacted].


Workers World Party
, a revolutionary socialist party, is running Monica Moorehead for President and Lamont Lilly for Vice President. While the two parties of capitalism, war and racism continue to offer nothing of benefit to the people across the US, Workers World Party's electoral campaign supports the struggles of the people against capitalism, racism, anti-immigrant attacks, anti-LGBTQ violence and more.
Check out our ten-point program here
. 
"We have no faith in the one percenter who pay billions to play the electoral process. Our campaign makes an unequivocal break with capitalist business as usual. That is what millions of workers and oppressed are looking for. We see that all over, from the Madison upsurge to Occupy Wall St., from Black Lives Matter to the widespread support for Bernie Sanders, a self-defined 'socialist' – although from our point of view his 'socialism' is really a program to try to reform capitalism" says Presidential Candidate Monica Moorehead.
Moorehead (left center) speaking at Trump HQ in New York on June 14
Wisconsin is a focal point in the struggle
Over the past five years, the pro-billionaire, far-right politicians have rolled back nearly a century of progressive reforms in Wisconsin, including bringing "right-to-starve" union-busting laws and the dismantling of unions for teachers and public workers. Wisconsin is the home of Scott Walker and Paul Ryan, two of the most prominent figures in the "Tea Party" billionaire-funded reactionary movement.
Yet the people of Wisconsin have refused to give in to the extreme right. Workers World Party remembers the  occupation by tens of thousands of people of the Wisconsin Capitol in 2011. In this spirit, we are building our campaign as part of building a broader united front of organizations to continue the struggle against racism, LGBTQ oppression, austerity and more. 
Upcoming Events in Wisconsin
We will also demonstrate
 against the racist, right-wing Bradley Foundation on July 7. "Workers World Party is targeting the Bradley foundation to expose its role as a leading right-wing, pro-business ideological think-tank and, like the Koch family's ALEC, a major architect of the neoconservative program of austerity, privatization, charter schools, resegregation and union-busting – and outright white supremacy as in The Bell Curve. The Bradley Foundation epitomizes everything our socialist campaign opposes," said Lamont Lilly.
On July 7, Lilly
will also be speaking at a community meeting in Milwaukee
 entitled "Building People's Power."  Lilly's political commentary has been featured in Workers World newspaper, Truthout, Counterpunch, the LA Progressive, Black Youth Project, the Durham News, and Triangle Free Press. Lilly was awarded a 2015 Local Hero Citizen's Award by Indy Week of Raleigh-Cary- Durham-Chapel Hill N.C. for "pushing for workers' rights and police reform."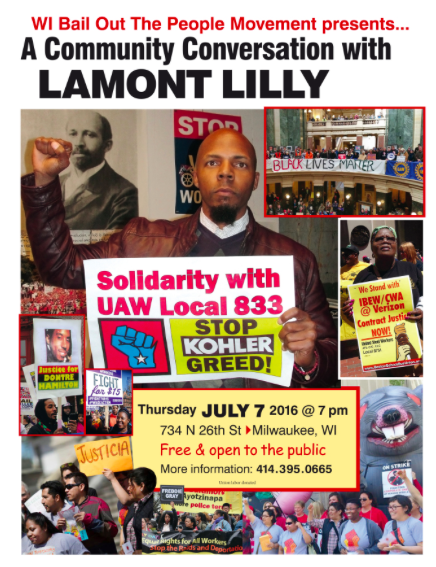 *Please note that we need to record donations over $200 to the FEC. If you are interested in donating over $200, please use: http://www.workers.org/wwp/donate/


Paid for by Workers World Party 2016 Presidential Campaign Committee
Organizer and beneficiary
Scott Michael
Organizer
Milwaukee, WI
Marsha Goldberg
Beneficiary