Sometimes an animal walks (or in Lucy's case, hops)into your life and leaves paw prints on your heart forever, and from that point forward, you will never be the same. This was the case with our Lucy.  Lucy came into our lives in a horrifying and unimaginable way. 
On June 22, 2017, she was found in a ditch on a country back road; cold, muddy, shaking, and missing nearly both of her right legs.  At this point, she was barely alive.  Animal control and the LaGrange ARK Animal Sanctuary were  called by a good samaritan that found her, and she was rushed to King Veterinary Clinic in LaGrange, IN.  After the initial workup, it was not good news. It appeared Lucy's legs had attempted to have been sawed off by some sort of sharp object or blade. This was not a simple hit by car situation. It looked like an awful case of animal cruelty. Looking at the way her limbs were severed, she had to have come in contact with some sort of powerful equipment or tool.  She was pale and had lost a lot of blood from these injuries. Unfortunately, it became obvious that these wounds were not fresh. These wounds were old, dirty, infected. No signs of fresh blood anywhere. By the veterinarian's analysis, these injuries were at least a week, if not more, old. How a dog could survive like this for that amount of time was astonishing to all of us. Even the doctors. No matter what the outcome was going to be, we knew one thing for certain. Lucy was a miracle. Even in her current state, she was sweet, gentle, and trusting. Knowing the odds weren't necessarily in our favor, we all decided then and there to try and save her. The more testing that was done, the grimmer her outlook seemed to be. Not only were two of her limbs (both on the same side of her body, mind you) hacked away, but the x rays also told us something else. Lucy was pregnant with at least ten puppies and they were getting close to term.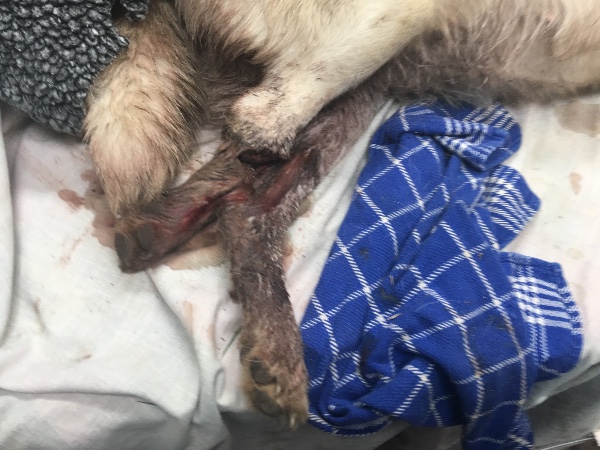 There wasn't much time. Looking at Lucy's bloodwork and how pale her gums were, she needed a blood transfusion, and soon. The injuries to her legs had caused her to nearly bleed to death.  Lucy was given a blood transfusion that luckily, over doubled her blood counts and gave her more energy and life. Her entire right forelimb, as well as half of her back forelimb, had to be amputated.  These procedures were done as quickly and as efficiently as possible, but alas, 24 hours later, the stress and the trauma were too much for Lucy and her puppies, and she began to abort her babies.  As she went into premature labor, her babies got stuck inside of her and no medication was strong enough to help them pass on their own. Less than 24 hours after her double amputation, Lucy had to undergo yet another emergency surgery: a c-section and then, spay. Because the puppies were more than two weeks premature, they were not able to be saved. 
Although we were all devastated that Lucy lost her sweet puppies, there was a silver lining. She could now use her energy and strength to focus on healing and not have a significant portion of her nutrition go towards carrying her puppies. She also had considerably less weight to carry around. We have been trying to focus on the positives during this emotional rollercoaster ride of an experience. 
We are pleased to say at this point that Lucy has beaten all of the odds. She has survived the unthinkable and greets us every morning with kisses and tail wags. She has already learned to get around EXTREMELY well on two legs. It is unlike anything we or the doctors have ever seen. In spite of her doing so well on two legs, we would like to lessen her burden as much as possible and we are working with the veterinarians to help develop a prosthetic for her back leg to give her more comfort and control. The veterinarians we have been working with have been doing a significant amount of the work for Lucy pro bono and we are all very emotionally invested at this point. The prosthetic is something that has to be custom made to fit Lucy's leg so as not to create pressure sores and help give her the most natural gait possible. For this reason, as well as the costs of her previous care and transfusions, we are trying to raise as much money as we can to save sweet Lucy. She is the epitome of hope, perserverance, and trust. We feel that if she has the drive to live and thrive through all of this, she deserves every chance we can give her.
On top of this, because Lucy's story has inspired so many, the local shelter and veterinary clinic that have worked closely together to save Lucy's life, have committed to putting all donations in excess of our goal of $3,000 into a fund to help pay adoption fees for animals at the shelter and cover unexpected veterinary bills for those going through financial hardship. This fund, "For the Love of Lucy," has been created in honor of our Lucy and all of those she has inspired with her story. She is the gift that just keeps giving. Thank you all for listening to her story and God Bless.

Organizer
#1 fundraising platform

More people start fundraisers on GoFundMe than on any other platform. Learn more

GoFundMe Guarantee

In the rare case something isn't right, we will work with you to determine if misuse occurred. Learn more

Expert advice

Contact us with your questions and we'll answer, day or night. Learn more