"YOU ARE STRONGER THAN YOU BELIEVE. YOU HAVE GREATER POWERS THAN YOU KNOW."
-ANTIOPE, Wonder Woman 2017
 My name is Laura Vallejo, I live in the United States and I am from Venezuela. 
Because I believe we can conquer anything, because I believe there is a Wonder Woman and a Superman in each of us, I've created this campaign to help a friend in need.
 My beautiful and strong friend has been diagnosed with breast cancer and needs our help. She lives in Venezuela, a country that is going through an economic and political crisis. A country where medicine is scarce and paying for it is virtually impossible due to the growing inflation.
I am attaching her diagnosis and her treatment. Unfortunately, it is in Spanish but you can check the name of the medicines in Google and you can see that those drugs are used for her condition. 
 My Wonder Woman is going through her second round of chemo. The treatment consists of one year of chemotherapy and then surgery (which is not included in this goal). 
The funds in US Dollars help more than you can imagine, the prices of the medicines rise every day but so does the US Dollar, allowing her to buy her medicines and continue her treatments. I am collecting the money here is he United States and will exchange it into Bolivars so she can buy her medicines. My wonder Woman and I have been friends since High School, we have gone through a lot together and is one of my best friends. 
 We all can help! We all can bring out the superhero in us.  You can donate (any amount is received with love and gratitude), you can share the hell out of this campaign so we can reach more people and/or you can keep her and the people from Venezuela in your prayers. 
Thank you all for reading! Thank you in advance for any donations. Prayers and sharing this page are all greatly appreciated!
Love,
Laura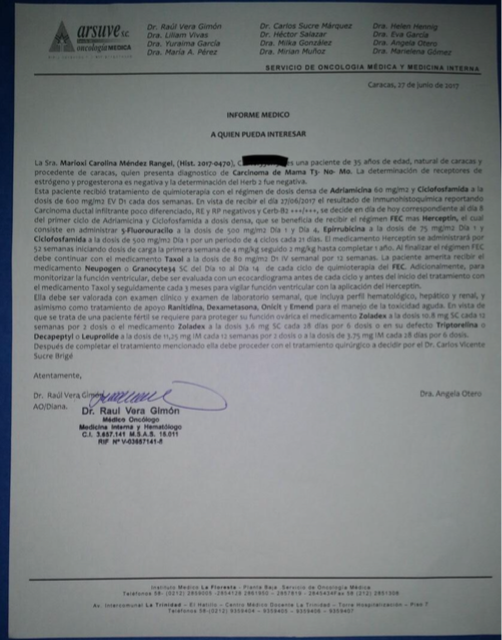 Organizer