Women of Color in STEM in the US & Belize
The Impact of Ending Affirmative Action:
On June 29, 2023, BioGals was in Belize preparing to welcome our first cohort of women of color participating in an immersive Sustainability Experience to increase their participation and retention in science technology, engineering, and mathematics (STEM). On the same day, the Supreme Court of the United States of America (SCOTUS) acted in direct opposition to our mission and decided to end affirmative action specifically regarding the use of race-conscious college admissions practices. We are all very aware that centuries of unjust practices against people of color in the U.S. have led to unequal access to quality education, leading to generational setbacks for Native American, Latinx, and Black American citizens. The recent SCOTUS ruling works against efforts to rectify these injustices. We at BioGals have always been grounded in our work of providing hands-on scholarly opportunities in sustainable engineering and pathways to thriving STEM careers. To build sustainable educational resilience for vulnerable members of our society, we need your financial support to grow our program.
Having just returned from our successful Sustainability Experience in early July, we are excited to continue advancing our mission to empower women of color to create sustainable solutions for environmental challenges. We seek to foster intellectual curiosity, enhance global competency, support workforce development, and reach back to others seeking upward social mobility and professional success. Most importantly, we seek to create a space where women of color do not have to prove their worth or look for belonging in environments that do not offer it. We, at BioGals, are on a mission to create a thriving environment for women of color to exist freely, grow and develop unimpeded by social harms, and apply their ingenuity to sustainability projects.
So, what is BioGals? We are a certified 501(c)(3) non-profit founded in 2017 with a mission "To empower women of color and engage communities to co-create dynamic solutions for a more sustainable world."
We do this by:
(1) Conducting community-engaged research to address environmental engineering challenges
(2) Providing global Sustainability Experiences for undergraduate and graduate students in Belize and beyond
(3) Supporting Belizean high school girls through tuition & book scholarships
What's next:
We have purchased land in the Sittee River Village, Belize. However, our limiting factor is having a facility that can support living, learning, and research in the community. Please help us complete phase 1.
While in Belize, we provided four women of color with the opportunity to participate in our Sustainability Experience by doing various environmental engineering research activities and recognized eight scholarship recipients for high school girls in Sittee River Village. In a disappointing turn of events, SCOTUS decided to end affirmative action for university admissions. Sadly, BioGals and SCOTUS are working towards opposite goals. It's devastating that people of color continue to be minoritized and undervalued in a country that we only know as home. The United States has an extensive history of inequities that persist across STEM from K-12 and beyond. Affirmative action programs provided a pathway for top-achieving students of color to gain access to top universities in a nation with drastic education injustices. This is why it is specifically important to directly fund programs like ours for women and girls of color in STEM. BioGals knows the importance of centering students of color to feel motivated, supported and to excel in STEM education and careers. WE NEED YOUR HELP NOW MORE THAN EVER TO FINANCIALLY MAKE THIS HAPPEN AND GROW OUR PROGRAM.
Testimonials from BioGals 2023 Sustainability Experience Participants:
"BioGals' sustainability experience was an incredible opportunity to network, learn, and serve. I am new to the engineering field; the camaraderie has given me a new-found confidence in my abilities. I feel I have made lifelong connections and I look forward to us all growing together.
"The BioGals Sustainability Program has been the most fulfilling experience I participated in as an undergraduate student. It not only provided me with invaluable hands-on experience in community, field, and lab work, but also connected me with a remarkable network of passionate and like-minded women pursuing similar career paths. This program has strengthened my commitment to an academic career and given me a supportive community to look to as I begin the process."
"The BioGals 2023 sustainability experience was the most enriching study-abroad trip I could have asked for. The academic and research experiences were extremely hands-on and I now feel like I have a community of American WOC in STEM and Belizean collaborators and residents that I can continue to work with. I plan on returning to Belize to learn more about Belizean culture and to continue water quality-based projects!"
2023 BioGals Sustainability Experience participants with BioGals board members at the land dedication ceremony in Sittee River Village.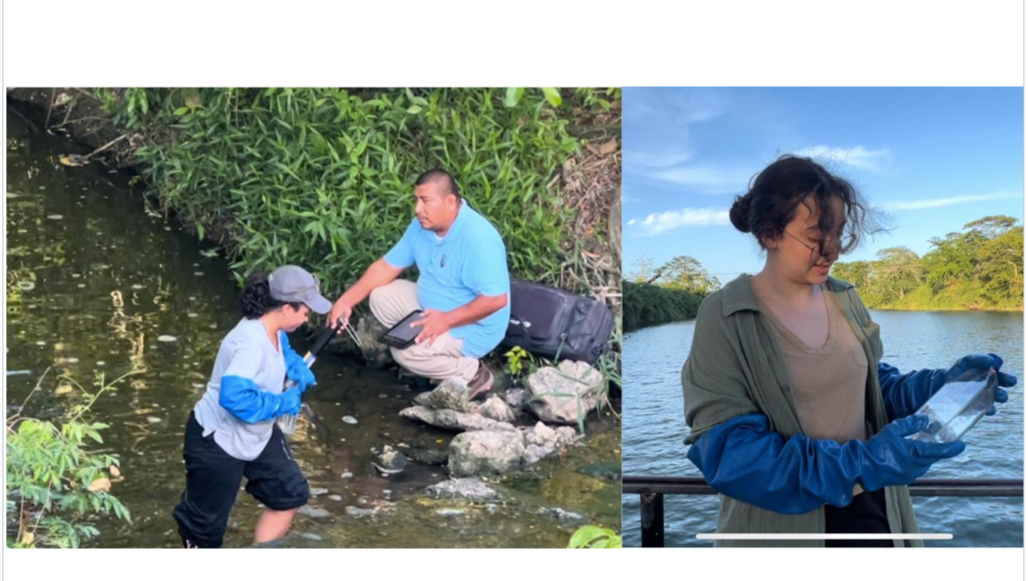 BioGals and the Department of Environment collecting water samples along the Mopan River for water quality analysis.
BioGals preparing collected water samples for stabilization for future analysis.
Scholarship Awardee Testimonials
"Having a high school degree will equip me to get a decent job and it will allow me to further my education by pursuing my associate and bachelor's degree, and even my master's degree. My favorite subject in school is Math because I have a passion for solving problems."
"[With a high school degree] I would like to help kids not only from my village but [globally]. I would like to think high and reach my academic and career goals."
"I'm hoping a high school degree could help me enter a university and continue to pursue my dreams and become successful, intelligent, kind, and continue to hope for the best."
BioGals awarded scholarships to high school girls.
Goal:
Raising $200,000 by the end of 2023 to complete phase 1.
It cost:
$4,000 per participant for sustainability experience
$50,000 for 1 prefabricated home
$20,00 for infrastructure (electricity and water connections, leach field septic tank, A/C)
$16,000 for furnishing and appliances.