Pregancy loss affects 1 in 4 women
. Too many of these women and their families suffer in silence. Far too often they grieve alone, without tangible resources to help them through this devastating time.
The
Wings of Hope pregnancy loss memorial
gives families a place to mourn, pray, and remember the lives of their children lost during pregnancy. It is located in Calvary Cemetery, Mankato, MN. While our committee has come a long way in establishing this memorial, we still have far to go and need your help.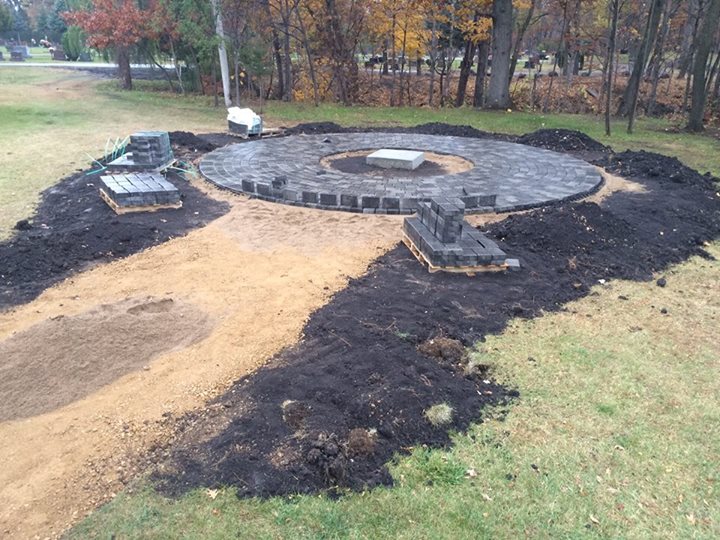 Our committe is small - but our hearts for this project are enormous. We are moms who have cried, often alone, as we mourned our children lost in miscarriage. We are grandmothers who have experienced the pain of daughters losing children - our grandchildren - in pregnancy. We are women who work at the hospital and who see firsthand the devastation that pregnancy loss washes over families. We stand together and strive to bring not only this much needed memorial to the community, but to bring a voice and support to all of the families who are touched by the tears of pregnancy loss. 
Wings of Hope has already broken ground and the pavers have been set in the walkway that will surround the memorial, but this is just the first step. We still need funds to complete this portion, as well as to provide for the central monument and burial services. The $10,000 we are hoping to raise online is less than half of what we need to complete this memorial. Please learn more about our
memorial progress at our website
.
The reality is that when mothers experience  miscarriage prior to 20 weeks gestation, they often go through this ordeal at home and have limited resources for support. This memorial site offers the opportunity for families to participate in a burial service. In combined efforts with Mankato Mortuary, families can choose to have the remains of their children lost in miscarriage (medically and legally defined in MN as prior to 20 weeks) buried at the site. It is our intention to provide
this service
 free of charge to these grieving families.
The pavers that make up the walkway are also available for engraving with
this order form
. Families who lose a child in miscarriage often have no public record of this loss - it exists only in their hearts. These pavers are a way to permanently recognize the lives of children who died too soon. The pavers are also a way for the community to come together for these families, engraving pavers as a show of support. The cost after engraving goes directly to support the memorial costs.
Every donation we receive goes directly to the costs of the memorial - completing the walkway, installing a central monument of angel wings embracing an infant, and providing for a final resting place for children lost in miscarriage. If you prefer, checks are also gratefully accepted, and are tax deductible. For more information,
visit our website
.
You can also view
local news coverage
 here.
Organizer
Chris Oldenburg
Organizer
Mankato, MN