Will Lindsay's Memorial Fund for Bicycle Safety
On Sunday, July 12, 2020, beloved
William (Will) Lindsay III
, 32 years old, was tragically struck and killed by a motor vehicle while riding his bicycle in Philadelphia.
The accident occurred when he and the motorist were traveling north on the 3800 block of Ridge Avenue, in the Allegheny West neighborhood. 
The circumstances of his death are not an anomaly in the City of Philadelphia. In just three weeks, 6/21/2020 - 7/12/2020, three Philadelphia cyclists have been lost in fatal accidents with motor vehicles
(Read more)
. This statistic is outrageous and embarrassing for the City.
Ridge Ave was home to Will, who lived in the Strawberry Mansion neighborhood with his partner. Their home is less than a mile from the site where the accident occurred.
More than that, Ridge Ave is a major through-way for cyclists, due to it's proximity to the roads of East Fairmount Park, Kelly Drive, and the Wissahickon Trail.
The stretch of Ridge Ave between 33rd Street and Manayunk Main Street must become a safer and more inclusive road for cyclists and pedestrians.
Truly, the time has long passed to make the streets of Philadelphia safer for cyclists. Experts have long been organizing, researching and pressuring the City. But those organizations need our help to gain momentum and turn their research into the legislation and the redevelopment of the roads that we need. With our support, we are demanding that our City leaders recognize the weaknesses in Philadelphia's road infrastructure. We are demanding that our elected officials become committed to eliminating the threat this outdated infrastructure puts on the lives of cyclists. This threat morbidly looms over every cyclist in this City each and every time that they take to the roads to commute, or just to do what they love. We must amplify our voices to let them know we will not accept this threat any longer. 
In honor of Will, and all cyclists whose lives have been taken too soon on these city streets, his family and friends are asking for donations to be made to two high-impact, cycling-centered, non-profits of Philadelphia: 
Bicycle Coalition of Greater Philadelphia
An advocacy group working to establish safer street infrastructure and trails. They are committed to achieving the
Vision Zero
goal, part of a nationally recognized movement, to eliminate traffic deaths in Philadelphia.
Neighborhood Bike Works of Philadelphia
An community strengthening organization that inspires youth and provides equitable access to bicycling and bike repair. They provide education, recreation, leadership, and career-building opportunities.
All donations made to this fund will be split evenly between these two organizations. 
About Will: 
Will was born and raised in the Philadelphia area where he stayed his whole life and where he had been working as a Scientist in the Biopharmaceutical industry for six and a half years. He loved science but his true passion was making people laugh. He was devoted to this city. He was devoted to his community. He was devoted to his family, his friends, and his partner. And he was devoted to cycling.
He primarily rode a chrome, Fairdale, Weekender. His bicycle was undoubtedly his most prized possession. It was an extension of his body and of his spirit. It carried him hundreds and hundreds and hundreds of miles.
This summer was cut short for him, but in the summer of 2019 he participated in the
Velo Amis
organized Gravel Grape Crusher, the Dogfish Head IPA ride, and he and his partner were lucky enough to spend a seven day bike tour together riding through Pennsylvania, Delaware, and New Jersey. It was the best experience of both of their lives. 
His favorite trails in the region were the Green Ribbon trail, the Forbidden Drive trail, the Perkiomen trail, and the Cooper River trail. 
In addition to biking, Will loved many, many things. Among them were Bowling, Disc Golfing, Mini Golfing, Camping, Tired Hands Beer, Little Goat Coffee, Velveeta Shells and Cheese, His Mom's Homemade Chocolate Cake, LCD  Soundsystem, The Gorillas, Science Fiction, Space Exploration, Technology, Jurassic Park, Star Wars, Harry Potter, Spiderman, and the Philadelphia Eagles. He had an eccentric style, a hallmark of which was a vibrant pair of socks. 
Will blessed everyone he met with his charm and his enthusiasm and his kindness. He taught us so much, including the universal, essential truth that
now
is
always
a good time to tell someone you love them. 
Will's obituary is available to view here. 
Once again, In the spirit of Will, please join us in supporting the Philadelphia cycling community. The time is past due to see real change in Philadelphia. In order to see that change, we all need to be involved. We thank you in advance for your generosity and your support.
South Philadelphia, PA
Pennypack Trail, Philadelphia, PA
Sea Isle City, NJ 
Wharton State Forest, NJ. With Best Friend Mike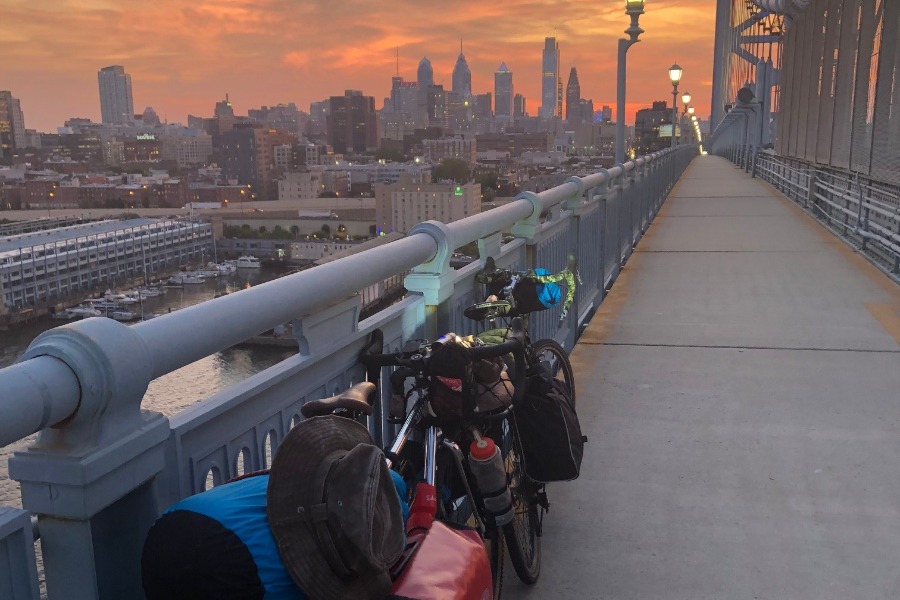 Ben Franklin Bridge, Philadelphia, PA
With Family: Sister Emma, (like a sister-in-law) Christina, Brother Phillip, Father Bill, Mother Monica
First Flat Tire on Tour, New Castle, DE
With Best Friends Zach and Al. You know where and when!
First Ride on the Wissahickon Trail, 2018, Philadelphia, PA
Ben Franklin Bridge, Philadelphia, PA
Strawberry Mansion Bridge, Philadelphia, PA
Green Ribbon Trail, Ambler, PA
Will,
Our love for you, like your love for us, is unlimited, unconditional, and eternal. 
Rest in Peace, Partner. We'll ride with you again on the other side. 
Fundraising team (3)
Sylvie Smith
Organizer
Raised $17,150 from 231 donations
Philadelphia, PA
Felix Smith
Team member
Raised $1,255 from 22 donations