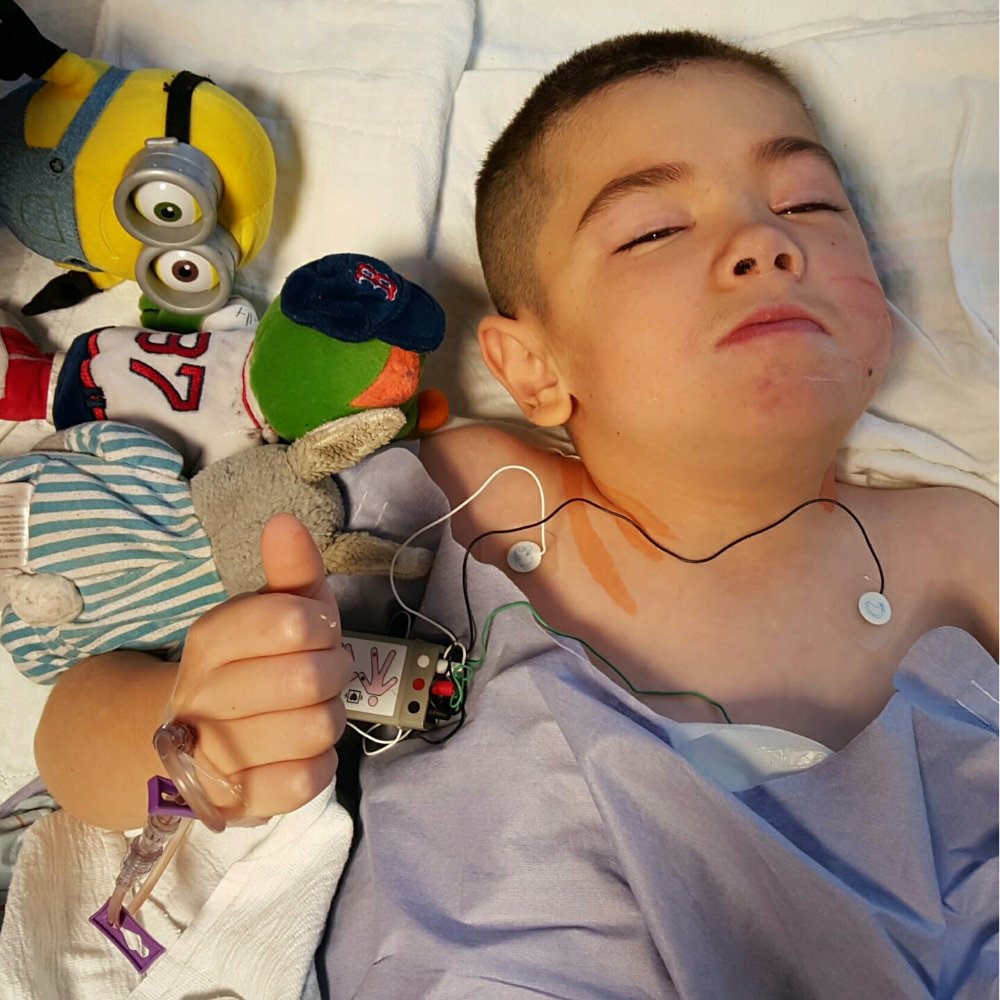 Thomas is a nine year old boy.  He loves his family, history and of course, baseball. He may actually be THE biggest Red Sox fan on the planet**.  But Thomas is not an average nine year old boy.  Thomas is one in 3.2 million, literally.  Thomas was diagnosed with Duchenne Muscular Dystrophy just after his first birthday.  DMD is a muscle wasting, degenerative disease that will rob him of the use of his body - most boys with DMD are confined to a wheelchair by the age of 12.  Unbelievably, Thomas also has congenital scoliosis and as of the fall of 2015 Thomas has endured 14 surgeries to help combat the affects of the scoliosis.  The odds of having both congenital scoliosis and DMD are yep, you got it, 1 in 3.2 million.
Until this past summer, Thomas' muscles were getting stronger but Thomas is now spending more time in his wheelchair as his body begins to really be taken from him by DMD.  Thomas has both a conventional "old school" wheelchair and a motorized wheelchair.  The conventional wheelchair does not provide the support Thomas needs for his back nor does it allow him to the independence to get around himself.  Thomas is able to use his motorized wheelchair to get around his neighborhood a bit and he uses it at school because he is taken to school by a wheelchair accessible bus.
This GoFundMe campaign has been set up to help raise funds to help Thomas get a wheelchair accessible van that will allow Thomas to get out and about more.  Currently the Hastings do not have a vehicle that can accommodate the motorized wheelchair that allows Thomas to get around by himself.  Thomas's parents have done an amazing job at giving Thomas as full a life as is possible.  But as his need for the wheelchair increases and without a means to transport the motorized chair, Thomas is spending more and more time at home.
Thomas is associated with an amazing organization, Team IMPACT, who has connected Thomas with the University of Hartford Hawks Baseball team who named Thomas their teammate, and even manager for a day!  The team provides an incredible amount of support for their teammate - hanging out with him at home playing video games or following his instructions when he visits the mound for a pitching change.  A means of transport for the wheelchair will mean Thomas will be able to really get those college boys in line!
In the summer of 2016, it is anticipated that Thomas will be paired with a service dog who will be Thomas' faithful companion and helper.  This pairing will require Thomas to travel to the organization's headquarters for two weeks of training.  The motorized wheelchair is an integral part of the training and the Hastings will need the van to be able to deliver Thomas and his wheelchair to the service dog training center.  Of course, the van will also need to be big enough to accommodate the pooch.  
Thomas is an amazing kid. He is an old soul who can wins the heart of anyone who is privileged to know him (and those who know of him).  Please help us help Thomas.  Any donation is appreciated and will help us reach our goal.  Thank you in advance.  
**Yankees' Fans please don't hold his Red Sox allegiance against him.  He knows as much about the Yankees as he does the Red Sox.  Give what you can!

Organizer and beneficiary