Hello!
I'm Aodhán, a 25-year-old disabled queer person from Northern Ireland, and I'm urgently trying to raise money for a powerchair (electric wheelchair) which will enable me to leave my house, regain my independence and grow my small business helping other disabled people.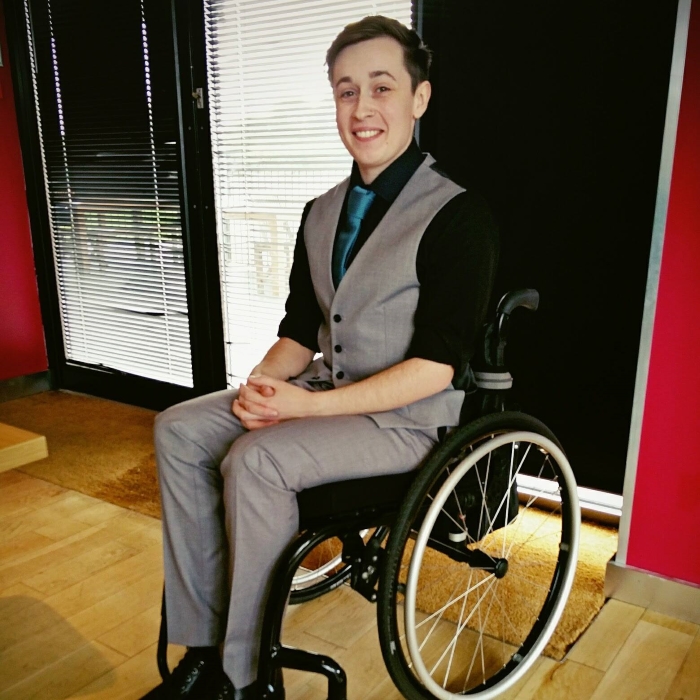 I had/have spondylolisthesis, which required spinal fusion surgery several years ago, which has caused severe chronic back pain, thoracic spinal instability and cervical spinal instability too. I also have spinal stenosis, for which I'm waiting for specialist support for, but which is adding to my severe back pain, as well as causing loss of sensation in my right leg.
I also have joint hypermobility, which is presumed to be Ehlers-Danlos Syndrome, a connective tissue disorder. This chronic illness causes regular full and partial
dislocations of bones, chronic fatigue and exhaustion, and a whole other boatload of chronic pain.

As the cherry on the cake, I also experience dizziness, fainting spells, and headaches, which are currently believed to be autonomic dysfunction and/or intracranial hypotension, which both require me to lie down to get relief for.
I'm currently housebound unless a carer, friend or family member is there to push me in my manual wheelchair, and even then, sitting upright for longer than an hour results in awful headaches and other pain that won't ease up until I'm lying down again. When at home, I'm stuck in bed, propped up on pillows and supports to reduce pressure on my joints and spine.

Why I need a powerchair
I can't self-propel a manual wheelchair because of fatigue and pain, and need a motorised way of getting around which will allow me to get out and about and be
independent while not endangering my health.
Why I need this powerchair
I need a powerchair which has high-quality suspension systems to protect my fragile spine, and one which will tilt-in-space and fully recline to allow me to lie down, both to help relieve pain, and to manage my autonomic dysfunction symptoms.


The powerchair I'm fundraising for, the Quantum Q6 edge 2.0, is retrofittable and easily serviced, meaning no matter how my conditions change in future, this chair will remain suitable for the entirety of its serviceable life. My condition is likely to progress as I get older, so this is crucial.

What this powerchair will do for me
Being able to use this powerchair will enable me to
do simple everyday activities, like walk my dog, go to
the shops, visit friends, and generally enjoy a higher
quality of life. It will return a lot of my independence –
requiring carers to get in and out of the house at
present, and to get around outside has been very bad
for my mental health.
I am a Trustee of the Northern Ireland Rare Diseases Partnership, and this chair will enable me to return to working for the rights and lives of other people with rare diseases. I would also love to get more involved in disability activism generally, and to enter employment and/or grow my small business.

How urgent my situation is
I am currently housebound around 90% of the time, and reliant on others to both leave the house, and for the entirety of the time I'm outside. I've been told by my orthopaedic surgeon that I can't expect an appointment until April 2018, but I'm already developing additional symptoms that indicate a progression or worsening of the spinal stenosis.
This chair is crucial to my quality of life and independence.

Other ways you can help
I currently have a small business where I personalise mobility equipment and medical aids for disabled and ill people – commissions and sharing the word about this would be very helpful!
I understand completely that having spare money for a fundraiser like this isn't always possible – in this case, sharing this fundraiser with your friends, and/or organising offline fundraising efforts is an enormous help.

Thank you so much for your support!
---------------------------------------------------------------------- 
Pre-emptive FAQs:
"Why can't the NHS cover this chair for you?"
Due to numerous funding cuts, the wheelchair services have had to tighten their criteria for eligibilty. I can manage around my house using a rollator or my crutches, which means I am not eligible.
(Also worth noting that even if I did fit their criteria, the powerchairs they provide would not be suitable and they'd only be able to partially cover the cost of this chair.)
"Why can't you get one on eBay? It's much cheaper!"
Unfortunately I can't get a second-hand chair off eBay as ones with the correct spec are rare, there isn't much saving, and it won't have the service life, serviceability or coverage by insurance in the same ways as a new chair. Ordering a new chair means I have control over the specification from the beginning, meaning changes and repairs are easier in future.
"I checked the price online - it's thousands cheaper than what you're asking! Why?"
The base price for this powerchair is ~£4000, but that doesn't include suitable seating, headrest, tilt-and-recline options. The fundraiser amount is for the full cost of the chair which will be safe and comfortable to use.
Offline Donation from H Griffiths 
Organizer
Aodhán Barnes 
Organizer
Newtownabbey, Northern Ireland, United Kingdom
#1 fundraising platform

More people start fundraisers on GoFundMe than on any other platform. Learn more

GoFundMe Guarantee

In the rare case something isn't right, we will work with you to determine if misuse occurred. Learn more

Expert advice

Contact us with your questions and we'll answer, day or night. Learn more