Soccer ball saves Westley's life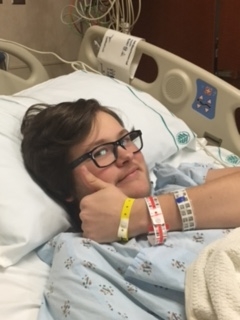 A soccer ball to the abdomen saved the life of 17 year old Westley by uncovering a hidden cancer.
Blood appeared in Westley's urine after being hit in the abdomen by a soccer ball. While searching for a diagnosis, a CT scan found a rare Children's Kidney Cancer called Wilms. His kidney and the tumor were removed almost immediately, four days after the discovery. Radiation and Chemotherapy treatments were started within two weeks. Chemotherapy will continue for an additional 25 weeks. He will probably not return to school to finish his junior year of high school, although he may be able to catch up over the summer.
Thankfully, due to the symptoms of the soccer injury, the tumor was found and removed before the cancer could spread any further than one lymph node. This saved his life!
Westley has remained incredibly positive through his procedures. He misses his school friends and teammates. His strength is truly amazing and continues to be positive!
His family has health insurance for a majority of the medical bills but the high deductibles and out of pocket expenses will create a financial stress on the family. Time off from work to take Westley to doctor's appointments and treatments is necessary.  This is where the community, family and friends can help.
If you can contribute to help the family ease the financial burden, it will allow them to focus on the most important thing, Westley's recovery. Any conribution  will be greatly appreciated. Please keep Westley and his family in your thoughts and prayers.

Organizer