Wendy Smith: "Wendy's Warriors"
On March 21, 2017, Wendy Smith's world was turned upside down as she was diagnosed with a stage 3 inoperable brain tumor. The past 4 months have been emotionally and financially draining for Wendy and her family. Wendy has been in and out of the hospital several times since her initial diagnosis, and has spent the last 4 months completing chemotherapy and radiation therapy simultaneously. Wendy needs rehab to learn to walk again, and has had multiple surgeries to have shunts placed in her brain to control fluids, requiring ICU, which adds to the costs.
This week Wendy will be starting another round of chemotherapy, administered by IV, along with a newer drug, to attempt to control the aggressive, fast growing tumor. Along with intensive therapy to get her mobility back.
Anyone who knows Wendy Smith and her family, knows they are the first to help anyone. As a teacher for 19 years in Duneland, she has touched so many families and given so much to our community. Wendy is one of the kindest and most caring souls you will ever meet. Even as her diagnosis was being delivered and a treatment plan was being formed, she was spreading joy and more worried about others than herself. She continues to touch lives and make people laugh through her blog and posts during this most challenging time. Her positive attitude and smile are infectious, and she has not stopped fighting.
The medical bills are growing daily and are already astronomical. Please consider a monetary donation to help Wendy and her family through this extremely challenging time. The money raised will be used for the growing medical bills, commuting back and forth to Northwestern Memorial Hospital in Chicago, rehab, and to purchase Wendy a special bike. Wendy is not mobile right now, but she can ride this bike which costs around $2000 which will help build her strength.
Wendy would like everyone to know she will be naming the bike, "JOY". We have no doubt "Joy" will be a positive influence in Wendy's daily rehab and being much joy.
Over the years, our community has done wonderful things for families in need, and Wendy needs this community's help right now. Please consider donating and giving back to Wendy and her family. Together, we can help remove some of the financial burden for the family so that Wendy and her family can focus on her health. Please give and also share this with others close and afar. Your gift is so greatly appreciated.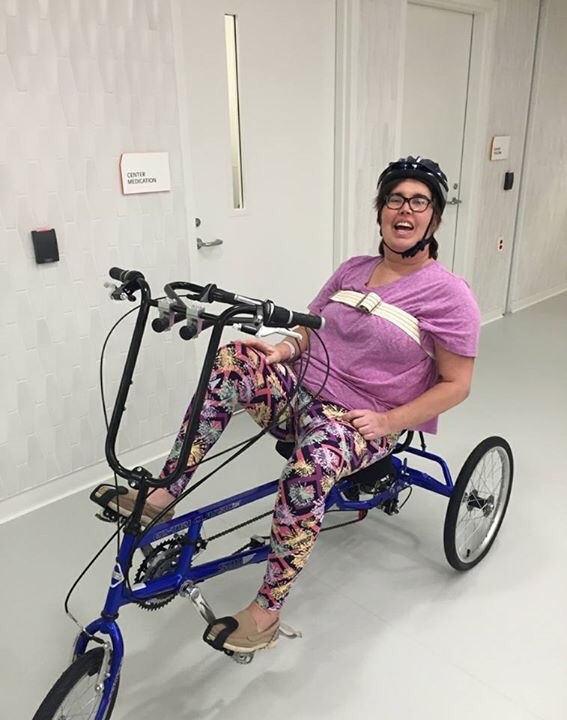 Organizer