With your help, I'm traveling to all 50 states during a 101-day period between June 16 and September 24, 2014 to find inspiring wellness stories and to inspire and empower people to live their best life ever through a focus on wellness.
LET'S CHANGE THE FOCUS OF HEALTHCARE IN AMERICA FROM SICKNESS TO WELLNESS!
DAY 56 - 8/10/14 - ROCKFORD, IL
DAY 26 - 7/11/14 - WELLESLEY, MA
DAY 5 - 6/20/14 - Melbourne Beach, FL
SCROLL DOWN TO SEE MY ENTIRE TRAVEL SCHEDULE SO THAT WE CAN GET TOGETHER WHEN I COME TO YOUR STATE!
I am going to challenge everyone I meet to do at least one thing to improve their personal wellness. Everything I learn during the journey will be shared via social media, published in a Wellness 101 book this December and shared with America through seminars, workshops, classes and various forms of media.  Pre-order your book and get a Wellness 101 logo hat to support the effort.
The Wellness 101 book will include 101 wellness tips, facts and stories for each of what I call "The 12 Pathways of Wellness" from all over America. These 1,212 pieces of valuable information will make up the Wellness 101 -- a roadmap of wellness for America. Best of all, many of these tips, facts and stories will come from YOU.
Please share your wellness tips, facts and stories with me, and share this campaign with your friends. Wellness 101 will ultimately be your story -- our collective story of healing, hope and happiness.  I'm not independently wealthy.  Far from it!  In fact, I've spent most of the past 8 years running a cancer prevention nonprofit as a volunteer.  I've recently turned over the reins of that organization to a friend to build our Wellness 101 media company and make a living by helping more people to learn to stay healthy so that they don't get mostly preventable diseases like cancer, diabetes and heart disease.  I'll do my part by finding and sharing as much as I can about wellness.  You can help me do that by ordering a Wellness 101 hat, a Wellness 101 seminar ticket for yourself or a student, and/or pre-ordering the book to help me make it to all 50 states.  And if you are a wellness professional, or if you manage a wellness product line, destination or event, you can become part of our Resource Network for only $15 per month (the first 101 to sign up) and market your company through our multi-media reach of more than 555,000 people!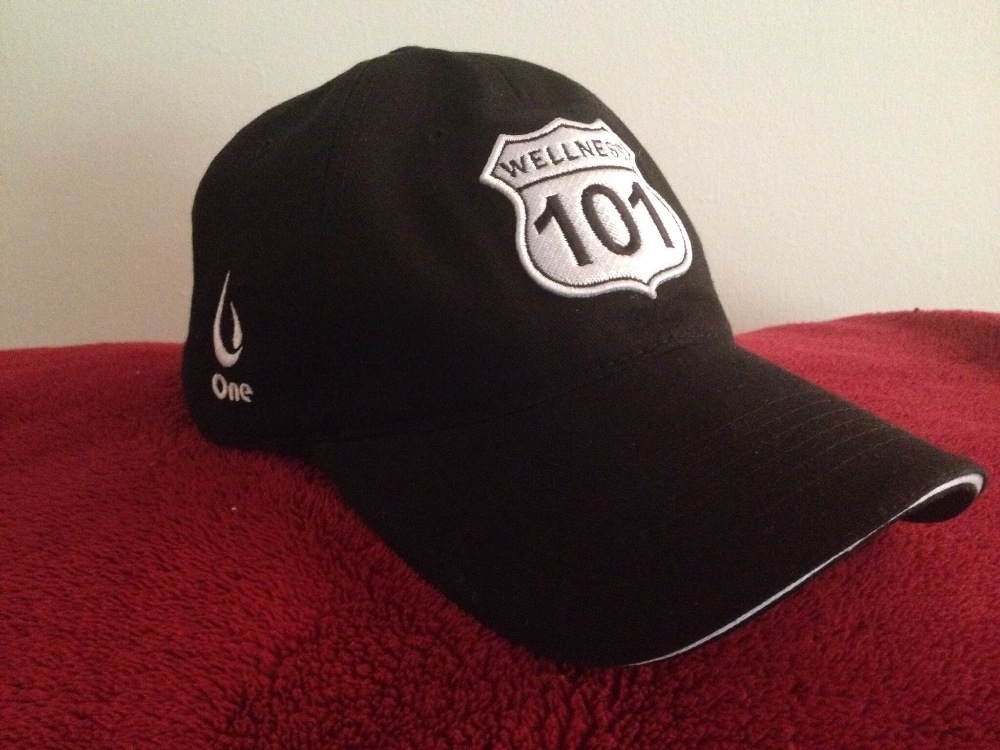 MY PERSONAL MOTIVATION FOR DOING THIS
I've lost a lot of loved ones to preventable diseases, including my father who died of lung cancer 10 years ago.  He was a heavy smoker for many years.  My brother died at 48 from cancer and I'm certain that his work with toxic chemicals as a commercial painter contributed to his illness.  In all, a dozen family members went through cancer battles between 1998 and 2011.  The cumulative effect hit me hard.  I became overloaded with stress, dehydrated, undernourished, overweight and sleep-deprived -- ironically all while helping other people thrive as one of the stars of a TV show called "Good Fellas of Baltimore."  Like many caregivers and family members in similar situations, I was experiencing symptoms of PTSD.  Then, in early February 2012, I almost died of a blood clot and pulmonary embolism at 48 years old.  That wake up call got me going and I've spent the last two years swimming in the deep end of the waters of wellness.  When I turned 50 last September, I took a look back and wondered "what would I do if I had six months to live."  I'm a storyteller with books, music, TV shows and film credits.  I like to inspire people.  So I'm taking 101 days to travel to all 50 states, from June 16 to September 24, 2014, to challenge people to take six months to live a wellness-focused lifestyle and accomplish one wellness goal for their mind, one for their body and one for their spirit.  I'm going to write, film and share wellness stories with as many people as I can. The Wellness 101 50-State Challenge will empower people all over America to live better and feel better by focusing on wellness. Take the challenge to live your best life through wellness!

THIS JOURNEY WILL LAUNCH A MOVEMENT -- WELLNESS 101
"Wellness 101" will take people down a pathway to better health, so that they never have to hear a doctor say "you have six months to live."  Most of us have been taught more about car care than proper care of our own bodies. Wellness 101 is here to change that through multiple learning platforms including TV, print publications, social media, seminars, personal interaction with experts and more.  You can help get the Wellness 101 book done and help launch our other media efforts -- like social media and a TV show!

SAMPLE VIDEO CLIPS FROM A MARCH WELLNESS VISIT TO FLORIDA!



MY THREE PERSONAL GOALS DURING THESE SIX MONTHS ARE:
1.  MIND - Learn 101 things about each of 12 different pathways of wellness and put them into a book.  For example, 101 things about water, 101 things about food, 101 things about exercise, and so on.  That's 1,212 things to learn in six months!  
2.  SPIRIT - Pay it forward by sharing everything I learn about wellness with as many people as possible as I travel to all 50 states and by putting the 1,212 things I learn into the Wellness 101 book to share with everyone. 
3.  BODY - Put those things I learn into action along with honing my golf skills to transform physically and shoot my first ever round below 80!  I've already accomplished a recent weight-loss goal, losing 25 pounds by employing a mind-spirit-body wellness routine highlighted in my book "The True Champion's 30-Day Challenge."  My next "body" goal is to overcome lower back and flexibility issues that have kept me from consistently scoring well.  With proper training and focus on solving those issues I plan on accomplishing my goal.  The tangible result of my effort should be a round of 79 or better within 6 months (my best round ever is 85) and my best physical state of health since my 20's!
THROUGH WELLNESS, MOST DISEASES ARE PREVENTABLE
According to the World Health Organization, most diseases are preventable, including most incidences of cancer, diabetes and heart disease. Yet, if you live in America, chances are that you'll die of cancer, diabetes or heart disease! It's time for a wake up call through wellness. You don't have to live a life of sickness, dis-ease, pain and prescription drugs! It's never too late. You can turn back the clock, take your life back and experience a state of wellness.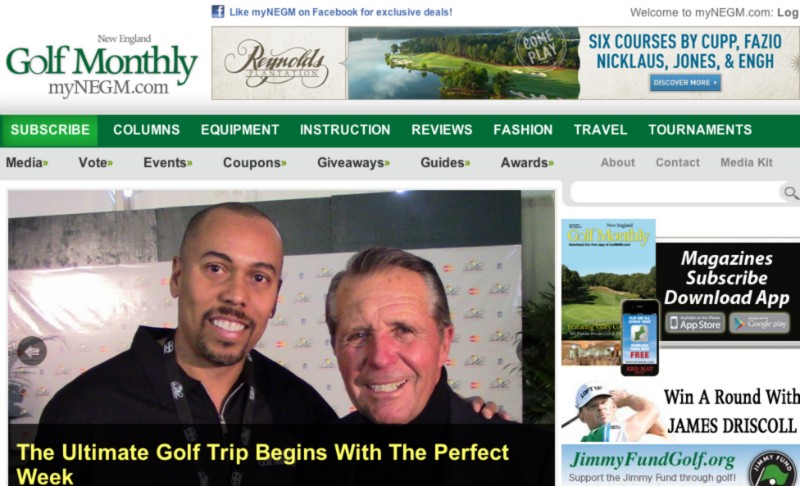 When my journey started in Florida in late March, I was reunited with my "Golf Father" Gary Player.  I first met Mr. Player at an event at the Clarion Resort Fontainebleau Hotel in Ocean City, MD during the opening of his River Run Golf Course.  He is the man who encouraged me 23 years ago to stick with the wonderful business of golf because the game would reward me. He was right.  In the video above, he shares some of his thoughts on wellness and talks about the importance of wellness to competitive fire and living healthy.  I was able to share with Mr. Player how much his encouragement meant to me and I let him know that my mission now is to use my love of the game to promote wellness to as many leaders and families as possible.  I also made some wonderful new friends including Raoul Cleveland, Larry La Bute and others. 50 states of travel in 101 days before I turn 51 on September 25th is a daunting task, but with your help I'll get there.  Whatever I learn, I'll share with you!  

LET'S DO THIS JOURNEY TOGETHER
I can't do this thing alone. Wellness 101 is a road meant to be traveled by many.  My father died of complications from lung cancer and diabetes after smoking and drinking heavily for decades.  My brother was a painter who dealt with toxic chemicals every day and he died of cancer.  I'm sure you've had relatives suffer similar fates.  We need to help each other to live better. Let me tell you about one of the happiest days of my life. It was the day my father, my brother, my wife and I went to see Cal Ripken Jr. break the record for most baseball games played in a row. It was the perfect day. I had never seen my father happier or more content. It was a day he and my brother were never more like father and son (they had a long history of disagreements). It was a day that tears of joy washed away a lifetime of pain. The 20-minute ovation given to Cal that day was a celebration for all of us who don't give up, who persevere through life. Ironically, Cal would voluntarily end his streak three years later, just three days after my brother passed away.  And my father and I became closer after that shared experience than we had ever been.  

JOIN ME -- GIVE YOURSELF SIX MONTHS TO LIVE
Make life count. No matter what you've faced in the past or what you are presently going through, I am asking you to join me in this effort. Join me and make a commitment to give yourself six months to live better, six months to love more, six months of purpose, six months of meaning. Are you ready to tee it up? I'm saving a spot in my foursome for you. I can't do this without you. Let's go. Your six months to live starts today and I look forward to hearing your story of transformation in person soon -- or even better yet, share it with the world here in the Wellness 101 book!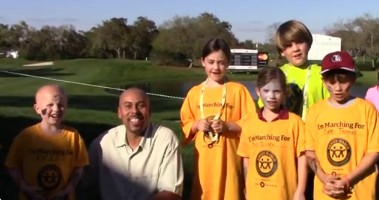 HELP US TEACH WELLNESS TO YOUNG PEOPLE
It's a horrible thing when a child gets seriously ill.  We can't prevent all childhood illnesses, but there are some things we can do to help reduce the chances -- just like we fasten them into the car with a seatbelt in case of an accident.  As part of our wellness mission, we are committed to helping our young people learn about wellness so that they can live a life educated about wellness and reduce their chances of becoming a statistic later in life.  Half of all children are expected to get cancer and/or diabetes in their lifetime.  Childhood obesity has reached epidemic levels, and obesity has been proven to lead to increased risk of preventable diseases.  Together we can change all of that!  10% of all money raised from this campaign will be donated to charity partners -- Marathon of Miracles and the "One for Health Foundation."  The other 90% will be used to pay the expenses related to this journey, to shoot and edit hundreds of inspirational videos to distribute online, and to publish the Wellness 101 book of 1,212 wellness tips (101 tips for each of 12 wellness topics) this December.  Marathon of Miracles is a nonprofit focused on cancer prevention, wellness and support for families affected by cancer.  Learn more about Marathon of Miracles at www.marathonofmiracles.org.  One for Health Foundation's mission is to help children adopt a healthy lifestyle by providing innovative wellness programs and workshops that equip them with the knowledge and skills to develop and retain healthy habits.  Learn more about One for Health Foundation at
www.oneforhealth.org
.

Our National Partners include:
Gen-X Motors
GolfNow
Maji Sports
New England Golf Monthly
The Atlas Network
T.R. Miller
and others!
Become a National Partner or local sponsor or support at any level through this campaign.
Are you a member of a Country Club?  Would you like to bring a better state of wellness to your club?  Host me and a couple of my Wellness 101 Co-Hosts for a great day of wellness and golf.  Here's a sample wellness day:  
Noon - Healthy Organic Lunch  
1:30 pm - Wellness 101 team golfs with members
6 pm - Wellness Celebration, including:
- 19th Hole with Live Music by Wellness 101 Co-Host Drew Davidsen (or another Wellness 101 musical artist)
- Wellness 101 Health Challenge game (like Family Fued meets The Price is Right -- great fun!) including healthy product gifts and prizes, hosted by A.J. Ali
- Dark Chocolate and Wine Pairings, Healthy Organic Tapas and Desserts
*** WECOME GEN-X MOTORS AS A NATIONAL SPONSOR! ***
NEWLY OF 50-STATE CHALLENGE
Look for me to travel to your state in a logo wrapped vehicle provided by
Gen-X Motors
.
JUNE (6 STATES)
5 (Thu) - Golf To End Cancer golf outing in MD (DONE)
16 (Mon) - DAY 1 OF 101 DAYS OF WELLNESS BEGINS AT GEN-X MOTORS IN MELBOURNE, FLORIDA
17 (Tue) - Melbourne-Merritt Island area of FL
18 (Wed) - Melbourne-Merritt Island area of FL
19 (Thu) - Melbourne-Merritt Island area of FL
20 (Fri) - Orlando, FL
21 (Sat) - Orlando, FL
22 (Sun) - Jacksonville, FL
23 (Mon) - GA
24 (Tue) - GA
25 (Wed) - SC
26 (Thu) - Greenville, SC
27 (Fri) - Charlotte, NC
28 (Sat) - VA
29 (Sun) - VA
30 (Mon) - Washington D.C.
JULY (18 STATES)
1 (Tue) - DE
2 (Wed) - NJ
3 (Thu) - NJ
4 (Fri) - NY
5 (Sat) - NY
6 (Sun) - NY
7 (Mon) - NY
8 (Tue) - CT
9 (Wed) - RI
10 (Thu) - MA
11 (Fri) - MA
12 (Sat) - MA
13 (Sun) - NH
14 (Mon) - ME
15 (Tue) - VT & NY State
16 (Wed) - PA
17 (Thu) - PA
18 (Fri) - WV
19 (Sat) - OH
20 (Sun) - OH
21 (Mon) - OH
22 (Tue) - OH
23 (Wed) - MI - Golf and wellness commitment videos at 
Legacy Golf Club
; stay at French Lick Resort.
24 (Thu) - IN
25 (Fri) - IN
26 (Sat) - IN
27 (Sun) - KY
28 (Mon) - TN
29 (Tue) - TN
30 (Wed) - AL
31 (Thu) - MS
AUGUST (19 STATES)
1 (Fri) - AR
2 (Sat) - LA
3 (Sun) - TX
4 (Mon) - TX
5 (Tue) - OK
6 (Wed) - KS
7 (Thu) - MO
8 (Fri) - IL
9 (Sat) - IL
10 (Sun) - WI
11 (Mon) - MN
12 (Tue) - MN
13 (Wed) - IA
14 (Thu) - NE
15 (Fri) - SD
16 (Sat) - ND
17 (Sun) - MT
18 (Mon) - MT
19 (Tue) - MT
20 (Wed) - WY
21 (Thu) - WY
22 (Fri) - CO
23 (Sat) - CO
24 (Sun) - CO
25 (Mon) - NM
26 (Tue) - AZ
27 (Wed) - AZ
28 (Thu) - NV
29 (Fri) - NV
30 (Sat) - NV
31 (Sun) - NV
SEPTEMBER (7 STATES)
1 (Mon) - UT
2 (Tue) - UT
3 (Wed) - UT
4 (Thu) - ID
5 (Fri) - ID
6 (Sat) - WA
7 (Sun) - WA
8 (Mon) - WA
9 (Tue) - OR
10 (Wed) - OR
11 (Thu) - OR
12 (Fri) - NorCA
13 (Sat) - NorCA
14 (Sun) - NorCA
15 (Mon) - NorCA
16 (Tue) - NorCA
17 (Wed) - AK
18 (Thu) - AK
19 (Fri) - AK
20 (Sat) - AK
21 (Sun) - AK
22 (Mon) - HI
23 (Tue) - HI
24 (Wed) - HI
25 (Thu) - HI
26 (Fri) - HI
27 (Sat) - HI
28 (Sun) - HI
29 (Mon) - Nor CA
30 (Tue) - Nor CA
OCT
1 (Wed) - Start week-long drive back to Florida, communicating daily with October breast cancer promotion participants and building up excitement for Wellness 101 events to take place in/near Melbourne area upon our arrival and throughout the month.
See videos like the one below and other wellness content updated daily through the links at
www.wellness101tv.com
.
Become the first supporter
Your donation matters
Organizer
A.j. Ali
Organizer
Malibu, CA