Help Refugees Living in St. Louis
We don't need an invitation to the do the right thing!

Refugees are fleeing their war-torn homes and coming to America for a chance at a better life. However, some refugee families in St. Louis are finding the American Dream to be a nightmare.

This initiative to raise funds to help refugees began because of a terrible incident that occurred on November 4, 2016. A total of four Syrian teens, all 15 or younger, were attacked by four unknown suspects. The teens were kicked and punched before the attackers ran off. One boy was later taken to a hospital to treat a leg injury.

The families were all afraid because of the gunfire they heard in the neighborhood at night. It was reminiscent of the endless gunfire they heard in war-torn Syria.

Unfortunately, many of the refugee families are placed in terribly infested apartments, with bugs falling from the ceiling, dead rodents in the kitchen, and bedbugs in the mattresses.

Here is an image of the roaches in one of the refugee's families kitchens. The families can attempt to take preventative measures, but this problem is rampant throughout the entire complex. 


Through a translator the families say they are still optimistic about life here in the U.S. and St. Louis.

We are hoping that some other kind souls in St. Louis will see this post and want to get involved in helping move these families into homes in a safe area of St. Louis City or County. 

Funds Will Be Used For: 
- Refugee families to move into rental properties in the St. Louis metropolitan area.
- Provide funds to supplement rental payment for housing with at least 3 bedrooms and 2 bathrooms to meet occupancy code requirements. 
- If additional funds are raised that exceed our goal, those funds will be used for future refugee families placed in St. Louis. 

This is photo below is of one the new homes Welcome Neighbor STL was able to move a refugee family in September 2017 in the Bevo Mills neighborhood. Neighbors from all over came to prepare the home for move in, donated useful household items, and celebrated another refugee family's success in finding a home in St. Louis.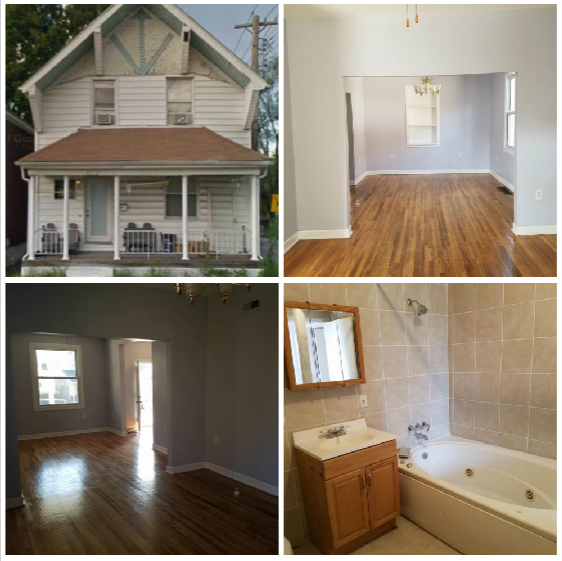 This is image below is of another one of the homes Welcome Neighbor STL was able to help move a refugee family in August in North County.  



About the Refugee Families
- The refugee families that need assistance to move to safe areas are typically two-parent families with five or six children. 
- All of the families have members who are working. However, most family members are only working part-time hours and would like to find full-time employment. Please let us know if you can assist in this area.  
- The refugee families are learning English. The children are adapting well and are all learning English very quickly. 
- After spending a significant amount of time with families, we have learned that these people are just like everyone else. They just want to raise their children in a safe environment, spend time with their families, and have fun!

Here is a video from one of our Welcome Neighbor STL events where we had a BBQ and water balloon fight for the children. 

Challenges Experienced in Finding Adequate Housing
The city of Saint Louis is truly a difficult place to find affordable houses or apartments, especially if you have a big family.

Now if you're a refugee and you just settled it St. Louis, it becomes even harder and almost impossible because you need a credit history, long-term steady employment, a bank account, and you need to speak the language, etc. 

That's why this is one of the most difficult obstacles we are facing when it comes to our St. Louis community, but we are sure with the help of good people we may be able to do something about it!

Who I am where I came from:
My name is Jessica Bueler and I am the owner of HSB Tobacconist in the Delmar Loop. I am very proud to have raised $15k to help Syrian refugees in 2017. This year Welcome Neighbor STL will expand our fundraising to try to help more refugee families in St. Louis. 

My relationship with the parties for whom I am raising funds and my method of contact with them:
I originally became involved in the project when I came across an article in the Riverfront Times, Police Investigate Attack on Syrian Refugees in North St. Louis as Frustration Mounts . I was horrified when I read about the living conditions that these people have been subjected to after escaping Syria. 

This is when Welcome Neighbor STL was formed. Through the use of NextDoor and Facebook, I shared the story of the refugees living in our neighborhood and how these people had very poor living conditions and how their needs were not being met. We asked neighbors and friends to donate toiletry items, coats, gloves, boots, and other winter apparel to provide to the refugee families. Throughout the holidays, we opened up our family business, HSB Tobacconist as the collection point for the donation drive.

We were absolutely blown away by the number of people who came and donated items. Below is a video of the first Welcome Neighbor STL donation drive. 

Once the donation drive ended, many volunteers asked what more they could do to help. After spending time with the refugee families throughout the past year they're requests were made very clear.

"Please help us move our families to a safe and clean place."
If you would like to help, here is the breakdown of what your donation can provide to a refugee family in St. Louis for adequate housing. But of course, donations are accepted in any amount. 

$35 - Support a refugee family for 1 day
$250 - Support a refugee family for 1 week
$500 - Support a refugee family for 2 weeks
$1,000 - Support a refugee family for 1 month

If you would like to contribute in any way, we would be honored to have your donation and use the funds to help the refugees in the St. Louis area.

How the funds will be spent: Up to $1,000 per refugee family will be contributed towards the deposit of a new home and $1,000 towards the first month's rent. 

Specific plan for how the funds will be withdrawn from and sent to the beneficiary of the campaign: As soon as sufficient are rasised to move refugee families, they will be withdrawn and distributed directly to the owner of the property only upon signing of the lease.
If you have any questions, please contact Jessica Bueler at [email redacted].
Tuesday Night Community Yoga First Presbyterian St. Louis 
Organizer