#WebbStrong - Relief for Laura's Family
#WebbStrong  #WeFightAsOne  #LauraTheFighter
Thank you for visiting our page!
As some of you are aware, over the past 11 months Laura McCollum Webb has been in a vicious battle against cancer. Currently, Laura is suffering from an inoperable form of squamous cell carcinoma; a rare (and in her case) incredibly aggressive form of cancer that is currently attacking her head, neck, and face, as well as the rest of her body.
My name is Ronda Goodman. Our families came together in 2013 when my son, Justin, entered his freshman year at CMU and roomed with Laura's son, Tyler. They became best friends and our families have been intertwined ever since. Over the past several years I have had the privilege to know Britt, Laura, and Tyler, and have experienced their innate generosity.
Laura and her family have always provided support to family, friends and people in their community. Prior to Laura's illness, she was the primary caregiver to her parents.  Now, it's time for us to show the Webb family what it feels like to be supported. I am asking you to help support Laura and her family, as we fight as one, in Laura's battle with squamous cell carcinoma.

Laura's story:
In December of 2019, Laura went to the dentist to have a wisdom tooth removed. The removal of the tooth revealed a buildup of fluid. What followed was the diagnosis of a malignant tumor in her jawbone. Soon after, Laura began her cancer treatment at the University of Michigan. Laura's medical team was optimistic, and in January of 2020, Laura underwent surgery to remove the tumor from her jawbone. The surgery involved reconstructive jaw surgery, where a bone from her leg would be used to replace the bone removed from her jaw. Despite a lengthy recovery, and rigorous treatment plan, Laura was expected to recover and ultimately enter remission.
Following her surgery in January, Laura completed multiple rounds of chemotherapy, 34 rounds of radiation, and various treatments to her leg, from where a bone was taken. Finally, on April 22, Laura rang the bell, signaling that this battle was over. On April 22, 2020, Laura entered remission;  her fight with cancer was a success.
Unfortunately, three months later, Laura's cancer returned. 
Three-Month's Later:
In September of 2020, Laura and her family were informed that the cancer had returned. This time it was not operable. Being the strong and resilient person that Laura is, she was not ready to accept the diagnosis. They transferred her care to the Karmanos Cancer Institute in Detroit, Michigan. Once at Karmanos, Laura completed three treatments of immunotherapy, but unfortunately her cancer was unresponsive to the treatments. Laura's cancer currently does not allow her to speak, eat or drink. Laura takes her medicine and nutrients through a feeding tube, which is necessary for her to maintain her weight.  Despite these circumstances, Laura continues to fight every day.
Currently, Laura is participating in a trial at the Karmanos Cancer Institute. Laura has a rare genetic composition that promoted her participation in the trial. Most recently, Laura has suffered some complications. In October, she was hospitalized for over a week due to a ruptured blood vessel that caused severe internal bleeding. The cancer at this point was wrapped around her carotid artery.  Despite the odds, Laura continued to push forward.
As of
12/08/2020,
Laura is currently hospitalized following an internal infection. She is suffering from sepsis, colitis and other complications. She remains at Karmanos at this time. As we await further answers, we assure you that Laura is not giving up. She is in good spirits and is ready to fight. She misses her dogs, and she misses her family and friends.
 Due to the physical and exhaustive nature of Laura's battle, her ability to work is extremely limited. Britt; for those who know him, know that he is the rock of the Webb Family.  He continues to work every day, in addition to being the primary caregiver. Tyler is in his last year of law school at the University of Detroit Mercy School of Law, and is doing everything he can to make his mom proud.  He also assists with Laura's care.
 We are asking for donations to help offset financial difficulties associated with Laura's current situation. It is our goal to minimize the stress of the Webb Family, and to make a difference this Holiday season, and beyond.
Britt, Laura and Tyler make great team, taking care of each other and those around them. Now it is our turn to take care of them!
 We recognize that we are all facing financial difficulties due to current situation of our world. If you are unable to donate, please share Laura's story, and keep the Webb's in your thoughts and prayers...They appreciate it more than you know! Additionally, if you have other ideas to help support the Webb family, I am happy to pass them along.
 THANK YOU!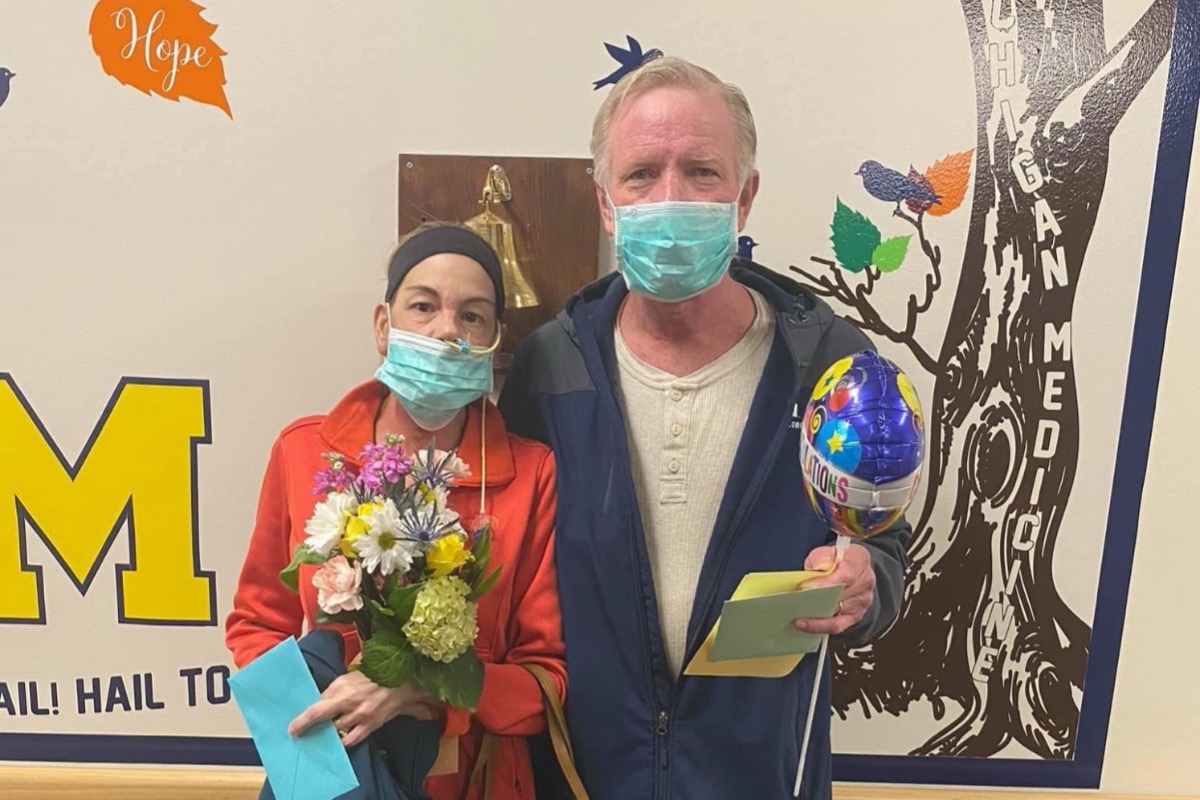 Britt and Laura following her completion of radiation. 
 Laura, and her two sisters. (Debbie, and Michelle)
Britt, Tyler and Laura. 
Laura and her Mom, Anne. 
The Webb Family in 2013. 
Laura and her son, Tyler in Naples, FL. 
Laura and her "Hubby." 
Laura and Britt dancing at their wedding. 
Laura with her husband, Britt and her father, Clyde. 
Laura and Tyler at a Philadelphia Phillies game. Laura was born in Pennsylvania and it was always her dream to take Tyler to a Phillies baseball game.

Organizer and beneficiary
#1 fundraising platform

More people start fundraisers on GoFundMe than on any other platform. Learn more

GoFundMe Guarantee

In the rare case something isn't right, we will work with you to determine if misuse occurred. Learn more

Expert advice, 24/7

Contact us with your questions and we'll answer, day or night. Learn more