Short Summary
As I have journeyed to Dubai, Tanzania and Mexico speaking to hundreds of young children and young adults, my daily journals have developed into my first book. My attention has become more focused on creative writing. I write every single day – pages-on-end! Not just words or expressions about my experiences, but thoughtful stories that have taken a direction to embrace the 'King' quality we are born with. I have written and created an impressive book 'We Are All Kings' which speaks about encouraging young males to believe in themselves as kings of greatness. What better way than to wear the crown of a king?
I am so thankful for The Dr. Oz Show appearance last year; and honored to have received the 'Generational Change' Award (The Black Excellence Awards – Austin, TX) and the 'Entrepreneur of the Year' Award (The Nehemiah Davis Foundation – Philadelphia, PA) this year. So to all of my followers, supporters, mentors, friends, and family, I am humbled and owe you a world of royal gratitude for standing with me. Your guidance and love has shaped me into becoming the best me that I can and will be – Thank you!
What I Need and What You Will Get
My goal is to raise $10,000 which will be used to create an audio and paperback book, develop a webpage for online sales and marketing, logistics to travel and showcase the "We Are All Kings' tour. I want to visit many schools and communities across the states to express words of encouragement; my goal is to personally read my book to students, and deliver other motivational topics, but most important to me – I want to make more new friends across the globe – and crown each of them – We Are All Kings!
Think of this venture as a platform to brighten a spirit – lift a young person's self-esteem to believe in their full potential. Isn't this a wonderful idea! It is majestic! Your donation will help make history. I would love to include your community on our tour itinerary. Will you please help make this a reality?
The Impact
To be perfectly honest, as I always am, the one take away for writing and promoting 'We Are All Kings' is become a role model to my peers. Through the power of positive thinking and encouragement, I simply want to give back and pay it forward. The success of this funding pledge will not only launch the book and tour – but it will also help my next creative writing venture. I have already begun the next book series 'We are Queens!' The impact is endless because, we, the youth of today are collectively Royal Family. Thank you for your contribution and spread the news – Nyeeam Hudson Book Tour 2016 – coming to your community soon!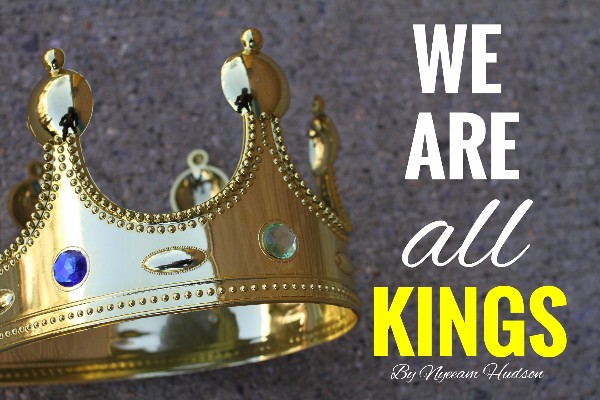 Organizer