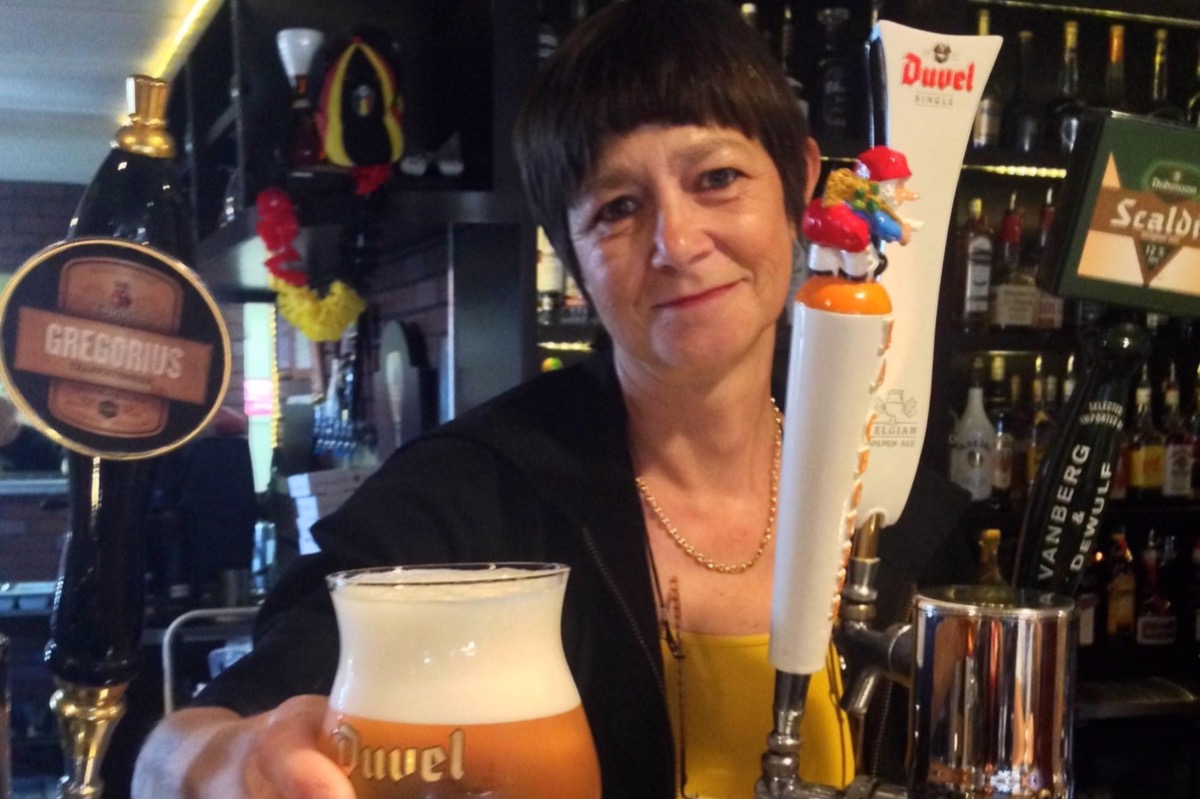 Hello Family,  Friends, Patrons, 
Most of you know Marijke as the owner/bartender of Harlequino - Belgium and The Globe - California.
 About a month ago, my 30-year partner, wife and rock, Marijke Adam, was diagnosed with stage 3 tongue cancer. She had been complaining of pain in her mouth for 10 months now. We made multiple doctor and specialist visits but unfortunately doctors could find no clear solution.
 About 2 months ago, her ability to eat, drink and speak normally had deteriorated and do to extreme pain (and she has a high tolerance) she cried for immediate and urgent care. The emergency doctor got her a speedy appointment with a cancer specialist who was able to diagnose Marijke correctly.
 Through a family referral, we found the City of Hope cancer facility in Duarte, CA. We thankfully have everything under one roof including agenda, doctor and treatment coordination. 
 We had two options given to us and we chose to go with daily radiation and weekly chemotherapy.  She also has a GTube for her food, which feeds and hydrates her directly into her stomach for nourishment.
 As a Western Regional Business Development Manager, my US territory spans from Mississippi to Hawaii. Most of my work involves travel across multiple States.  Marijke was let go at the end of November 2018 and at present I'm the sole income provider for the family.
 We fortunately have health insurance for both of us through my company.  If you aren't from the US, one of the interesting things about health insurance in the US is the insurance picks up about 70% of the costs while the rest is out of pocket.  After two months of treatment, we have maxed our yearly deductible, and our initial personal invoices are due soon!
 My mom thankfully was able to fly in from Europe in February. With her help we've been able to coordinate daily schedules between my mom, Axel ( our son) and myself when local and available. Her 6-week stay is about to come to an end, and we face some new needs.
 At present we are in search of a care giver (preferably a great looking guy, Marijke's request) to help with daily liquid feedings, washing, cleaning and cooking tasks.  As well, this person will take Marijke's to her daily doctor visits.  Unfortunately, this type of help falls outside the realms of what health insurance will cover.  We are looking to raise $15000+ to help pay for these unexpected needs.
 You are receiving this note as you have been a part of our story. We are so thankful for the role you have played in our lives up to this point.  We truly appreciate all of your prayers and any way you are able to help us during Marijke's difficult time. 
 As well, Marijke and I would love to hear from you.  The best way to connect  with Marijke Adam (Yes, Europeans keep their last name even when married) is via messenger,  facebook or Text.
You are always welcome to visit her personally, actually she seems to flourish seeing friends.
Please donate & share, Thank You ALL!
P.S. For our friends and family abroad, "Zip Code" means your home postal code. "Tip" seems confusing for some people, this platform is free that is how GoFundMe makes their monies. Able to set to zero via "Other". On credit card form, date does not mean your birthday but expiration date of card ;-)