Hello,
My name is Junice Santos and I am a stage 3 breast cancer survivor, originally diagnosed back in 2015.  At the age of 32, I received chemotherapy, a complete mastectomy and 29 rounds of radiation.  All seemed to go well.
Then, back in June, 2018, I was diagnosed as Metastatic due to cancer in my right hip, spine and liver.  I spent 3 months on crutches, received 10 rounds of radiation and oral chemotherapy. Again, all seemed well, the cancer began to respond, and I returned to my normal, working life.
Unfortunately, this past March I began to experience neck stiffness and pain again. My doctors thought I was experiencing some overuse as I had been working in an office.  Leaving work on March 21, I could no longer bear weight on my left leg.  I had to call a cab to help me get to the hospital.  I was admitted for 3 days and became unable to walk without a walker.  X- rays showed progression of the cancer to that hip.  So we immediately knew that the treatment had stopped working.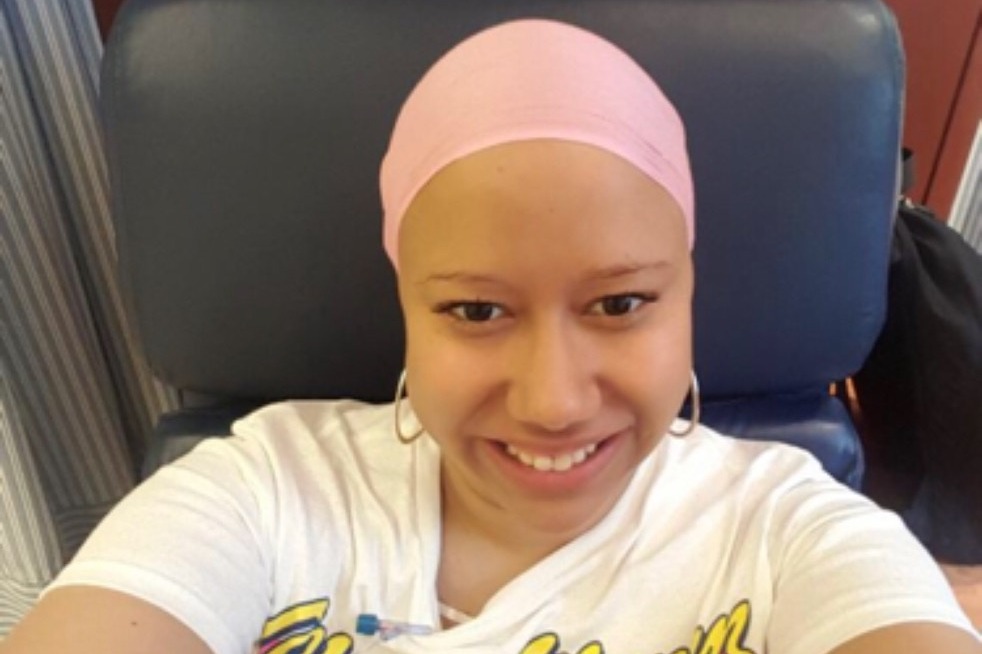 I had a PET  scan on March 28, which showed extensive progression to multiple bones. 
When compared to the most recent examination in October, 2018, the most concerning findings correspond to new complete compression of the C5 vertebral body with bulging into the anterior spinal canal.  A moderately severe compression fracture deformity at L4 and minimal compression deformity in the mid thoracic spine are also seen, in addition to the suspected fracture at the left femoral neck.
Additional sites of involvement again include the calvarium, spine, bilateral ribs, sternum, bilateral shoulders including the humeral heads and scapula, the bilateral pelvis, and the bilateral femurs including the visible portions of the mid femoral shafts.
So, all in all, a mess!  I began radiation immediately to the left hip and the vertebrae by my neck. Unfortunately, this wreaked havoc on my throat and mouth.  I lost the ability to speak and swallow.  I lost 30 pounds in a matter of weeks and ended up hospitalized twice for dehydration and malnourishment.  One of those times, I lost consciousness at home because I was so weak and sick.
Today, April 18, 2019, we are better, eating slowly again and drinking lots.  I can't walk but I'm strong and faithful. I will again begin weekly chemotherapy infusions on 4/29 with a drug called Abraxane, and, once again, I have hope for the future.
But, my optimism doesn't overshadow the fact that  I am dealing with a great amount of pain and require assistance for even simple tasks these days.  I cannot work and have applied for disability and was just recently approved.. but benefits which aren't much, do not start until September. Today, I am living off the money I had saved, the help of my generous friends and small family, but  I know won't last long with all the extra medical and transportations costs.  I worry about how I'll continue to pay bills moving forward;  I live alone but have been lucky to have my parents alternating coming in from out of state (NC) to be my caregiver. Both are disabled and on fixed incomes so for them it's a sacrifice to be here but one they would never dream of not taking. It would never have occurred to me to ask people, especially those unknown to me, for help but this time around I have decided that asking for help isn't a sign of weakness but rather a sign of strength. I will definitely pay it forward once I'm healthy again! 
I want to focus on getting better and any help you can provide would be greatly appreciated.  
Please, keep me in your prayers. We are strong and positive here and it will never waver! This is a bump in the road but not the end of my story!!  And just in case you don't know, metastatic breast cancer is the same as Stage 4.
I am being treated at Mount Sinai West Hospital located at 1000 10th Avenue, New York, NY 10019.
Medical oncologist:  Dr. Anupama Goel
Radiation oncologist:  Dr. Paul Gliedman
Once again, thank you so very much for your support and your prayers.
I am also an advocate for those fighting Cancer and have published several articles about my struggle and cancer in general.
https://www.humorbeatscancer.com/blog/a-breast-cancer-fairy-tale
https://www.breastofus.com/blog/5-tips-for-visiting-a-loved-one-with-cancer
With love,
Junice 
Cancer Warrior

Organizer
Janice DAmico
Organizer
Neptune, NJ