FUELING A DREAM
On behalf of an amazing woman that I just met recently, I am on a crusade to make her dream come true. She wants to become the first Canadian driver to win a NASCAR championship in the USA. Dreams this large need all of our support to make them a reality.
As owner of Winners Circle Sportsbar in Lakeland, Florida I believe in her dream and am asking for your help to make it happen.
I've never met a person with such a drive and passion for what she is doing.
With that I intruduce you to Ms. Amber Balcaen.
- Bill Alcock, Owner of Winners Circle Sportsbar
ABOUT AMBER
My name is Amber Balcaen, I am a third-generation race car driver from Winnipeg, Manitoba, Canada. My greatest passions in life are racing cars and helping others. I strive on being a positive role model and inspirational figure to females around the world. I am business graduate that has an acute understanding of marketing, given my role in the Motorsports industry. I have never had any family money or financial backing, all of my sponsorship development has been procured though my own efforts. I am diligent to learn what matters most to my sponsors and will always understand the importance of my fans. My goal is to be the first Canadian woman to win a NASCAR Series race and Championship. The passion, determination and persistence that I acquire makes me believe that I am well on my way to achieving those dreams. I was the first woman to win a dirt track racing championship in Manitoba. I won 75% of my completed races in 2013 and earned the 2014 NOSA Sprint Car Rookie of the year award. I was the only Canadian to compete in the 2014 NASCAR Drive for Diversity Combine and the 2015 Bill McAnally Racing Drivers Expo. I also received my ARCA license at the legendary Daytona International Raceway. My main objective as a racer driver (aside from winning races) is to use NASCAR as a platform to help others reach their full potential and to motivate others to be their best selves. Some ways I currently exude this is through my volunteering efforts, speaking at charity events, social media posts, and interactions with the younger generation at the race tracks. Racing gives me the opportunity to partner with companies and individuals that promote positive action in communities around the world. I want to be that positive change in the world and prove to people that you really can do anything you put your mind to.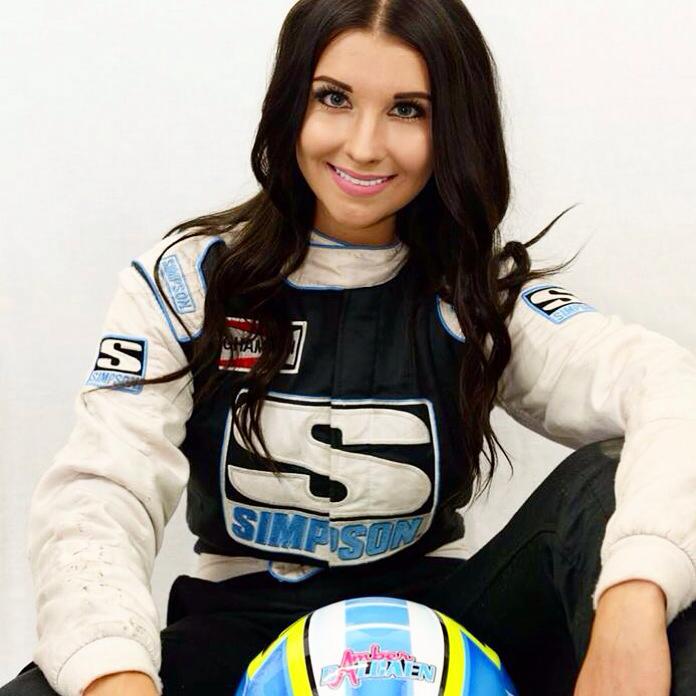 WHY THE NEED FOR FUNDING
I have created this campaign in hopes to fulfill my sponsorship needs for my 2016 racing season in NASCAR Whelen All-American Series with Lee Pulliam Performance. The automobile industry is a very financially dependent sport. I currently spend 60+ hours a week on the search for sponsorship. This is an on-going search and one that I will continue to put forth my best efforts. Sponsorship can be very hard to receive at this level of competition because the NASCAR Whelen All American Series is seen as a stepping stone in reaching the higher ranks of NASCAR. Your donations would put me on the racetrack for the beginning of the season and give me the chance to prove my talent on the racetrack. After showcasing my ability to win the first few races, it will be easier to secure sponsorship from other companies moving forward. I am confident in my talent, the race team, and our ability be a championship contender in the NASCAR Whelen All American Series for 2016. I want to use my racing platform to help others. In turn the more you help me, the more I can help other people!

This is the car I will be driving in the NASCAR Whelen All-American Series for Lee Pulliam Performance.






YOUR CONTRIBUTION MEANS...
Your support means everything to me. Your support means you are helping me live my dream and giving me the chance to race for a Championship winning team, and be a NASCAR Championship Driver. It means you are giving me a change to succeed in an industry is highly determined on financials. Your funding will allow me to take that next in my career, and continue to allow me doing what I love most. By donating to my campaign, you will help me to get that much closer to achieving my goals & becoming a full time NASCAR driver. Not only do I want to be a successful driver, but also a role model and inspiration to other young girls.
I will be forever grateful for every person who has helped get me where I am, and to those who continue to help me in the future. All donations are greatly appreciated!
If you want to be apart of the journey of a NASCAR champion, then please join me by donating to this campaign.

 



WHAT YOU GET
In addition to feeling really good about helping making someone's dream come true, I have put in place "give-back's" for your wonderful contributions. Every time you donate you will receive a "give-back" depending on the quantity of your contribution! Some of the things I'm offering are;  signed hero cards, Amber Balcaen Racing Stickers, Amber Balcaen Racing Can Coozies & Amber Balcaen Racing / Winner Circle Sports Bar T-shirts. When I win the NASCAR championship this year, you will be part of that success. You can say you helped a NASCAR driver succeed.


OTHER WAYS YOU CAN HELP
If you aren't able to financially contribute, or just want to do more! Social Media shout outs are always appreciated to spread the world of my campaign! You can also keep up to date on whats happening in my career by following me on social media @amberbalcaen10 and "Like" my facebook page!
Instagram: @amberbalcaen10
Twitter: @amberbalcaen10
Facebook: Amber Balcaen Racing  
Website: amberbalcaenracing.com


EVERYTHING helps! 
Thank you for taking the time to stop by and check out my campaign!
Organizer
Bill Alcock
Organizer
Lakeland, FL