DONATIONS FOR WAVE OF HOPE REFUGEE SCHOOLS

Facebook: https://www.facebook.com/waveofhopeforthefuture 
Instagram: https://www.instagram.com/waveofhopeforthefuture/?hl=de  
TikTok: https://vm.tiktok.com/ZMe8tBpJs 
Website: https://waveofhope.org/ 
Wave of Hope for the Future is a network of self-organized schools run by refugees for refugees. From a single school in Moria, Wave of Hope for the Future became a wider project voluntarily run by refugees and providing emergency education in various refugee camps in Greece and Afghanistan. 
In 2019, Zekria Farzad  started to teach children with nothing but a whiteboard on a bench, in the middle of the Olive Grove around Moria camp. Together with many people from the refugee community, he started to build a network of schools which today offer classes in Art, English, Greek, French, German, Music, Sports and other subjects to more than 4,000 refugee students in five schools in Greece: Lesvos (Moria1-2), Athens (Malakasa and Ritsona camp), Thessaloniki (Nea Kavala camp, Dimitri Hotel) and also in one school in Afghanistan (in the Farza district, one hundred kilometers north of Kabul), where we rebuilt a school that was destroyed and abandoned when the Taliban were occupying that region.

The expansion of Wave of Hope schools to now five camps across Greece in just one year, was also possible thanks to the many incredible supporters of this fundraiser. Wave of Hope for the Future is an example showing how refugees – despite all difficulties – are self-organizing and supporting their communities. With their talent and motivation, they can enrich and help build the future of Europe.

We started this fundraiser in early 2020 with the aim to support the set up of new tent classrooms in Moria camp.
Since then, many generous people like you have supported us through this fundraiser.

This is what we were able to do in 2020 thanks to your donations:

- Construct a new big school in Lesvos island inside Moria Olive Grove (unfortunately destroyed by the fire in September 2020)
- Reconstruct the new school in Lesvos inside the One Happy Family  community center
- Start 4 new schools in Greek refugee camps (Athens: Malakasa and Ritsona camps, Thessaloniki: Nea Kavala camp and Dimitri Hotel)
- Buy education and drawing materials for over 4.000 refugee students
- Give monthly support to our 80 refugees teachers and staff
- Distribute personal protective equipment and food to our students and to refugees in the camps since Covid-19 has started with our Covid-19 Awareness Team
- Reconstruct and refurbish one school in Afghanistan: in the Farza district, north of Kabul

This is our plans and projects for 2021, that we are sure we will reach thanks to your continuous support:


- Start female and male football and volleyball teams in all our schools
- Establish an art laboratory and permanent art exhibition in central Mytilini on the Isle of Lesvos
- Establish a central headquarter of Wave of Hope schools in Athens that will host languages, art, food distribution and computer classes with special focus on graphic design and media activities
- Set up a knitting team of women to produce handmade clothes to gift to our donors and use the donations to support them and their families 
- Keep on supporting even more than in 2020 all of our teachers and staff who are making all of this possible
- Run travelling art exhibitions through different countries in Europe to show how talented refugees are and how they can contribute to the future of Europe
- Provide all the schools with stable internet connection and start online workshops with European and American schools that are in touch with us as a way to raise awareness and integrate our refugee students in the western society

- Finish the refurbishment of the school in Afghanistan and open it to 900 students in the rural area of Farza, north of Kabul.

Note: funds raised with this campaign will only be used for activities in Greek refugee camps. If you want to donate for the school and activities in Afghanistan please go to the Afghanistan campaign page: https://gofund.me/fdc52f56

Here are some photos of our latest activities!
2021:



New painting by art teacher Lida Shirzad
Letters to Germany by children from Wave of Hope school in the new camp.
2020: 
Drawing activities on Christmas Eve on Lesbos island
Christmas and art activities on Lesbos island


Kids activities on Lesbos island
Christmas crafting class in Ritsona refugee camp
Our teacher Parwana Amiri in a classroom in Ritsona camp
Drawing activities in Ritsona camp


Children with paintings by WHF art teachers Lida and Shukran Shirzad next to Moria 2.0, Lesbos


First drawing classes for children in the new camp (Moria 2.0) in September 2020
Drawing by a child after the fires in Moria camp
WHF emergency support together with TH after the fires on Lesbos island which destroyed camp Moria in September 2020


Corona awareness campaign in camp Moria 1.0


Sports activities


One of our tent classrooms in Moria 1.0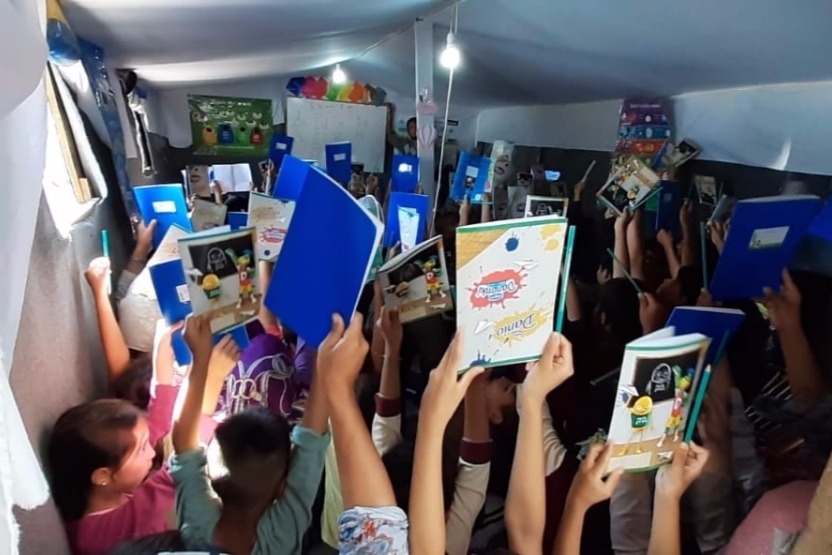 English class with our young students in Moria camp


SOME OF THE T-SHIRTS HAND-PAINTED BY OUR  STUDENTS 






FIRST UPDATE (March 2020)



THE TARGET OF 1.500 EUR HAS BEEN REACHED !!!!

AND THE CLASS IS READY !!!!

WE WILL USE ANY ADDITIONAL FUNDS TO BUY EDUCATIONAL MATERIAL FOR OUR STUDENTS AND TO GIVE A SMALL REWARD TO OUR TEAM OF REFUGEE TEACHERS !


So far every teacher has done their job on a voluntary basis, teaching everyday Monday to Friday for 2 hours to dozen of students at time... so far we are thanking our teachers with just one bus card every month (10 euros cost) and sometimes when possible buying some telephone credit for their mobile phones.


From now on, with your help, we are able to start supporting them and their families!



Here is a picture of our weekly meeting with most of our teachers:







THANKS FOR YOUR DONATIONS FOR ART AND EDUCATION!!