Friends Rally for #WarriorsForEmma
Emma Tiebens
is an International Speaker, Bestselling Author, Blogger, super cool Mom and friend to so many.  She has empowered, educated and equipped thousands of people from all over the world to gain success with signficance and she has always been a beacon of positivity all over social media.   That light has been temporarily dimmed when she was recently diagnosed with
Breast Cancer.



Emma and her son
Garrett Tiebens
-  who at 14 years old is also an Inspirational Speaker, Blogger and Yogi - have teamed up for the past 7 years to inspire families around the world through their live events, YouTube videos and social media interactions.   They are inseparables!  They always make sure that they were there for people, always serving without expecting nor asking anything in return. 

Now, they need your help. 
Emma is choosing
Integrative and
Alternative Healing Modalities, Therapies, Testings and Treatments
- some of which are outside the USA.  These are not covered by insurance and they cost tens of thousands of dollars.   It is very urgent that Emma receives the testings and treatments she needs ASAP, as the cancer tumors have already surfaced through the skin, have become ulcerated and are extremely painful.  They have already spread to her lymph nodes and the cancer stem cells are actively circulating in her blood.  Rest assured, she's not afraid and believes that healing is underway.  For the next 6 months to 1 year, her focus is to heal and be there for Garrett. 




Emma is a single-Mom who cares for Garrett and her 84-year old Mom, Elena and they shared their immediate financial need to us and we suggested crowdfunding.  We knew that there are many people whom she has inspired through the years who would gladly support her healing!
The idea was difficult for Emma as she was never comfortable asking people for help but now, she believes that this happened for reasons bigger than she can see at the moment.  Although healing is a priority, Emma sees this an opportunity to bring others along on this journey so they too can be helped through her own experience. 



So we -
Aggie Kobrin, Mike Pestano, Raziel Arcega, Nicole Parker, Robert San Luis and Barry Tydings, together with Garrett Tiebens
- decided that we will become
#WarriorsForEmma
and we will jumpstart a movement of many warriors around the world, who are not just #WarriorsForEmma but warriors for themselves and for those they love. 
Per Emma's request, this campaign is not just about her.  She wants to raise more awareness and create a movement for more Whole-istic Healing - Mind Body and Spirit - for others as well.  That we are are all Warriors taking a stand on reclaiming quality of life and relationships.  Through her personal healing journey, we will all learn through her own research, review and recommendation of resources, therapies, books, people and success stories to help others who are going through the same.



Here's how you too can become one of the 
#WarriorsForEmma:
1) Make a Donation here and share this post and link  in social media and tell them: "I just joined  the #WarriorsForEmma movement.  Go there and make a difference! Hope to see you there too...
www.GoFundMe.com/warriorsforemma
"  Any amount helps and is absolutely appreciated! 


2) Share this campaign on Facebook, Twitter, Instagram, LInkedIn, Google+ -  in and around social media - tag @EmmaTiebens and use hashtag
#WarriorsForEmma
so we can also thank you!
3) If you're feeling creative, post a picture of you holding a sign that says
#WarriorsForEmma
, share the link to this site
www.GoFundMe.com/warriorsforemma

and tag @EmmaTiebens . A picture just like this one...


4) Please
leave a comment
if you are one of Emma's family, clients and friends in and around social media, and share how she has inspired you through the years.  And even if you're new here, please leave a comment as well. 


5) If you would rather send Emma your donation privately,  you can send her an email or a private message on Facebook.  


6) Most importantly, be a
Prayer Warrior for Emma. 
Please pray and send positive intentions to her and Garrett, and see her as completely healed, without pain, and filling her days with laughter and joy!

We will soon have a Warriors For Emma blog site so you can be updated on her progress, as well as learn from the research, reviews and recommendations she will have on a regular basis.   Please make sure you send an email to:
[email redacted]
so we can notify you as soon as her blog site is up.
Emma thanks you so much for your love, concern and generous participation and she looks forward to getting stronger by the day so she can continue to support you, inspire you and love on you for many, many more years to come! 
Gratefully Yours,
Garrett, Aggie, Mike, Raziel, Nicole, Robert and Barry                                             #WarriorsFor Emma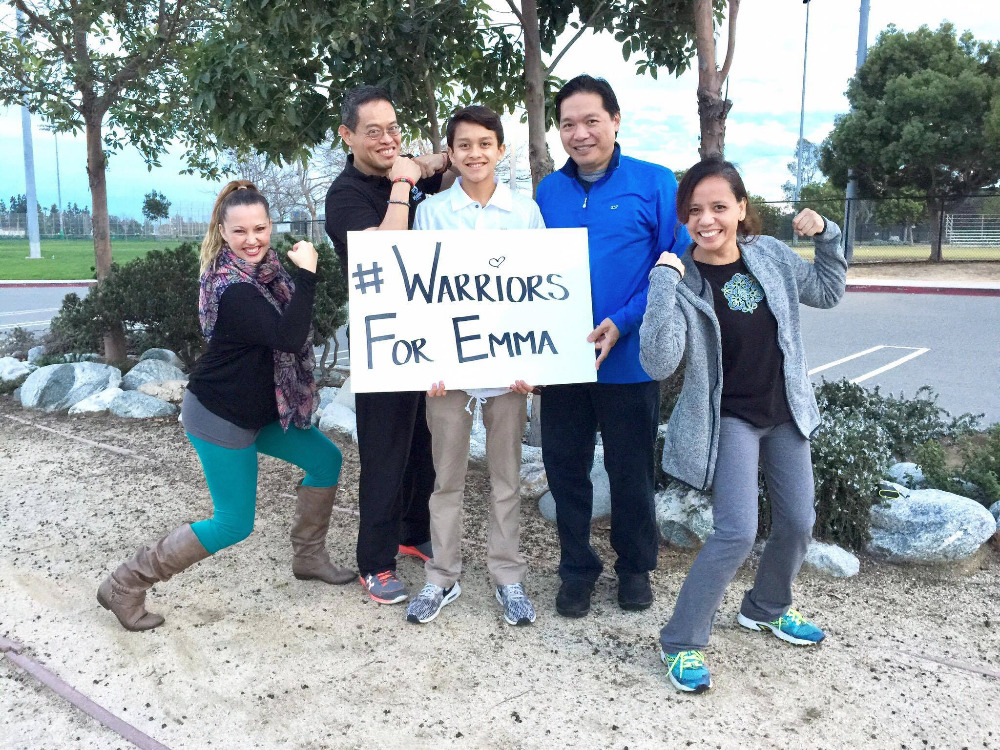 Nicole Parker, Mike Pestano, Garrett Tiebens, Robert San Luis and Raziel Arcega



                          Aggie Kobrin 


                                                       Barry Tydings

                        #WarriorsForEmma and Families