Honour the Children Pow wow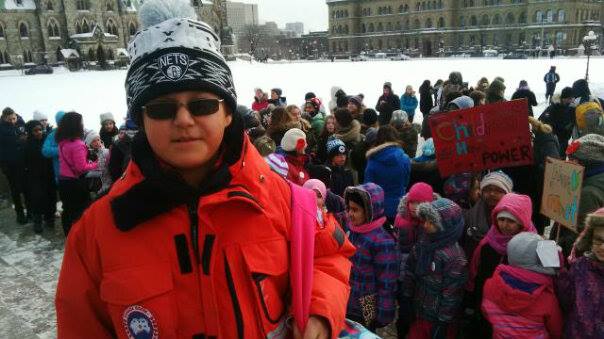 For the past 5 years Families of Sisters in Spirit has been hosting a Vigil on Parliament Hill to bring awareness to MMIW2SG  but last year we decided to have ceremonies instead on Victoria Island, foregoing the vigil model with going back to ceremony. 
This upcoming with inspiration from Theland and other family members, Families of Sisters in Spirit (FSIS) will continue to
Honour the children of MMIW2SG  on Oct. 3rd, 2015 with a Ceremony and Pow-Wow on Algonquin Territory.
**MMIW2SG -Missing and Murdered IndigenousWomen, Two Spirit and Girls**
Read here the inspiration behind the walk and upcoming Pow wow & Ceremony Oct 3rd, 2015
 Theland is 11 years old, Pottawatami Cree from Wahpole Island.
He is a traditional drummer and hoop dancer and a valued youth leader in the Ottawa community.
He  is planning to walk from Ottawa, ON to Kitigan Zibi, QC to Bridget Tolley's house March 31st - April 5th, 2015 
Since Theland was 10 years old he wanted to support missing and murdered Indigenous womens intiatives and has come out every year to honour them by singing and drumming at Families of Sisters in Spirit vigils and ceremonies twice each year on Oct4th and Feb 14th.
Theland feels its important to bring attention to  the children of missing and murdered Indigenous women need to be acknowledged and supported because he feels they are forgotten and under represented but they are the ones left behind.  These children lost their mothers, aunties, sisters, cousins and are left to struggle with the loss and trauma that largely goes unacknowleged.
Theland wants those children to know he is thinking about them and he will continue to "walk in a good way" to be there for them. 
It will take Theland 5-7 days to walk /run the 134 kilometers if he walks for 6 hours each day. Theland has the full support his family and community support. Please show your support in supporting youth leading the way to bring attention to this important intiative taken on by a young man. 
Funds raised for Oct 3rd, 2015 will help to to cover the costs of :
Honouriums for Drummers, Dancers, Elders
Food for Feast & Ceremony to feed the community, families and Elders
Medicines ( tobacco, sage)
Liliane Della Mora Duquette 
Organizer