My husband, André Curvo, was having daily fevers for about a month when on April 13 we went to the E.R. because he face was swollen full of pus, after examined him, the doctor immediately decided to operate his sinus. Only 2 days later, on April 15, Andre had his surgery done and everything went well as it was planned.
On April 19, just 4 days later, we welcome our baby daughter, Giovanna Lucia Curvo.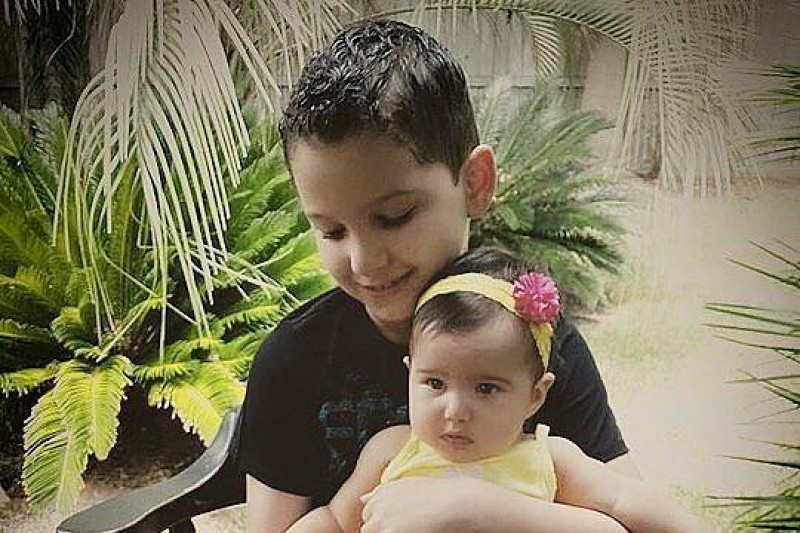 Life was pretty normal and lots of reason to rejoice now that our baby daughter was born healthy and André was recovering well from his surgery. Until about a week later when André's left eye began to swollen and back to the hospital we went.On April 30 we saw his ear specialist who told us the result of the biopsy done during the surgery – André had cancer! We were in shock. The doctor then sent André straight to the E.R. We were still not sure of what stage it was, so on the next day they took fluid off his spine to check his bone marrow.On May 1st the full diagnose came.
André has non-Hodgkin T-Cell Lymphoma
stage 2 because they found it in his lungs too. We still had to wait another week for the bone marrow results, if the cancer was found in his bone marrow that would make it stage 4 instead. All we could do was to pray and believe for a negative result and finally they came back negative for our relief.André's infection was so bad that they had to wait almost 3 weeks for the antibiotics to start working so he could start his chemotherapy and radiation. Over a month after this all began he is still on antibiotics and his eye still swollen.On May 18th André began his chemo, almost a month after Giovanna was born, and on May 21st he began radiation.On May 31st, I took Andre back to the ER where he had a pet scan that showed an abscess behind his left eye. Immediately Andre was transfer to the Houston Methodist Hospital where he remains now. On June 1st the doctors operated him again to drain more the infection and to do a new biopsy that showed dead cells tissue due to the radiation which was a good sign!
Andre will now begin the SMILE chemo regimen, an aggressive chemo treatment since his cancer is rare and aggressive. He will also do a bone marrow transplant. His oncologist explained to us here that because this is a cancer on the blood and immune system there is no stage 1-4, it's counted as stage 4 instead.
It has not being easy for us but we are so thankful for all our families, our friends and his work colleges at Neyman Marcus who continually show their care for him. We gratefully appreciate all your prayers and words of encouragement!
André has a great faith and a great heart. He never complains. If you know him personally you know André is always happy, always smiling, his presence lights up every place he goes and we believe that soon he will be healed!
We still don't know how long the treatment will take and when he will be able to work again. We humbly ask you to help us to go through this hard season of our lives by helping us financially.
God is faithful and has blessed Andre with immense faith. We know with all the prayers, love and support we will see Andre healed and whole again, in Jesus' name!
Laura Curvo, Andre's wife.