Basketball With A Purpose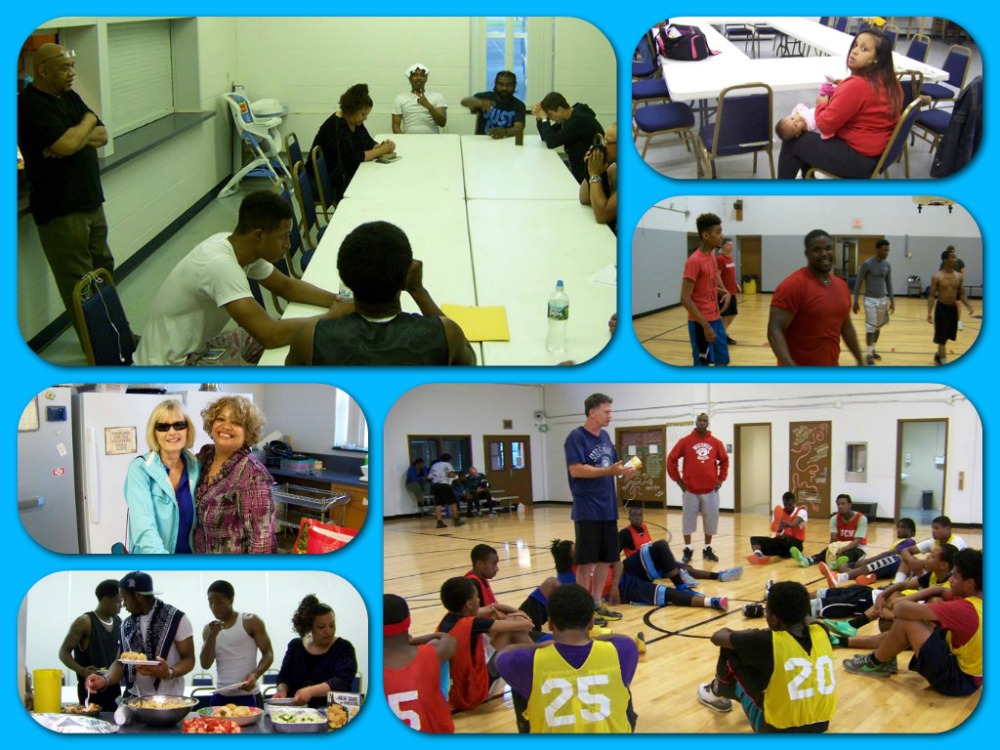 Every Thursday night from 7-9 pm, young men from the ages of 18-30 are invited to bring their ball skills, eat some good food, form solid relationships and learn life skills. The gym is located in a neighborhood known for poverty, violence, disease and teen pregnancy.
Collectively, the BWAP Mentors have almost 100 years of mentoring experience between them. We already have a Mentoring Program that involves long-term commitment with a high success rate of keeping guys alive, in school and out of jail. 
The picture above on the upper left shows a "BWAP-9MD" (Basketball With A Purpose - 9 Minute Devotion.) The Rev. Will Coplin shares with a group of young men who put down the basketball for 9 minutes to hear a short, life-changing message that inspires a healthy life direction. After the message, they enjoy a very good meal and then we play ball again.
Our goal is to help young men build their own solutions that will help them overcome poverty and violence as they become leaders and role models for the next generation. 
Our Relationship Mentoring Team shares the responsibilities in empowering these young men in 5 basic areas:
1. Spiritual and Moral Character Building 
2. Continuing Education
3. Jobs For Life 
4.  Community Responsibility
5. Health & Safety
Basketball is only an entry point to the game of life. All of these guys are invited to other events as the relationship building is extended beyond the walls of the gym. The goal is to meet 2-3 times per week. The YWAP Mission is to help city kids build solutions to poverty and violence.
Our current goal of raising $4,800 covers the cost of renting the gym for 6 months and the cost of providing food every Thursday night.
We invite you to stop down for a tour and see relationship building in action. 
#JLYASDW
www.youthwithapurpose.org
Organizer
Bob Kuebler
Organizer
Buffalo, NY

Registered nonprofit
Donations are typically 100% tax deductible in the US.