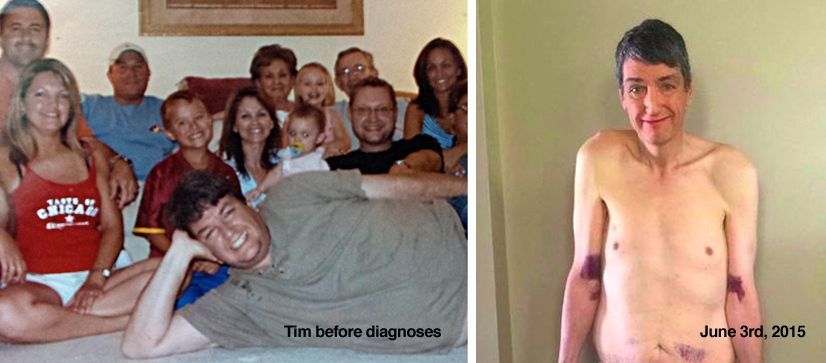 A mass email sent by our father on March 3, 2013 was one that none of us expected, and it's contents instantly transformed our lives. Our dear brother Tim  was very, very sick.  His initial diagnoses was "
Hemochromatosis",  
which is a genetic blood disorder. Because of this, he also developed
non-alcohol related cirrhosis of the liver
,
type II diabetes
and
Acute ITP
.  His liver was quite bad at the time of his diagnoses and he was told he would need
 new
one to survive. Tim was immediately placed on the UNOS waiting list for a liver.  It is June 3, 2015 and our brother is still waiting......
Since his diagnoses, Tim's health has deteriorated.  Once a commanding 6'3" /300 lb man, he is now a frail 180 lbs.
 Our brother is failing ..rapidly.
 He can't easily walk, he does not have enough strength to perform daily chores, and he is in
pain
.  Tim is at a point where he should stop working and focus soley on his health-but how can he possibly do that?  
He cannot!
  His health insurance is limited.   
Our brother has to push and literally drag himself out of bed, into the car and to his job, where he has to stand and walk basically all day. For a person in his condition, this is not only physically challenging but also mentally debilitating.
His medical bills are astronomical and will continue to pile up. He doesn't make much money and misses a lot of work, but he has no other options.  He is losing his home and is basically bankrupt. He recently had a long stay in . He is losing his home and is basically bankrupt. Tim recently had a long stay in the hospital because he woke up with no feeling in his legs and could not walk.
Simply put, our brother needs help – fast! Tim is an amazing person and a loving brother.  He is also one of the funniest people you will ever meet.  He has never asked anything from anyone and had a hard time letting us do this bio for him. To anyone reading this , from close family to friends, to aquaintences and total strangers, please help him.  We deeply appreciate any financial help you can offer.  Your prayers are greatly appreciated too.  

We love you very much Tim and are behind you all the way. 
June 1, 2015 update: Tim had a Dr appointment today with his transplant team and was told that along with the liver and large intestine transplant, he is in need of a pancreas transplant as well. He will need to move to another state for the surgeries  because they are only a few hospitals in the U.S.  that do all 3 transplants. Please help!!