Hepatocellular Carcinoma HCC Cancer
Now in remision, feeling better that ever before. Touched by the love and  generosity of others.

Thank you for all your help,  kind thoughts, prayers, contributions and love.  I am immensely grateful to each a everyone of you. I admire your altruism, generosity and humanitarian kindness. 
I am back in USA. Had surgery this past Friday September 28 at 1 pm. I was released from the Hospital Saturday September 29.
Left to right Bryant (son) Raul (friend) Norma (wife), Carlos (the patient), David (friend)
RF Ablation
Radio frequency ablation (RFA) is a medical procedure in which a tumor is ablated using heat generated from medium frequency alternating current (in the range of 350–500 kHz)
Multiple incisions are made from different angles to access the tumor mass and burn it completely. The second and third days after the operations are extremely painful.
My Story
In 2018 I reached the pinnacle of my existence: A successful Project Manager in the Automotive industry, Poet, Writer, Father of four incredible children (Raul, Rachel, Ivonne, and Bryant), Grand Father of three (Joel, Jaiden, and Charlotte) Husband, Big Brother and now the culprit of my life story: a CANCER PATIENT.

My Family

Left to right RICART's: Ivonne Marie, Bryant Craig, Carlos Keven, Norma Maribel
Left to right RICART's: Ivonne Marie, Norma Maribel, Carlos Keven, Bryant Craig.

My Daughter Rachael & Husband Roberto

Left to Right: Joel David, Charlotte Delilah, Rachel Marie, Jaiden Robert and Roberto Richardson (husband)


At my Sister Caridad Kolb Burial Place in San Diego California with my nephews

When it Rains it Pours
2017 was a tumultuous year, my young baby sister
Caridad Kolb
die of Cancer in San Diego California, my
Moher Ninon Rosa
passed away with Alzheimer's disease, my daughter
Ivonne Lotecka
got married and moved to Check Republic.
These simultaneous events perhaps acted as a detonator or a catalyst to trigger the Cancer manifestation.Challenges and Obstacles
Despite these life challenges I am determined to overcome cancer just like I would try to confront any other challenge in life, with determination, gratitude, love, patience and more importantly seeking God's guidance and support from family and friends.
My obstacle was time and money because a Tijuana Cancer treatment required both.  My cancer treatment required at least three  cycles treatments of tree weeks each plus follow up take home supplements and ancillary equipment to prevent remission.
I completed six weeks and three days with excellent result reducing my AFT (Tumor Marker) each week, down to 98 points on my last AFT Test from 194.
Tumor Size Vs AFT Tumor Marker
A cancer tumor can be evaluated in terms of two measurable indicators, the size of the tumor which may be determined with Ultrasound and MRI technology, and the activity of the tumor itself.  AFT does not measure the presence or absence of cancer but its "activity" and it can be volatile and susceptible to fluctuation. Like a dying snake that may inadvertently snap out of a transient moment of inactivity and "bite you" just before it dies a lingering death, so is AFT as an indicator of cancer that may provide an incomplete picture.
Conventional Medicine Vs Alternative Unconventional Approach
The risk of doing an ablation or surgery is that after penetrating or "cutting" the cancer may spread to other areas. Hospitals are notorious for the many cases were a person walks in and never walks out. Every surgery has an element of risk. Burning the tumor does not eliminate the original cause of the Cancer and does not guarantee it would not re-appear.  This rationalization made me decide to lean towards a more benign and unconventional solution. An unconventional solution has more freedom of action and flexibility which some times if selected correctly can introduced other valuable alternatives to the mix. 
At first, ablation appeared to be less desirable because it does not offer an absolute guarantee against recurrence, however sometimes, removing the tumor mass is the best option because the body does not have sufficient strength on its own to break tumor apart naturally. In some cases it is best to remove the tumor mass first and then assist and nurture the body with other natural programs and supplements.
Cancer Tumor Mass Annihilation
Cancer Tumor Sketch Representation
After conducting some cancer clinics and alternatives research,  I narrowed it down to five clinics with some lever of credibility. I visited each one and after a process of elimination made my final decision. 
Hepatitis C is a virus in the blood.  200 Million people are infested with Hepatitis C. 
People born between 1[phone redacted], it is recommended they are tested for Hepatitis C in USA.
My Hepatitis C test came out positive.  Hepatitis C can be acquired by blood transfusion or by using contaminated needles.  I never used drugs before however I did received a blood transfusion as a child therefor it was blood transfusion related.
Learn from my experience.  Go and test yourself today!

Historical Facts Results and Progress

January 2018
I went for a routine yearly physical exam. The Doctor requested a Hepatitis C Test.
March 29, 2018
I had the results of Blood Works done by GI MEDICINE and my AFT (Tumor Marker) was 144 (0 – 8.5 is considered normal)


April 7, 2018
Ultrasound showed a 2.8 x 2.5 x 2 cm tumor mass.


May 31, 2018
MRI showed a 2.9 x 2.1 cm enhancement cancerous mass


June 28, 2018
Henry Ford Hospital Oncology department reviewed MRI and diagnosed as Hepatocellular Carcinoma (HCC) Cancer and recommended a liver transplant.


July 16, 2018 
I was scheduled to go to Henry Ford to do an ablation surgery to remove the Cancer Tumor while they found a suitable liver donor.
July 16, 2018
I went to Tijuana Mexico.
July 16, 2018 
new lab work done In Tijuana Mexico showed
AFP (Tumor marker)
was 194 (up 50 points in 3-1/2 months)
July 30, 2018
after two weeks of treatment my
AFP (Tumor marker) was 150
(down 44 points)
August 13, 2018
after 4 weeks of treatment my
AFP (Tumor marker)
was 133 (down 61 points)


August 20, 2018
  after 5 weeks of treatment AFP (Tumor Marker) 106

August 27, 2018
 AFP (Tumor Marker) 93
September 2, 2018
Ran out of time and resources and returned to USA. 
Note:
All projects, tasks, human goals and objectives must be reached within a realistic period of time suitable for the task.  A project has to have an start and end date and may not be perpetuated indefinitely because everything, including our lives is bound by time.
September 17, 2018
(back in Michigan) AFP (Tumor marker) went up to 175.1


September 28, 2918
Had Radio frequency ablation (RFA)
at Henry Ford Hospital

September 30 and October 1
Had excruciating paint after the effects of anesthesia dissipated.


Conclusions

The Tijuana Mexico experience was a failure in terms or eliminating the Cancer tumor.
The Tijuana Mexico experience was a success in terms of raising my immune system and preparing me for surgery.
I received a lot of attention and care from a large group of dedicated Nurses and Doctors with state of the art equipment and facilities and enjoyed the pleasure of succulent and nutritious organic meals prepared by Chef Raul.
I was fortunate to have a tumor marker (AFP) to monitor my type of cancer as some patient have no markers and must do the treatment blindfolded.
I became an avid learner of medical terms and procedures directly applicable to my situation and case.
Perhaps you can learn valuable lessons from my experience to help you or someone you love surmount a similar experience.
Please help me fund the remainder of my treatment and complete my journey and write my Journal by making a contribution (if possible and within your means).

At the end I will share with you my experiences, my journey, and my story along with the story of others for your personal information and benefit. I am looking forward to returning to a productive life, home and family.
 
My Tijuana Mexico Cancer Treatment Journal 
I am writing a detailed account of my cancer treatment journey capturing specific events, situations and procedures. I will make it available to you as I write it,  and send you a final printed version for reference. The journal will be both specific and generic with respect to alternative cancer treatment. It will be specific as I will attempt to describes my condition, my treatment strategy and analyze results and lessons learned. Will be generic because it will contain general principles and guidelines that can be applied to different types of cancer conditions derived from the experiences and interaction with other patients, real people and real results and as a result of my investigation.
Other Cancer Patients

Beautiful people, attempting to hold on to life by seeking a solution to their illness. I had the privilege and pleasure of meeting, embracing, eating, taking, laughing with all of them and many more.  Some of them improved, some achieved a level of remission and some perished like my dear Chris
whom I will always remember for her beautiful, enthusiastic smile, her pure down to the core decency as a human being.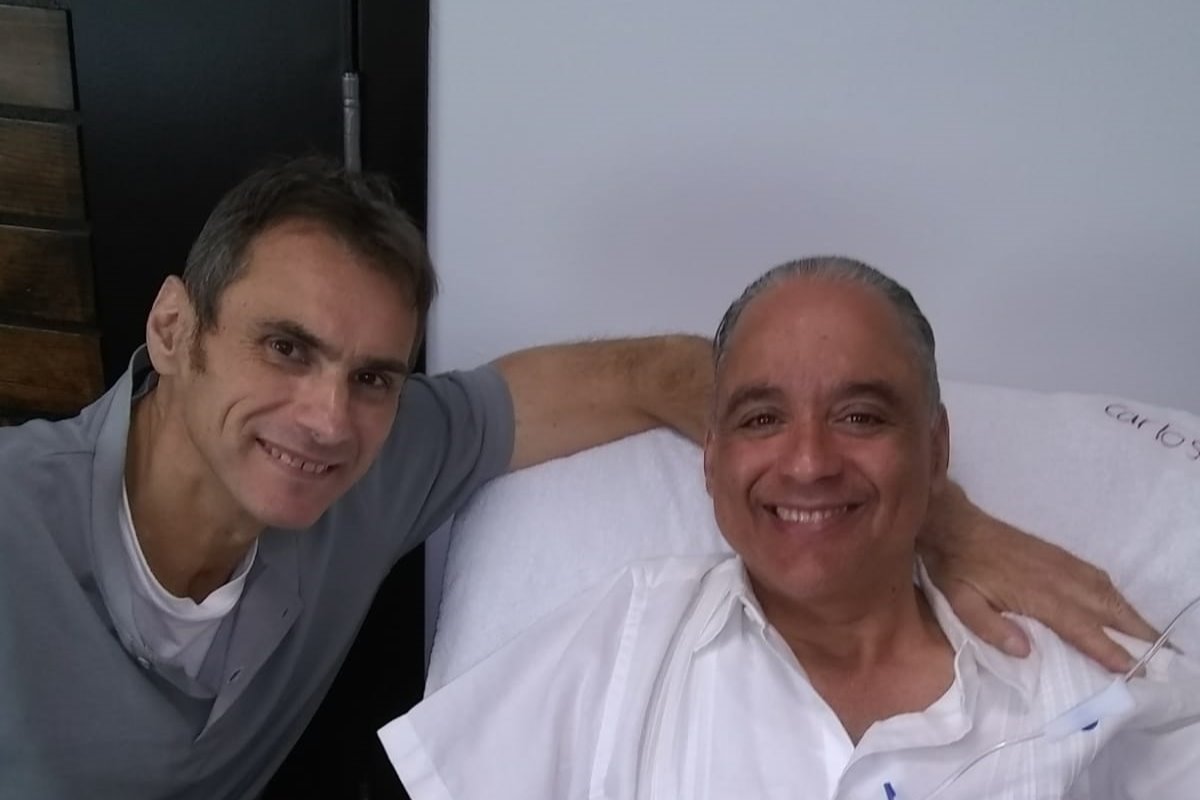 My Journal

Every Journal, every story, every book has a title, therefore I conceived the following for my story: 
"How I Raised Myself from LIVER Cancer, Hepatitis and Cirrhosis in XYZ Days"
What do you think? Do you like it? Okay, let's make this a group project. You (the reader and contributors) can be the critics and editors and help me correct my story and gain my poise as I become presumptuous or superfluous. Help me stay focus.
Here we go... (the first part will be added shortly, please stay tune.
Carlos

Organizer
#1 fundraising platform

More people start fundraisers on GoFundMe than on any other platform. Learn more

GoFundMe Guarantee

In the rare case something isn't right, we will work with you to determine if misuse occurred. Learn more

Expert advice, 24/7

Contact us with your questions and we'll answer, day or night. Learn more