Seed Funding for farm Programs in Communities
We are on a mission to combat the food deserts and the health epidemic deeply impacting people of color communities with our urban garden initiative. Here is how we are doing it.




Want to join us in making an environmental difference in P.O.C and indigenous communities? 


Peace and Blessings. My name is Dr. Ietef "Dj Cavem" Vita co-founder of the Vita Earth Foundation, educator, vegan chef (Chef Ietef), O.G. (organic gardener) and the founder of eco hip-hop. My mission is to redefine the image of health and wealth while utilizing art for social change. 


photo credit: Paul Winner

I am passionate about the subjects of food deserts, social and food justice. I was born and raised in Denver, Colorado (5 points). I planted my first apricot tree when I was 3 years old, and developed asthma by age 6 from the the nearby factories polluting the air.  I grew up in a drug infested neighborhood and the school I went to was 2 blocks from a youth penitentiary and 1 block away from a liquor store. 

The freshest thing you could find in my neighborhood was a lemon in a liquor store and if you wanted high quality organic  finding fresh organic produce in my neighborhood was 3 buses away.

Diabetes, heart disease and respiratory illnesses run high in the community I am from, and I wanted to make a difference. I knew food was the answer.  


Meet Alkemia Earth
My name is Alkemia Earth, co-founder of the Vita Earth Foundation, Energy Alignment Coach and Certified Intuitive Energy Practitioner. My passion is empowering humans to access their higher potential by aligning with soul purpose, using high-vibrational food as a gateway to heal, transform and reconnect. 

I show soulful humans how to turn their shit into compost.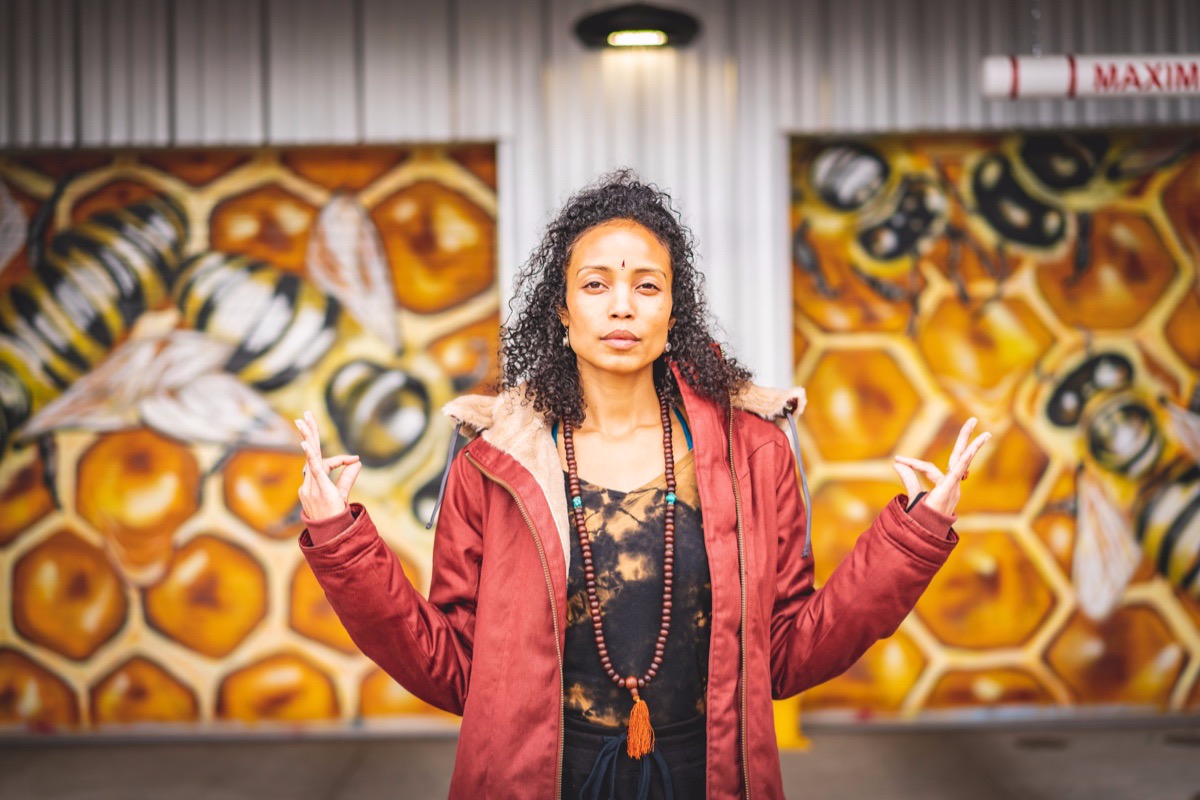 Photo Credit: F4D Studio




Check out Dr. Ietef Vita in the "From Gangs To Gardens" short documentary (13 min)

For the past 2 decades, Dr. Vita has dedicated his art and life to teaching urban communities how to grow food and combat food related illnesses with a vegan lifestyle.

"I see hip hop music is a bridge to unity and a powerful tool to raise conscious awareness around a subject. To be "hip" is to know- it means intelligence. "Hop" is the movement. Hip-hop means "intelligent movement".  One of my first albums was dedicated toward raising awareness around food related illnesses.  My goal with "The Produce Section" was an album was to get kids to eat more fruits and vegetables, and to inspire families to grow a produce section or eat out of the produce section. This led to creating projects, programs, workshops and summer camps with schools and other non-profit organizations. "

Together, with wife and co-founder Alkemia Earth,  the power couple unite with their combined missions of combating food and environmental disparities in urban communities by reconnecting people to the planet through food.  

Recently, Ietef's work was shared in Leonardo Dicaprio's recent documentary "Ice On Fire" and in Joe Cross's film The "Kid's Menu".


Over the course of my career, Dr. Ietef Vita:

-Studied indigenous agriculture and agronomy in Uganda at the Makerere University

-Taught at 3 primary schools in Kampala and multiple public schools and Universities Internationally. 

-Was invited to Azerbaijan as a health and wellness ambassador for the US Embassy with  Alkemia Earth

-Produced 6 albums that raise awareness and give solutions to social + food justice issues, environmental issues. 

-Was invited with  wife Alkemia Earth to present at the White House with celebrity chefs

- 4 Ted Talks

Tedx Manhattan w/ Alkemia Earth

-Received a proclamation from the Mayor of Denver and Baltimore proclaiming June 14th as "Keep It Fresh Day". 

-Was the subject of a documentary called "From Gangs to Gardens" which received 6 distribution deals (including Virgin Airlines, Revolt, Food Matters TV, SIMA, Fubu Tv)

-Went viral on the Huffington Post (over 10 million views)

-Appeared as a  guest on the Rachel Ray Show and Michaela Show


Dj Cavem on the Rachel Ray Show:


-Received a PHD in Urban Ecology

-Reached over 50,000 kids and community members internationally with my workshops, programs and music (Boys and Girls Club Denver  / Boys and Girls Club San Francisco ) with his previous program "Going Green Living Bling".

Summer Camp Project with Dj Cavem and Alkemia Earth


-Released my latest album (Biomimicz) on organic packets of kale, arugula and beet seeds in partnership with Botanical Interest. 

-Personally donated over 15,000 organic seed packets (Biomimicz album) to communities nationwide 




-Co-founded The Vita Earth Foundation (a 501c3) with Alkemia Earth

Dj Cavem and Alkemia Earth at White House 



We are ready to take our foundation to the next level and we need YOU! Over the last two decades, we have funded our own community projects and we are ready to expand and create a larger impact.

Our goal is to raise funds to help start our urban farm project and donate 22,000 packets of organic kale, arugula and beets seeds to urban farms nationwide this summer! 

Why help seed and build urban farms? Great question. 

Here are 10 ways urban farms are contributing to the improved health of their communities:

1. REDUCE CARBON EMISSIONS
By localizing produce, urban farms cut down on the significant amount of fossil fuel consumption necessary to transport, package, and sell food. The average meal has traveled 4,200 miles just to get to your table. Urban agriculture helps consumers reduce their "foodprint" by providing them the opportunity to purchase food that was grown within their community.

2. INNOVATIVE TECHNIQUES
As city spaces lack the wide-open fertile grounds of traditional farming methods, urban farmers are tasked with finding creative solutions to dealing with challenges like waste, space, resources, and energy. Because of this, more efficient innovations are created to improve the quality and quantity of food that can be produced with the least amount of resources. (For example, the vertical aquaponic systems of The Growing Experience in Long Beach produce 3-4 times as much produce as traditional farming methods and use significantly less water.)

3. JOB CREATION
From window box herb gardens to large community spaces, these farms create opportunities to involve the community. Urban farms create job (and volunteer) opportunities in big cities, where poverty and hunger are often persistent issues. An increase in small businesses stimulates local economy and supports the community by creating jobs right where people live.

4. ECONOMIC GROWTH
By virtue of their proximity to consumers, urban farms stimulate local economy by circulating income throughout the region. Without a complicated distribution network, farmers are more connected to their market and able to adapt quickly to demand, maximizing profit. In addition, many of these organizations are structured in a way that brings additional benefit to the community and support to low income populations by stabilizing food costs and in many cases, offering discounted or free produce.

5. COMMUNITY BUILDING
Gardens create more than healthy, delicious food. Urban agriculture brings people together with a common interest — food. The overall health of a community is benefited by increasing its capacity to create an environment that truly sustains its residents. Most urban farming projects require a high level of social organization, giving many individuals in the community a vested interest in its success.

"Cool to Live"- Dj Cavem ft. Cody ChesnuTT

6. PUBLIC HEALTH
Increasing populations of people in cities suffer from malnutrition and a variety of other diet-related health issues. Bringing nutritious food to local communities has many direct health benefits, including reducing the risk of harmful conditions like heart disease, obesity, diabetes, and more. Involving individuals in the garden itself provides an opportunity for exercise and a deeper connection to agriculture.

7. FOOD QUALITY
Smaller scale, local markets provide the opportunity for farmers to foster more unique varieties of produce. These farms preserve biodiversity by cultivating heirloom varieties or those with lower shelf-stability. The proximity and connectedness to market allows for fresh, nutritious produce to become available to communities that have never had access to this in the past.

8. FOOD SECURITY
While there may not be a "shortage" of food in most regions, issues of access are absolutely prevalent — especially in urban areas. In Orange County, about 400,000 people do not have access to affordable, healthy food. Urban agriculture helps to correct this by reducing the price of healthy food by eliminating the middleman and increasing the opportunity for community members in need to participate in the growing of this food. Many urban farms also adopt charitable models in an effort to support communities in need through direct donation or by providing either discounted or free produce.

9. EDUCATION
Urban agriculture addresses another issue inherent throughout our current food culture — a disconnection to where our food comes from. By involving children and adults alike in education around sustainable, local agriculture, farmers increase the health of our future food systems.

10. GREEN SPACE
Lastly, agriculture in cities provides something obvious — more green space. This contributes to the health of city ecosystems in a variety of ways. Greenery adds aesthetic appeal, reduces runoff from precipitation, provides restful spaces for the community, and counters the heat island effect by fixing carbon through photosynthesis.
Source 



What does the O.G. Ron Finley have to say about our work?

"We are all in a fight for our culture, our food, and our lives. It calls out the need for us to come together for our existence. The people we elect work for us!! We are the power let's use it!" -Ron Finley


Ron Finley, Alkemia Earth, Dr. Ietef Vita

We need your support and unity in seeding urban gardens. Our goal is upgrade our urban farm for educational purposes and to distribute 22,000 packets of organic seeds to school gardens, community gardens, and urban farms nationwide.  All funds raised will  benefit the Vita Earth Foundation, and any donation made will help make an impact in urban communities. We personally give a big thanks in advance for your tax-deductible contribution to this cause that means so much to us and the future of food. 

With Deep Gratitude,

Dr. Ietef Vita + Alkemia Earth
Co-founders of The Vita Earth Foundation, (a 501c3 non-profit)


Original art of Dj Cavem and Alkemia by: Justin Bua  "Now This Is America" 

"One For The Hood Remix" Music Video


Organizer
Ietef Cavem Vita
Organizer
Denver, CO
Vita Earth Spirit Holistic and Humanitarian Foundation
Registered nonprofit
Donations are typically 100% tax deductible in the US.