Vida digna a 10 niñas de la calle STREET CHILDREN
QUEENS OF KIBERA JUNTO A LOS KINGS! (English below)
Hola! Ayudanos por favor! Sobre todo tu! Aunque no tengamos tanto contacto!
Para sacar a 10 niñas de unas situaciones extremadamente precarias y ofrecerles una vida digna como la que hemos tenido cada uno de nosotros.
Somos un grupo de voluntarios que nos pagamos los vuelos y todos los gastos.
KINGS OF KIBERA es una fundación que opera desde hace doce años en el suburbio de Kibera en Nairobi, Kenia
y ya ha sacado de las calles a tres generaciones de niños. Este año hemos hecho un proyecto asociado para dar la misma oportunidad a las niñas y hospedar la primera generación de niñas.
Mi nombre es
Joan Dicenta.
Soy
el delegado en campo de KINGS OF KIBERA, cofundador y codirector de QUEENS OF KIBERA y encargado de la construcción del nuevo centro de KINGS & QUEENS OF KIBERA.
Soy parte del equipo junto al Presidente de la fundación Nico Mallol y mis compañeros de proyecto QUEENS Joan Echevarria y Javier Mestre.Hemos invertido 21000€ en reconstruir el centro que lamentablemente colapso en la temporada de lluvias
y lo hemos adaptado para esta ampliación. Aún nos queda amueblarlo y terminar de pintarlo con lo que llegaremos a los 22000€ de gasto.
Desafortunadamente el dinero no es infinito y necesitamos 7000€ más para cambiar la vida de este grupo de niñas. Este es el objetivo de esta campaña de Gofundme. El dinero que vosotros enviáis via esta campaña yo lo voy a utilizar para comprar colchones, sábanas, toallas, uniformes, tasas de escuela, material escolar, zapatos, jerséis, faldas, calcetines, mochilas, y muchas cosas más! Yo estoy aquí en KIBERA, encargado de realizar estos pagos y de todo lo que necesitamos para poder sacar a 10 niñas de unas situaciones extremadamente precarias.
A continuación una pequeña explicación del centro: Hoy hace 1 año de la construcción de la casa 2 donde ahora duermen los
KINGS OF KIBERA
de la tercera generación que veis en la foto. A punto de terminar la total reconstrucción de la casa 1 que ahora va a estar construida con materiales de calidad, con amplias ventanas y con un piso superior donde dormirán las
QUEENS OF KIBERA
con wc, duchas y balcón. También aprovechamos esta nueva construcción para en el techo de la entrada (Nueva oficina. La oficina anterior ahora se convierte en la cocina) y con unas escaleras exteriores dejar una terraza donde los kings podrán tender la ropa (las queens lo harán en su balcón) y donde haremos un huerto en macetas para que los
KINGS & QUEENS
cultiven verduras.
Este proyecto de cultivar va unido al de la mini granja de gallinas tras comprar la casa del fondo del centro que nos ha permitido sellar el centro y tambien construir un gallinero para que los
KINGS & QUEENS
por parejas cuiden cada par de una gallina. Estos son proyectos que la fundación cree que ayudarán a sensibilizar a los niños y niñas y a manejarse con animales y plantas que en un futuro podrán incluso utilizar como un recurso.
En la misma línea de sensibilización, concienciacion y sobre todo educación hemos convertido la planta baja junto a la entrada-oficina  en un espacio abierto muy amplio comunitario con ventanas hechas con animales en relieve y donde vamos a pintar con patrones de animales y mucho color para transmitir la magia del arte donde los
KINGS & QUEENS
podrán realizar actividades educativas, utilizar de comedor y de zona de estudio y tendrán cada uno su taquilla para guardar sus cosas.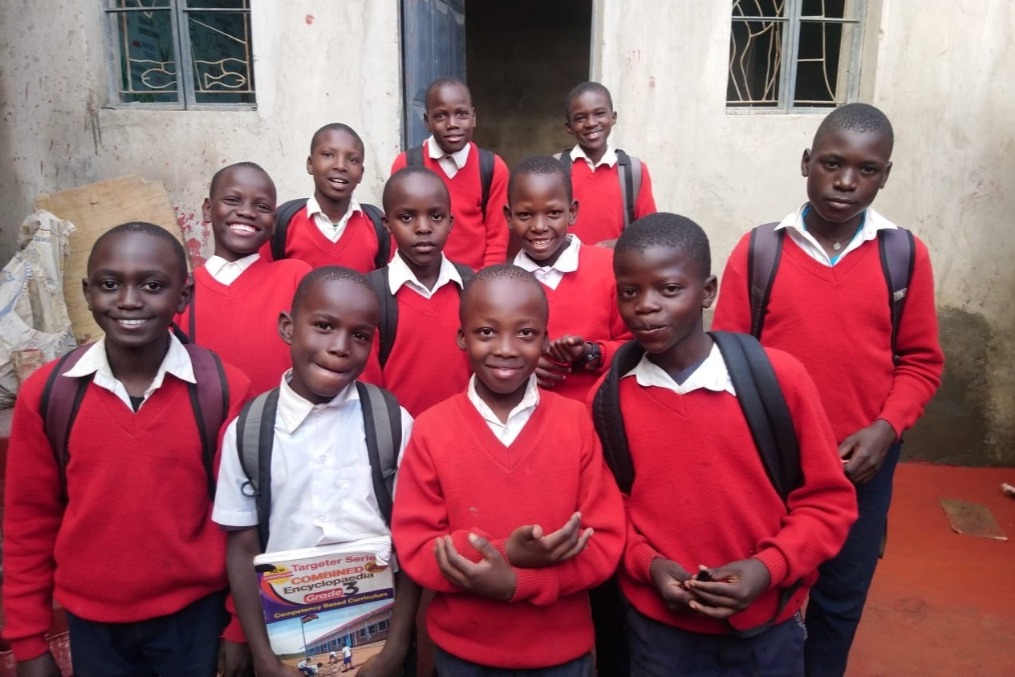 QUEENS OF KIBERA WITH THE KINGS! 


We need your help! We are a group of volunteers paying for our flights and all expenses to be able to 
remove 10 girls from extremely precarious situations and offer them a different life. KINGS OF KIBERA is a foundation that operates in the Kibera slum in Nairobi, Kenya.
 In the last twelve years we have taken three generations of children off the streets.
This year we started an associated project  - QUEENS OF KIBERA - to also give 10 girls (THE QUEENS) the same opportunity as for the boys (THE KINGS).
I'm Joan Dicenta, the delegate of KINGS OF KIBERA, co-founder and co-director of the QUEENS OF KIBERA, working together with Nico Mallol (Charity President) and my colleagues Joan Echevarria y Javier Mestre.
We have spend € 21,000 in rebuilding the center that collapsed in the last rainy season. 
We have refurbished the center and improved it to be able to host 10 girls.
Unfortunately, we are running out of funds as we spent everything we had refurbishing the building and the neighbourhood. Now we need 7,000 € more to change the life of 10 girls. This is the reason why we created this Gofundme campaign.With all your contributions, we will be able to buy beds, mattresses, sheets, uniforms, school tuition fees, school material, shoes, jerseys, skirts, socks, backpacks, and many other expenses to make it real! For the last 3 months, my life is in KIBERA. Every donation you make, I withdrawn it from the campaign and I use it to go and make all the needed purchased (in KIBERE everything works only with Cash). Any € counts for these girls that soon will have a place to sleep and a way to get education.
Below a small description of the center: Today is our 1st anniversary of the construction of house 2, where the 
KINGS OF KIBERA 
of the third generation sleep. They are the kids you see in the photo. We are completing the total reconstruction of house 1 that will now be built with quality materials, large windows, a wc, shower and balcony for the Queens of Kibera. We also take advantage of this new project to repair the roof of the entrance (New office. The previous office now becomes a kitchen). And with the external stairs we add a terrace where the KINGS will dry their clothes (the queens will do it on their balcony). On top of this we will create a garden with pots for
 KINGS & QUEENS 
to cultivate vegetables. We used our last funds to build a chicken house so that
 KINGS & QUEENS 
can raise chicken together.
These are projects that the foundation believes will help us educate the 
KINGS and QUEENS
 to respect animals and plants and what they can provide. In the same educative line we will paint the walls with colourful animals and plants for the 
KINGS & QUEENS 
to be exposed to the magic of the arts and make this community space their own.

Organizer
Queens of Kibera 
Organizer
Sant Joan De Labritja, IB, Spain
#1 fundraising platform

More people start fundraisers on GoFundMe than on any other platform. Learn more

GoFundMe Guarantee

In the rare case something isn't right, we will work with you to determine if misuse occurred. Learn more

Expert advice, 24/7

Contact us with your questions and we'll answer, day or night. Learn more