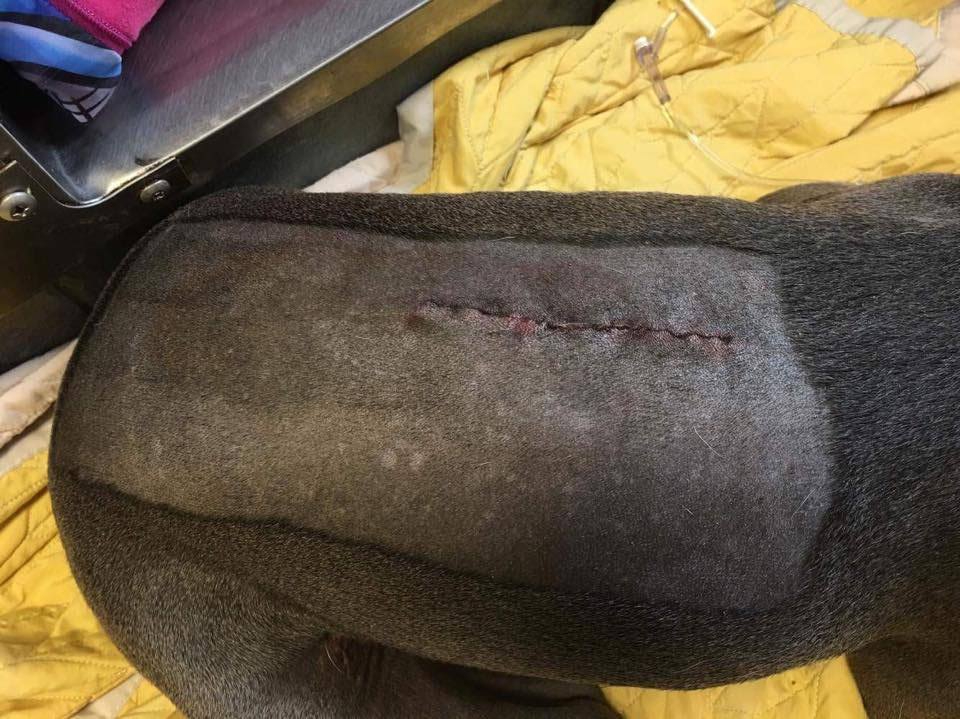 Meet Vashti:

Vashti is a four-year-old, three-legged pit mix who was adopted through the Humane Society of Tampa Bay (HSTB) in early 2015. Vashti's amputation was a result of severe physical abuse prior to being rescued by HSTB.
When Vashti became a part of my family I promised that I would provide her with the home, safety, and love that she deserved. For two years, Vashti has thrived. Vashti is the official USF Hillel Hound, she is loved by our USF AEPI Brothers and is cherished by every student she meets. Last year, Vashti and her journey were highlighted when she was honored as a Humane Society Ambassador Dog at the 2016 Humane Society of Tampa Bay's Tuxes & Tails Gala. All was well in our family, Vashti had her health, an abundance of love and life was good….. Until 6 weeks ago. 
On May 18th, while I was escorting USF students on an International trip, Vashti spent a day at Lucky Dog, a South Tampa dog daycare and boarding facility, where she suffered a spinal injury due to the negligence of a careless employee (Andrea, also known as Andy).
The incident immediately rendered Vashti paralyzed from the waist down.
 Andy, the Lucky Dog employee, intentionally lied to Vashti's caretaker about the incident, resulting in Vashti waiting approximately 18 hours to receive the critical and injury appropriate medical treatment required. Vashti had visited an after-hour emergency vet, the HSTB Animal Health Center before she was referred to Blue Pearl where she was immediately evaluated by staff members. After a lengthy evaluation, the medical professionals and veterinary specialists at Blue Pearl concluded that Vashti was likely suffering a spinal cord injury with the understanding it was due to trauma. The surgery Vashti would need to confirm and correct the spinal trauma would require a $5,000 deposit to begin.
Without the surgery, Vashti would need to be euthanized.


I spoke with the general managers at Lucky Dog Daycare, requesting a review of their security footage and the preservation of found footage relating to any incident pertaining to Vashti's emergency. Lucky Dog's general managers informed me that Andrea (Andy), had lied. Vashti had been improperly leashed to be walked to reception. Instead of Andrea securing Vashti in a controlled environment, ensuring the safety of Vashti and the other possible dogs in the area, Andrea arbitrarily decided to attempt to re-leash Vashti by herself in the middle of a hallway. She lost total control of Vashti in an entirely unsecured environment. Vashti got loose, started running, resulting in her falling on what looks like could have been a slippery surface. After her fall, the security footage shows Vashti yelping in pain and unable to stand. This revelation resulted in the
general managers informing me that Lucky Dog was accepting full responsibility
and ensuring me they would do everything they could to save Vashti.

Although the general managers at Lucky Dog assured me they would do everything in their power to save Vashti, the owners waited until 30 minutes prior to Vashti's surgery to inform the managers that "it's not their decision if the dog needs to be put down" and they wouldn't contribute a dime to ensure that Vashti's life would be saved. That same day, in a completely unexpected act of compassion and benevolence, my boss, Ed Rosenthal, received permission from our non-profit organization's leadership to loan me the $5,000 that would save Vashti's life. Vashti underwent two surgical procedures in a 24-hour period and was hospitalized for six days.

On Thursday, May 25th, I was able to bring Vashti home. Vashti's post-operative medical care included heavy doses of prescription medications and six weeks of very restricted activity including confinement to small areas or a crate. Vashti is allowed to be taken outside for bathroom purposes, but must walk with the assistance of a sling. Vashti's exercise restriction is still in place and she will need tranquilizers to keep her calm as she continues to recuperate; however, the doctors expect Vashti to make a full recovery.

On June 13th, I scheduled a meeting with the owners to address the incident and costs incurred. In that meeting, I presented them with the opportunity to take responsibility for their employee's negligence and her cruelty for delaying appropriate medical care by covering up how Vashti was injured. Despite Vashti's astronomical medical bills ($7,935) eight days of time missed at work (a $1,550 loss) and a cell phone bill of more than $250 (as a result of international charges), I only intended on requesting that Lucky Dog reimburse me for Vashti's medical bills and the $200 Daycare package that I purchased for the time I was away (only three days of the package had been used, and I was clearly never bringing Vashti back there again). 
I could never have imagined what would happen next. The level of aggression, hostility, and lack of self-control on part of the owners was astounding. One of the owners stomped around, flailing and aggressively waving his hands in the air, while he screamed at me, calling me a "shit-brained millennial", stating that I'm a "nothing", and I can "go straight to hell". The other owner sat across from me stating that Vashti's injury was a result of her amputation as he condescendingly told me that I'm a "good person for giving Vashti a home". They even went so far as to state that "running was the reason I brought Vashti to Lucky Dog", "and running is the only reason she's injured." At no point have either of the owners taken responsibility for their employee's actions, her dishonesty or the almost $10K their negligence has cost me.

I am beyond thrilled that my beloved Vashti is alive, thriving and will have a full recovery from her injuries. However, because of Lucky Dog's owners' unwillingness to do the right thing and reimburse me for the expenses incurred to save Vashti's life, due to their own employee's negligence and unethical behavior, I have embarked on this social media and Go Fund Me initiative as a way to raise awareness of the atrocities occurring at Lucky Dog, to garner
#Victory4Vashti
and to help me raise the necessary funds required to pay the bills related to this disastrous experience.

My Go Fund Me goal is $6,500. This amount will help me cover the $8,000 in total medical expenses (including the visit to the emergency vet, the visit to HSTB, and the surgery and hospitalization at Blue Pearl). It will also help me cover the eight days of time lost at work valued at $1,550, the $250 international cell phone bill and the $200 I spent on the daycare package at Lucky Dog. Your donations toward my Go Fund Me goal, in any amount, will be appreciated. Every dollar over my goal will be donated to Humane Society of Tampa Bay. 
Many, many thanks in advance for your generosity. Vashti and I will be forever grateful. 


Even if you can't give, please share! DESPITE THE PAIN, TRAUMA AND FEAR VASHTI EXPERIENCED SHE IS FORTUNATE. VASHTI MADE IT OUT ALIVE! Since May 18th, there have been numerous dogs who've been injured and two dogs (in the last two weeks) have died of heat stroke.Help me share Vashti's story.  Help me prevent other families and dogs from experiencing the nightmare that is Lucky Dog of South Tampa.Help me get #Victory4Vashti.
****The employee responsible for almost killing Vashti has since been promoted to a supervisory position.

Organizer