Support Dana & VGS: Trailblazers in Education
TRAILBLAZING THE FUTURE OF EDUCATION
Last August, in the midst of a global pandemic and the largest movement for racial equity of our times one teacher decided that she would do whatever it took to help the children and families of her school thrive with in-person learning and to continue to fight for racial equity– even if it meant multiple innovations (and renovations), big creative thinking, and a lot of hard work. She's shown a deep unwavering commitment to her students and families through all odds and now she needs our help.

For starters, without knowing how she was going to pay for it she and her staff sought out families in need that were especially burdened by the pandemic and online learning and offered 5 full scholarships to BIPOC families on Vashon Island. Then, in order to comply with CDC guidelines she created three distinct zones and separate learning pods and moved all learning 100% outdoors. This required hiring more staff, building four new covered open-air classrooms, more composting toilets, more plumbed sinks, and the creation of a gear library. All students, regardless of financial ability, needed to be comfortable outdoors for learning six hours a day. VGS further increased enrollment to welcome several students from local public schools who were not thriving in online learning. 


 
 Vashon Green School (VGS) students started their year by studying "Climate Justice Heroes"— individuals in the world who are making change and protecting the earth. When asked "Why this unit?" Dana Schuerholz, founder and lead instructor, at VGS said, "The children need hope right now. We've been in lockdown for months; the world is uncertain and can feel scary right now. We all need role models. We need the stories of trailblazers who have gone before us—who have experienced setbacks, faced challenges and taken action that has made a difference and helped to make this world a better place." 

Dana Schuerholz has been one such trailblazer, and now she needs our help. In the midst of the pandemic and the movement for racial equality she was grappling with these questions: How do we answer the call for reparations in the form of education equity? How do we create a learning environment that allows children to be safe and thrive within a global pandemic?

As the school's proprietor Dana was in a unique position to be able to make the choices that addressed these questions for her in a meaningful way.  However, keeping up with the increased demands and constant pivoting that this year required, severe health crises in her own family, as well as spikes in COVID cases that shut down fundraising plans at several turns have now left her in the red. She took out a loan to pay her teachers. She can't afford to pay herself.

HELP A TRAILBLAZER/BE A TRAILBLAZER
You can help support this trailblazer and future trailblazers to come. This GoFund me is to raise, at a minimum, the $40,000 to cover the costs of the scholarships in a year whose financial burdens have been heavy. In order to continue this good work VGS must get financially solvent again. Dana is a woman who is committed to making the world a better place, she does it one child at a time, working to shape citizens that are responsive, compassionate, inspired, and who have respect for one another and our planet. (See details of their curriculum below.) But right now she alone is bearing the burden of her dedication. I believe it's a commitment to community, equity and a cost that shouldn't be born alone.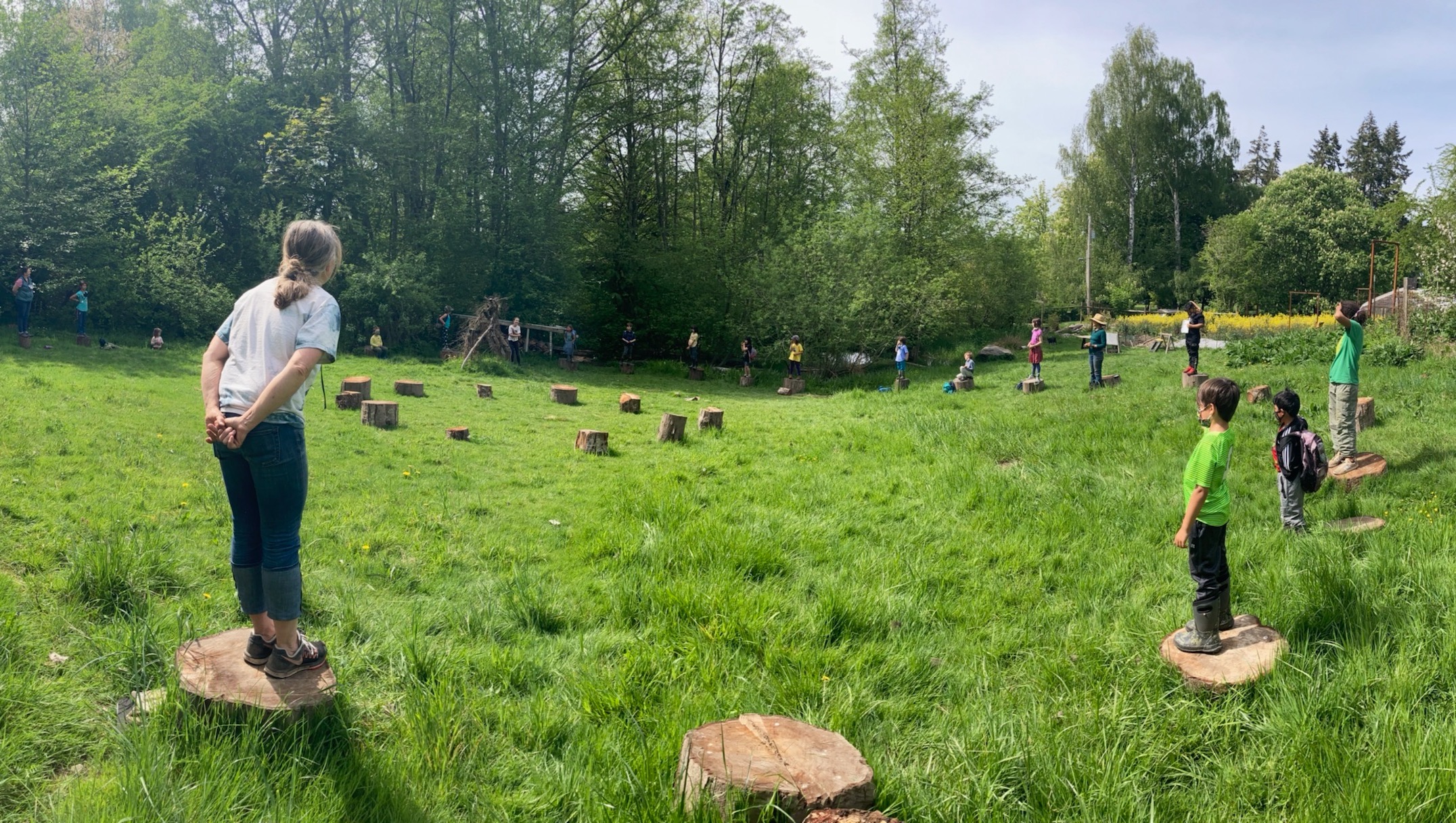 SUCCESS AT A COST

Although they've been very successful in remaining in-person for 10 months with zero COVID cases and amazing individual student success stories in the areas of growth and learning— with only two weeks left of school Dana is still thousands of dollars in the hole.
HER CONTINUED RESPONSE HAS BEEN TO SHOW UP
During a time of global wide crises on several fronts Dana's response was to step up to the plate and do whatever she could for the children and families in her care to thrive. She has indelibly changed the lives of the nearly 30 families whose children have had the rare opportunity to be safely learning in-person and outdoors in a time when the majority of the world was languishing at home and behind screens.
VASHON GREEN SCHOOL CORE CURRICULUM
Beyond giving scholarships and teaching through a pandemic, for 13 years VGS has taught a curriculum rooted in social justice and environmental awareness. Dana believes that "If we are going to teach kids how to make decisions in the world for their future—they've got to have the basics of understanding inequity and justice and have a foundation of what matters." She believes we don't need to wait until students are juniors in high school to study current events. She says, "What matters is that everyone has enough to eat, has a home and feels safe. These are such basic things that we want to be teaching young kids that I can't imagine not leaning into it and telling them what is happening." She continued, "I want to teach the truth [of the world] but I also want the kids to feel inspired by the stories and to be able to feel more connected to the people that are different than them." The curriculum at Vashon Green School enables them to feel more connected and compassionate to the people, the plants, the animals, the places of this planet. These are the stories that she and the other teachers at VGS teach.
Students learned the stories of trailblazers like Will Allen, who started an organization, Growing Power, to help fight food inequity. They learned how Tahlequah, the mother orca turned her grief into action and raised global awareness of the plight of our beloved Southern Resident orcas. They studied individuals like Alexandria Ocasio-Cortez, the youngest Latinx woman to ever be elected to congress and the co-author of the Green New Deal. During their "Black Lives Matter" unit students learned that, "Building a movement is like building a fire. It takes more than a single match. Many kinds of actions and forms of energy make change."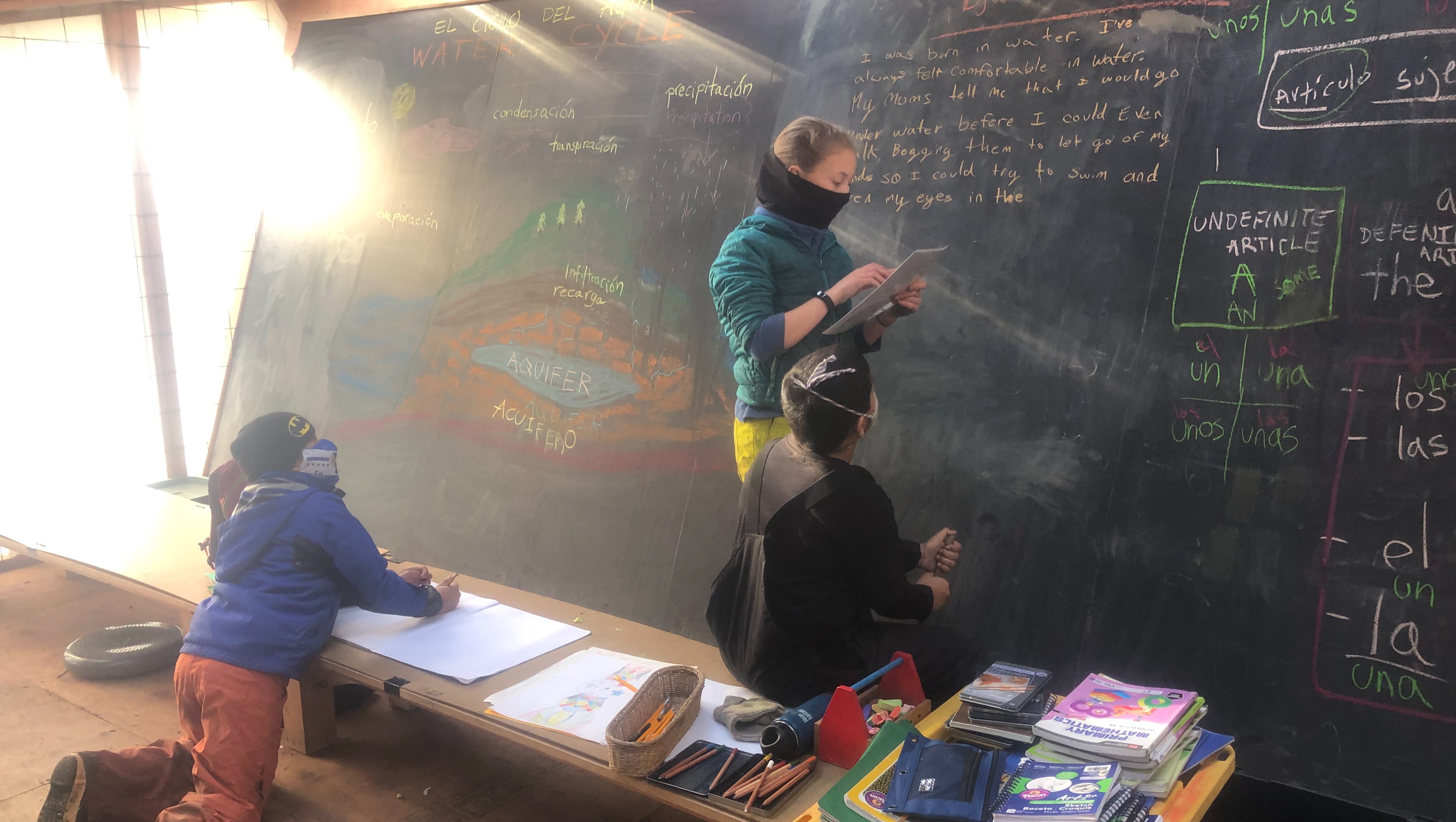 The children also learned the true stories and life details of trailblazers like Shirley Chisolm, the first African American woman elected to congress and first person of color to run for president in 1972; and NBA basketball player/activist, Bill Russell. They memorized poems by black poets like Maya Angelou and Langston Hughes. They recited parts of Amanda Gorman's inaugural poem, "The Hill We Climb." Students wrote their own recipes for what qualities it takes to be a trailblazer and imagined themselves as such. When Asian hate crimes broke out across the U.S. their lesson for the week was focused on the experience of a young Asian girl who experienced bullying and then later compassion and reparations from her peers about her differences.
YOUR DONATION MATTERS!
Your donation matters– to the children and families VGS serves, and I believe to the future our children will inherit. We can all make a difference, one true story/lesson, one act, one dollar at a time. Thank you for your contribution.

P.S. You can keep up with the Vashon Green School trailblazers on Instagram  or Facebook  too!
Or check out our website.

P.S. Donations through this GoFundMe are not tax deductible.  If you'd like to make a tax deductible donation you can write a check to Sustainable Vashon (write Vashon Green School BIPOC in the notes) and send it to Vashon Green School 16245 Westside Hwy.  Vashon Island, WA 98070