April 8, 2018 - Remembering Big Al
March 27, 2018
Dear Friends:
THANK YOU for all the support these past four years, and for the cards, flowers, hugs and wonderful memories/pictures posted on the listserv and Facebook over the past month!
As many of you may have already heard, my dad, Albert Snyder Jr., aka Big Al, passed onto his next adventure Saturday morning, February 24, 2018.
I miss him to the moon and back!
I will be eternally grateful for each and every day I've been blessed to share with him and most importantly that he went out as he desired; peacefully, here at home (the cabin in the woods he always wanted) with me by his side.
His wish was to be cremated and cast into his beloved ocean waters near the headlands.
I have come to love it here as much as my dad did and have every intention of making this beautiful place my permanent home. I have eighteen years of experience in the nonprofit and government community development arenas (housing/homelessness, grant writing, legislative and policy advocacy). I am actively seeking local work.
If you hear of anything please let me know.
To honor Big Al, the Community Center of Mendocino is hosting a "Celebration Of Big Al's Life" Sunday, April 8, 2018 from 12:00 to 3:00pm. Please join us, bring your stories, music and photos of Al.
Call Peg Brown Levy at (707) 357-5317 or e-mail her at [email redacted] for more information and/ or to help with the day's celebration!
Thank you again to all who loved and cared for Al making him such an integral person in this community. You made his life here an amazing, enchanting experience!
Peace,
His loving daughter Lisa
_______________________________________________


UPDATE - Help Me Make My Dad's Days Count!
Dear Friends:
Last October 2014, I launched this Go Fund Me campaign for my dad, Big Al (if you missed it – please see below, pictures included). Thanks to the help from all the beautiful people in Mendocino and my friends in Los Angeles my campaign was a success.
I have been meaning to send an update to everyone for awhile but during the last number of months Al's care has kept me very busy!
Al's Current Health Condition
After Al suffered a stroke in February 2014 and the doctor said "he'd be lucky to make it through the week," the only thing on my mind was to get here as fast as I could before he died. Thankfully, I did, and with the assistance of so many amazing people we began the healing process.
When I launched this campaign last year, my goal was based on the doctors' updated prognosis that Al "would likely
not
make it through the next six months."
I am happy to report that two years after his stroke Al is still here and doing markedly better.
Although he is doing better, he needs TLC 24-7. I am providing him care 24-7. Breakfast, lunch and dinner, bathing, shopping, cleaning his apartment, laundry, daily medications, regular doctor visits to test and monitor his serious health conditions.
Al has chronic arthritis in both his hips and lower back which makes walking very difficult. Due to his weak heart condition (atrial fibrillation), he is not a viable candidate for surgery. He uses a wheelchair, walker and walking cane for mobility. He also has an acute abdominal aneurysm – 5cm by 7cm that could burst without warning –
which is just one of the reasons everyday with him is so precious to me! Al's Current Living Situation – Bureaucratic Nightmares and Hopeful Resolutions
As many of you know, Al lived and worked at Friendship Park for almost eighteen years. After months of searching, I found a place for us to live that accommodates both us.
I moved Al in June 1, 2015. For the first time in forty years, he now has a home to call his own – the cabin in the woods he always wanted.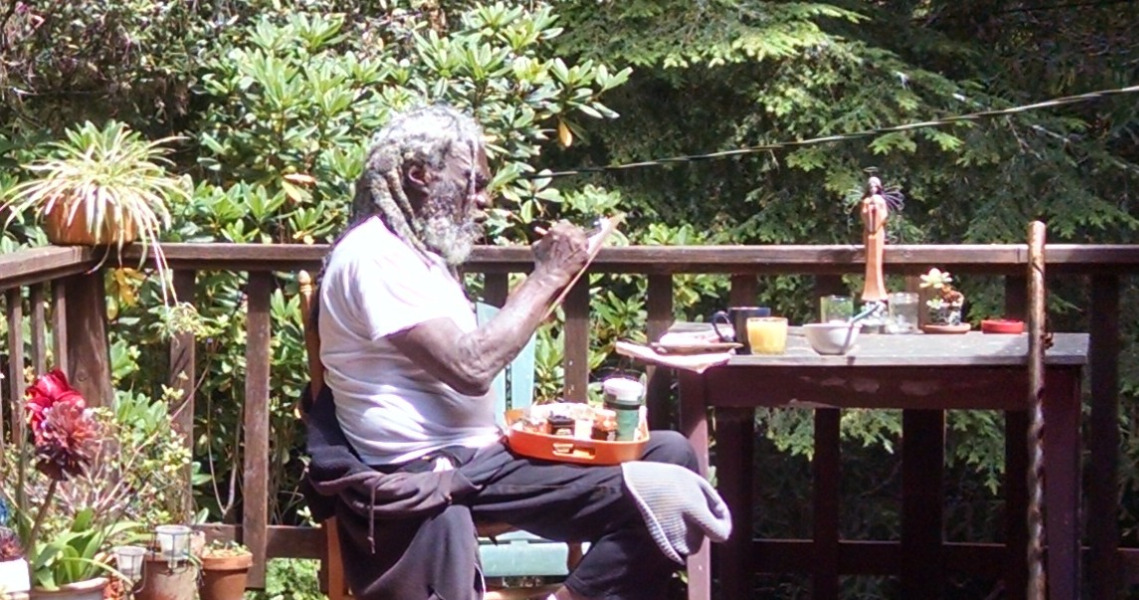 Still loves to do the crossword every day
Al's space is wheelchair accessible and very cozy – it has a bedroom (with a real bed), living room and indoor bathroom (which he didn't have before). He has hot running water and heat and we fixed up his living area with a couch, arm chair, bookshelf and coffee table. He has a refrigerator, microwave and even a little TV with a DVD player.
Thank you to everyone who helped make this possible!
Unfortunately, no sooner than we got settled in, Al's in home heath service allotted hours were cut by over half from 154 hours per month to 30 hours per month because his physical and living situation improved and he is no longer "homeless." Working with the County, thus far I've been able to get his allotted hours up to 73 per month – that's approximately 2.40 hours per day at a salary of $9.90 per hour before taxes. Definitely not enough hours or money to provide Al the quality care he needs.
Since getting here in 2014, I have applied to every program Al may be eligible for. I currently have an application pending to hopefully get Al approved for a program that will provide increased hours for individuals in need of 24-7 in home care. Additionally, I have submitted a VA pension application for Al as well.
Much thanks again to everyone who has helped me to advocate for Al's care and move through all the bureaucratic systems!
Why Putting Al in Nursing Home is My Very Last Resort
A number of folks have suggested that I should put Al in a nursing home.  A nursing home will be my absolute last option for three simple reasons: (1) He will curl up and die; (2) He does not want to be medicated and have no quality of life; (3) He does not want to be confined.
Growing up after my parents' divorce and Al disappeared, I missed him every day. My mother was a great mom and she raised me to be a caring and truth seeking individual. . . but I still missed my dad.
I missed him in grade school, middle school, high school, college, law school and through all the highs and lows of my life. When I finally found him living here in Mendocino I was overjoyed, even though he never really let me get too close until now.
Now - we talk about everything under the sun. He's taught me how to chop just the right size kindling (with a "hatchet" – oops, I called it an ax), how to make a wicked fire quick and keep it going for hours, the difference in the wood burns – pine versus oak, eucalyptus, etc. My cat, who generally hates everyone loves him, sits on his lap in front of the fire while Al reads his beloved Westerns or watches movies.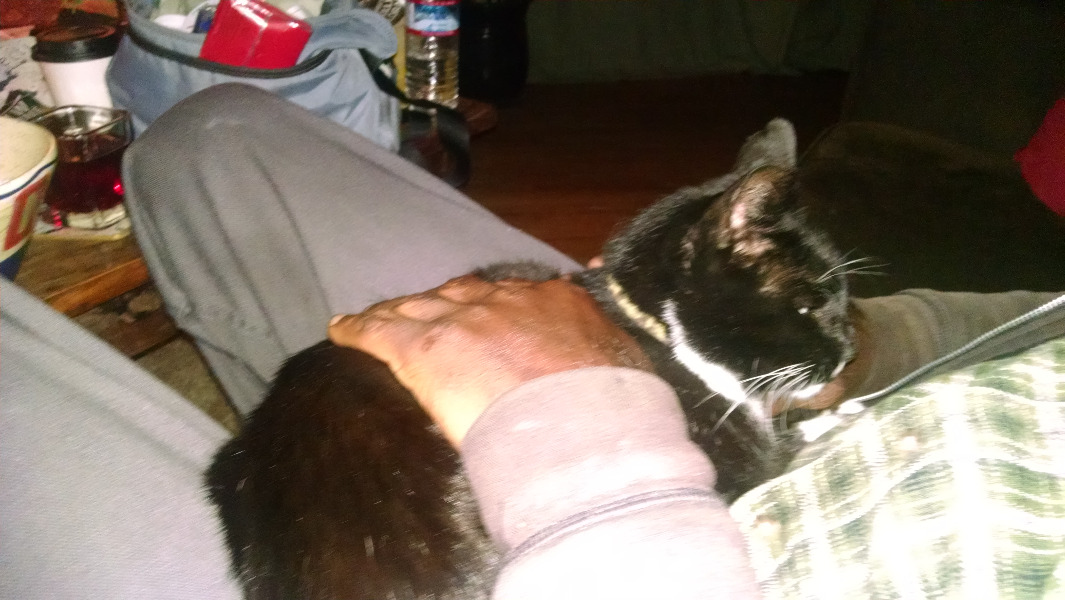 I read him poetry and he laughs and laughs at my "incorrect meter – aka, scope and note, rhyme and time."
He keeps me smiling
– a few weeks ago, I got a call from a woman attending the Standford graduate film program inquiring about the possibility of doing a documentary on Al. I told her I would ask him – without missing a beat he said:
"I seek the sunlight not the limelight, so tell her thank you, but no thank you."
I could go on and on.
New Campaign and Where Donations Will Go
I've thought long and hard about doing a second campaign because I know so many people are really struggling as we are just to survive. I finally decided to relaunch this campaign because Al deserves to live the rest of his days with dignity and respect and I feel privileged to do whatever I can do to make it happen! Donations will go towards medical expenses not covered by SS/SSI, for propane, firewood, rent and utility bills to keep Al comfortable, warm, safe and happy.
If you have the means to donate I am very grateful and if you do not I completely understand!
Thank you again from the bottom of my heart to everyone who contributed to my campaign and to those who have helped me in countless ways over the past two years!!!
One last note:
Al misses all the people who used to visit him at Friendship Park. If you would like to pop in and see him, please email me at [email redacted].
Peace and Love Lisa
____________________________________________
October 2014 CampaignBig Al - Short Summary
My dad, known affectionately as Big Al by everyone in Mendocino, has been homeless and struggling with mental health issues for the past thirty-five years. He has also been a vital part of this beautiful community.
Al has worked for many Mendocino residents caring for their gardens. He worked as the Groundskeeper at Friendship Park for eighteen years. He played baseball and basketball with all the kids throughout the years – he knows and still remembers all of them by name.
In February Al had a stroke and was diagnosed with terminal heart disease. His doctor said he'd be lucky to make it through the next few days. I rushed here as fast as I could. That was almost seven months ago. With the help of a wonderful new doctor my dad has made miraculous progress over the past months – it's amazing what love can do – but he still has a long way to go and I need your help!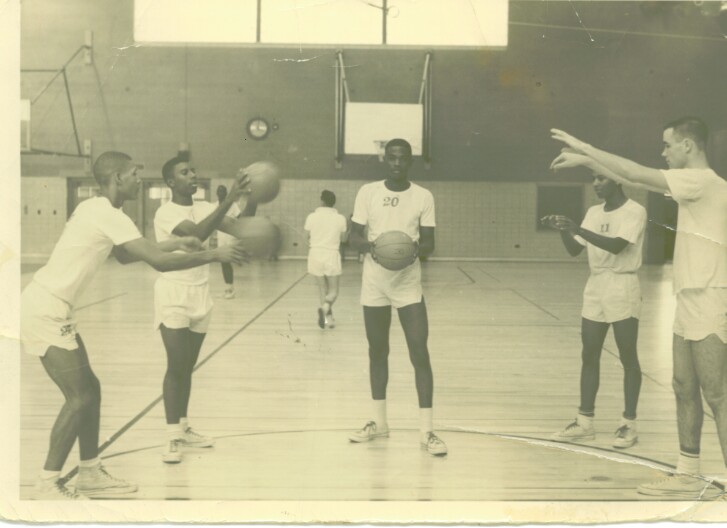 Al is number 20. When I showed him this picture he couldn't believe I had it - he remembers every players' name - including the guys in the background.
Most of my life we did not know where my dad was. How he came to live in Mendocino is a long story; how I found him is an even longer story. Suffice it to say, after years of searching I found him. I have been coming to visit him twice a year for the past fifteen years. But it's only been since his stroke that he has finally begun to truly open up to me and to let me help him.
The past seven months have been the most challenging of my life: I was terminated from my job in Los Angeles after my twelve week family leave expired – putting my dad in a nursing home and leaving him alone was not an option for me; I have no financial support from family; and my savings is quickly diminishing. Despite all this – there is nowhere else in the world I would rather be right now than here with my dad! 
Where Will The Donations Go?
Your donations will help supplement my savings to cover my living expenses so I can continue to care for my dad.
Al needs 24/7 care – medications, cleaning, shopping, meal preparation, bathing, laundry, etc. His small monthly SS and SSI is his only source of income. Hospice is helping with some of his care and has been outstanding! I am his registered In Home Health Care Provider, unfortunately, the monthly hours allotted for his care and the $9.90 hourly salary is not sustainable.
I have fifteen years of experience in nonprofit and government community development arenas (housing/homelessness, grant writing, legislative and policy advocacy). I am actively seeking local consulting work which will allow me to be available for my dad.
I will not put him in a nursing home because I want him live the rest of his days in this beautiful community surrounded with love and all the people who care about him so much in peace, comfort and dignity.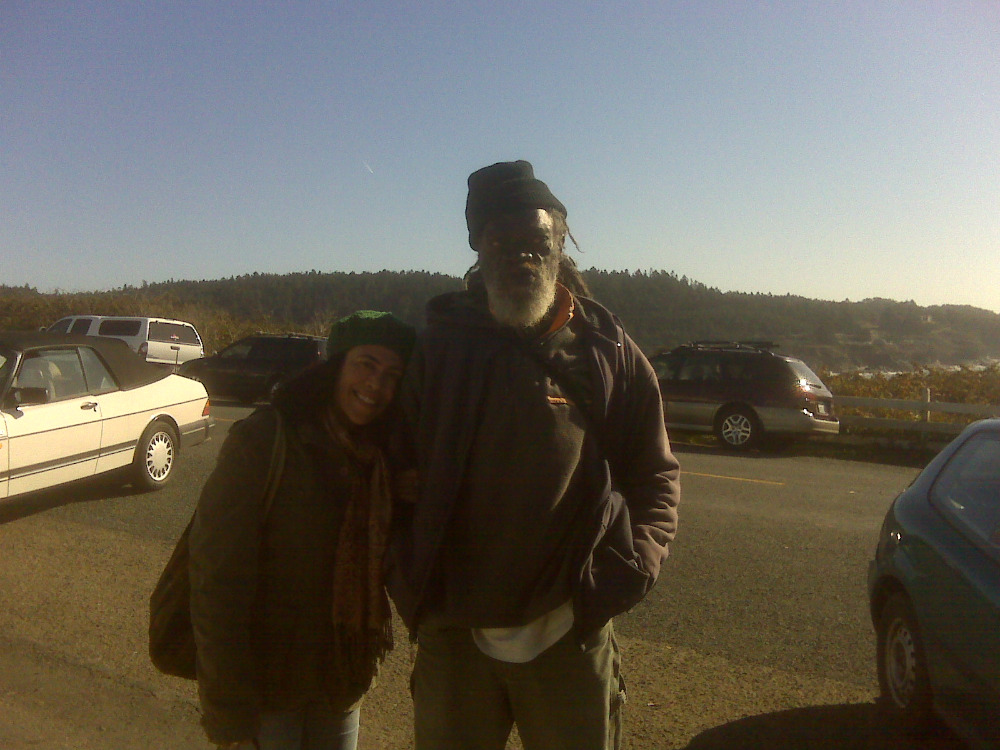 Me and My Dad -Thanksgiving 2008, Mendocino, CA
The Impact
After years of self neglect and isolation Al is letting down his barriers. He has a little place of his own. With much help from the wonderful folks here – we painted, took out the old carpet and replaced it with donated vinyl to accommodate his wheel chair and hospital bed.  A new little refrigerator, microwave and other furnishing were also donated. Thank you to everyone who has stepped forward to help me and my dad during this difficult time, I am forever grateful.
Big Al's heart is doing better, he is eating well, and loves to sit in the sun by the little garden we planted, watch the fog roll in, feed the birds, listen to old Motown/reggae/jazz, read the local paper and work the crossword - when he gets flustered he always says "Oh Phooey!" I love him!
Please feel free to email me any questions you may have. Even if you can only give a few dollars, it will help me to ensure my Dad comfortably transitions through this new and final phase of his life.
Thank you in advance for your support!
Peace and Love, Lisa
One last note: The painting of Al above was done years ago by a local artist who gave it to me after he heard about Al's stroke. He sketched him from afar without Al knowing, and then painted it.
Donations

Organizer
#1 fundraising platform

People have raised more money on GoFundMe than anywhere else. Learn more

GoFundMe Guarantee

In the rare case that something isn't right, we will refund your donation. Learn more

Expert advice, 24/7

Contact us with your questions and we'll answer, day or night. Learn more