Unstoppable Anthony Fundraiser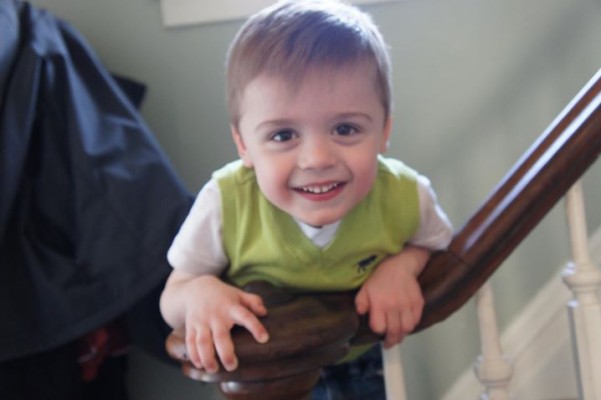 Unstoppable Anthony
Anthony Guerriero was diagnosed with Autism at age 2.  He has been earning his superhero status ever since. 
Anthony developed normally up to 18 months. He walked before his first birthday, played peek-a-boo and "soooo big!", and used words for his favorite things (mama, dada , juice, French fry : ). At 18 months everything changed.  Our sweet "monster face" stopped trying to interact and was very hard to engage. He wouldn't look when his name was called and slowly but surely lost all of the vocabulary he had developed.  We began intervention shortly after while we awaiting the inevitable diagnosis that came at age 2.
He is now 6 years old.  He has been a trooper through many types of therapy and interventions (H.A.N.D.L.E., ABA, Speech, OT, PT, special diets, biomedical and holistic treatments). He has worked so hard and come so far.  He speaks with multiple word phrases, which continue to expand.  He gives us glimpse into his brilliant mind when he calculates math problems years beyond him, teaches himself foreign languages, and navigates technology instinctively.  Anthony has made so much progress and we are so proud of him.
Through all of his progress, he still struggles tremendously with processing, expressive language, and sensory challenges, while dealing with brain inflammation, gut issues, and allergies. It breaks our hearts every day to know that he works so hard yet still has to struggle with all of these remaining issues.
After researching Stem Cell therapy and speaking with the families of success stories, we are eager to try this therapy.  We believe it could truly enhance his quality of life , finally healing the source of his daily pain and make him comfortable in his body. We will never give up trying to heal our Unstoppable Anthony and are hopeful that Stem Cell Treatment will be the catapult that his brain and body need to return to full health! 
We are so excited that Unstoppable Anthony was accepted by the Stem Cell Institute in Panama for treatement on December 15th, 2014!!! 
Woodbridge Township Mayor John  E. McCormac, Councilwomen Debbie Meehan and Nancy Drumm, through the Woodbridge Community Charity Fund, are holding a fund raiser for Anthony on Sunday, November 16th at the Colonia Firehouse, Colonia, NJ from 1-6pm. It should prove to be an exciting event to bring the community together for a fun day of spaghetti and lots of great prizes to bid on. This GoFundMe page was created to make it easier for corporations, friends and family to support the cause through tax deductible online donations.
For Corporations and folks that are more comfortable mailing a check donation, please make the checks payable to : Woodbridge Community Charity Fund (write Unstoppable Anthony in the memo) and mail to c/o Woodbridge Town Hall, 1 main Street Woodbridge NJ 07095.
Thank you so much for all of your support for Unstoppable Anthony and the Woodbridge Community!
-For information on The Stem Cell Institute and Anthony's specific Treatement, please visit the following link:  
https://www.cellmedicine.com/stem-cell-therapy-for-autism/
http://www.cellmedicine.com/wp-content/uploads/2012/11/Stem-Cell-Therapy-for-Autism.pdf
Organizer
John Guerriero
Organizer
Woodbridge, NJ
MCCORMAC COMMUNITY CHARITY FUND INC
Registered nonprofit
Donations are typically 100% tax deductible in the US.